Introducing the long-awaited latter half of the extensive new album from the one and only Ultra_Eko – On Trial, Part Two completes the journey, and provides an unparalleled one of its own at the very same time.
What an absolute gem of an opening track. Lyrically enthralling then dropping into the sheer euphoric weight of the instrumental, as Eko's faultlessly rhythmic bars continue to engage.
A Disconnect, Part 1 – conceptually incomplete again, luring you in for the long run but providing a stunning, memorable anthem of a hit in unison. Instantly this feels like on of Ultra_eko's most impressive, addictive and approachable tracks yet, and it's only the beginning.
Quirky and unpredictable as ever, song two brings a joyful bounce of a twenties cinema-style hit with a clear tone of optimism to the performance in line with the musical glow. Error Code, eclectic yet well-rooted in that strength of songwriting and structure so prominent across Ultra_eko's catalogue. This is something like Lily Allen with an edge of long-form lyrical integrity and metaphorical power.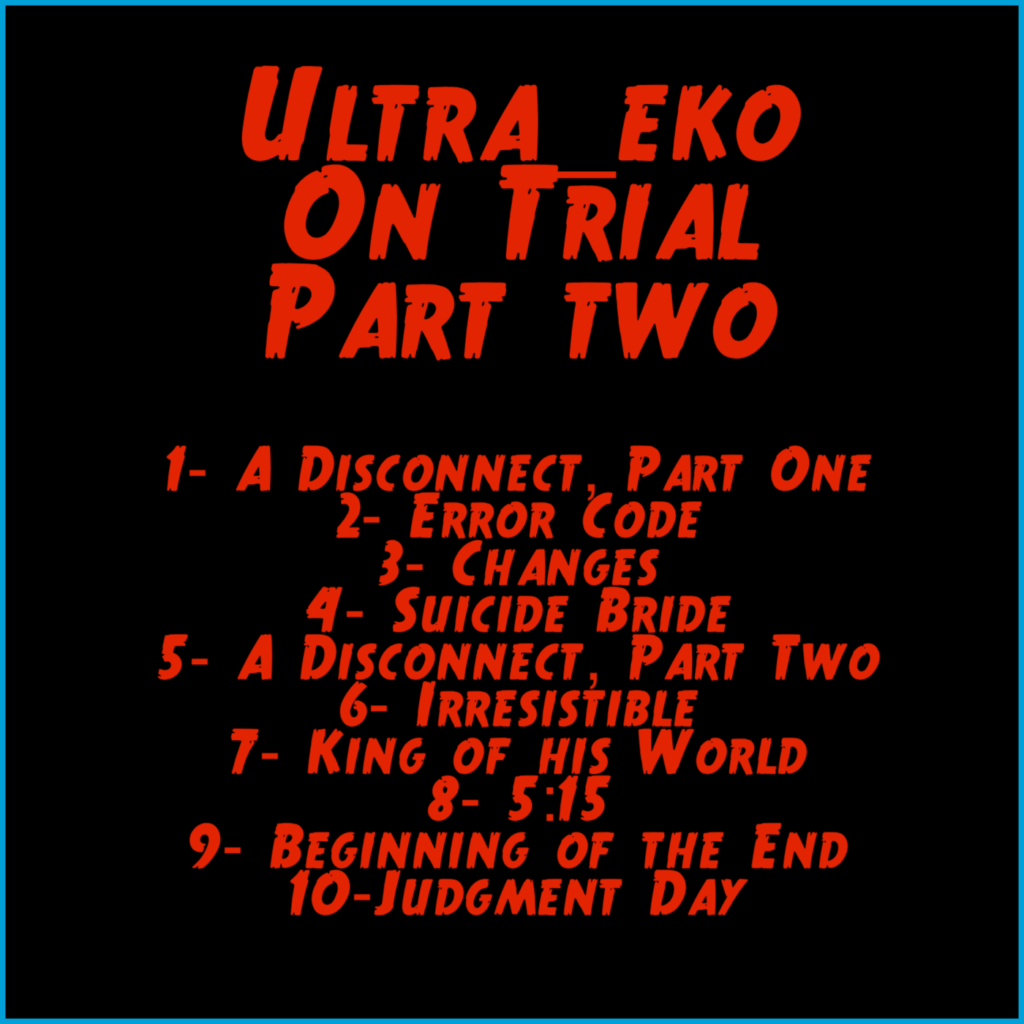 Part One was undeniably dark, intentionally so, Part Two appears still infused with that shadow of uncertainty and harsh reflection, but proceeds to be more musically upbeat and even motivational to a degree.
Other stand-outs include the shock factor, acoustic delicacy and ache of Suicide Bride. Complex and captivating, another imaginative deep-dive from the story teller extraordinaire. Irresistible is also a highlight for its creative bounce and the sheer comedy and emotional conflict at its core.
Then there's heartbreak and realism in strong supply as King Of His World delves into complex family dynamics; the inevitable progression of perspective in the little ones we cherish and attempt to raise. The sound is immediately more passionately built, dreamy and emotional, quickly capturing interest and setting the mood accordingly. And the hook is mighty, resolving and lingering. Songwriting ability is second to none – a rare and commendable quality amidst many of today's indie rappers.
On that note, a welcomed electronic rock injection lets Beginning Of The End prove as energising, satisfying and addictive as the opening track. Fantastic at the penultimate moment.
In hindsight, the lyrical depths of Ultra_eko occasionally shine more brightly in a stripped-back or humble musical setting. In this case, A Disconnect Part 2 is an example of an unmissable venture. Longform ideas compel you to listen closely, then the clever repeat of certain accessible phrases provokes thought on a whole other level.
In case you haven't realised yet, the UK's own Ultra_eko is unquestionably a genius of the art form. The balance between intelligent bars, identity, and musical embrace is unrivalled. Then consider the work ethic, the faultlessly on point approach of an artist devoted to the process, and we're in a whole new realm of talent and indeed modern music.
Album out June 3rd. Check out Ultra_eko on Twitter & Instagram. Listen to our podcast interview with Ultra_eko on Soundcloud or read more here.