Always on form but somewhat explicitly pure in the soul-searching found here, Ultra_eko sets up a two-part album release for the new year, preceded by the launch of a powerful new single and video.
Musically supreme for its simple, soul-pop warmth and rising anticipation, The Trial kicks off the 9-track collection that is Part 1 with a deep breath of personal reflection, insight and observation.
The sound is recognisable as ever, yet there's a mellow delivery, a more orthodox manner of writing raps, perhaps more accessible to a mainstream audience than some of his prior alternative musings. It's a beautiful opener, and a captivating, ultimately euphoric listen as the story and the musical build-up unite throughout the latter half.
We then get the eerie vibe and unforgettable hook of an anthemic leading single, the subtle yet striking Venom.
Once again, Ultra_eko adopts a calm flow, keeping things familiar so as to draw focus to the story, the scene, the details; rather than to his own unique framing of bars in the context of the modern rap world. Refreshingly we get the best of both aspects throughout this album.
Part 1 of this project is something that Ultra_eko has self-described as darker and loaded with negative reflections and feelings. The sound-design and performances, the lyrics, all showcase these qualities well.
Part 2, currently still in the studio, will lean towards more of an air of acceptance, forgiveness, and joy. It will be interesting to witness the two counterparts in unison, amidst the strength of juxtaposition. But for now – this release works perfectly as a stand-alone LP of intrigue, skill, contemplation, style, and outright humanity.
Warfare brings in more of that noteworthy eko style that is the longer-form bars and the switching flow to squeeze in every idea and reference with breathless pace and accuracy. Things Have Changed takes this further still, Subsequel's production crafting an intricately shifting landscape of purpose and character.
Variant stands out for its retro heavy synth rhythm and space, the sheer speed of the vocal, and of course the topical relevance of the very title. Then in stark contrast we get melody, vintage vocal play, quiet and consideration, for 21st Century. And afterwards, the classic hip hop energy and slurred intensity of Malevolent showcases personal anecdotes and clear wordplay repeatedly.
Second from last we get a sudden electro-pop single of colour, optimism and musical embrace. Two Point Four is still at one with the uncertainties of the album, the story compels you to listen closely, and it's no joyful journey, but this one stands out for its contrast with both itself and the tracks before it.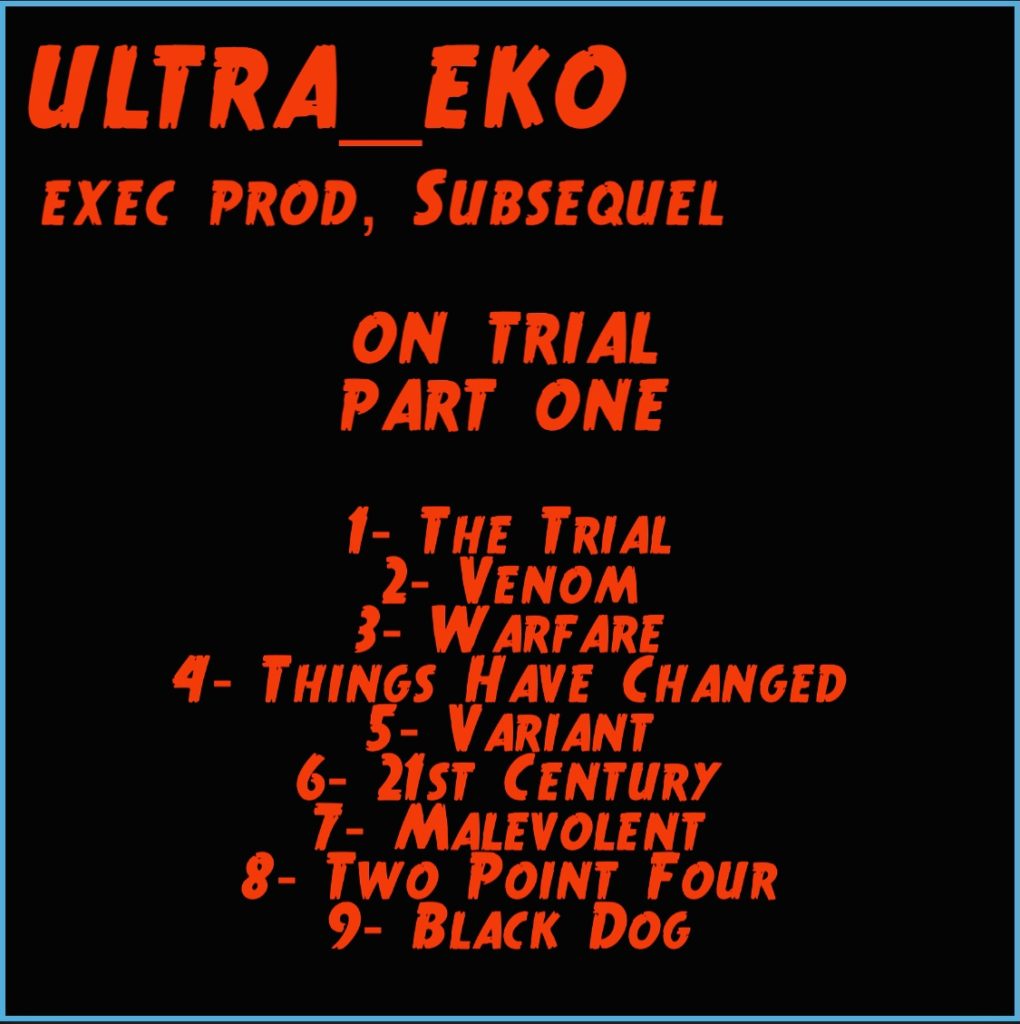 To finish, the infamous Black Dog makes an appearance, cinematic detailing and intention standing tall as Ultra_eko tackles the unignorable elephant found in so many rooms.
Personal and relatable, heartfelt and heart-breaking, gorgeously poetic – there's a fine fusion of unique creativity and absolute honesty to Black Dog that makes it the perfect way to wrap up the sentiments and mood of Part 1. The final spoken outro is particularly impactful after everything that has emerged throughout.
Once again, his music engages, and his lyrics mesmerise increasingly – the kind that urge you to spend more than a single session with them. Another timeless hit of intelligence, realness, and absolute artistic escapism from the UKs own Ultra_eko.
Grab the single Venom from January 21st – Pre-save it here. Check out Ultra_eko on Twitter & Instagram. Listen to our podcast interview with Ultra_eko on Soundcloud or read more here.