Ever the hard-working and perhaps most uniquely conceptual hip hop artist of our time, another full-length album from the UK's own Ultra_eko hits the scene this November, and this time the rapper and songwriter has a struck a superb balance between complexity and calming familiarity.
Alternate Realities welcomes in a certain mellow yet notably clear delivery – the soundscapes are a little more accessible, keeping your focus on the stories more so than any other release. The intensity rises slightly to reflect a change in energy lyrically and performance-wise, thus you get a euphoric feeling from even just the opening track as it makes its way through various deeply contemplative stages.
Ultra_eko doesn't follow any particular rhyme scheme during many of his verses – these feel like age-old poems reworked to reflect a contemporary existence. Nothing is obvious, you have to pay attention and dissect these bars a little, not unlike the way you would classic literature from way back when. There are also one or two references to this – For Whom The Bell Tolls being a clear example, title-wise.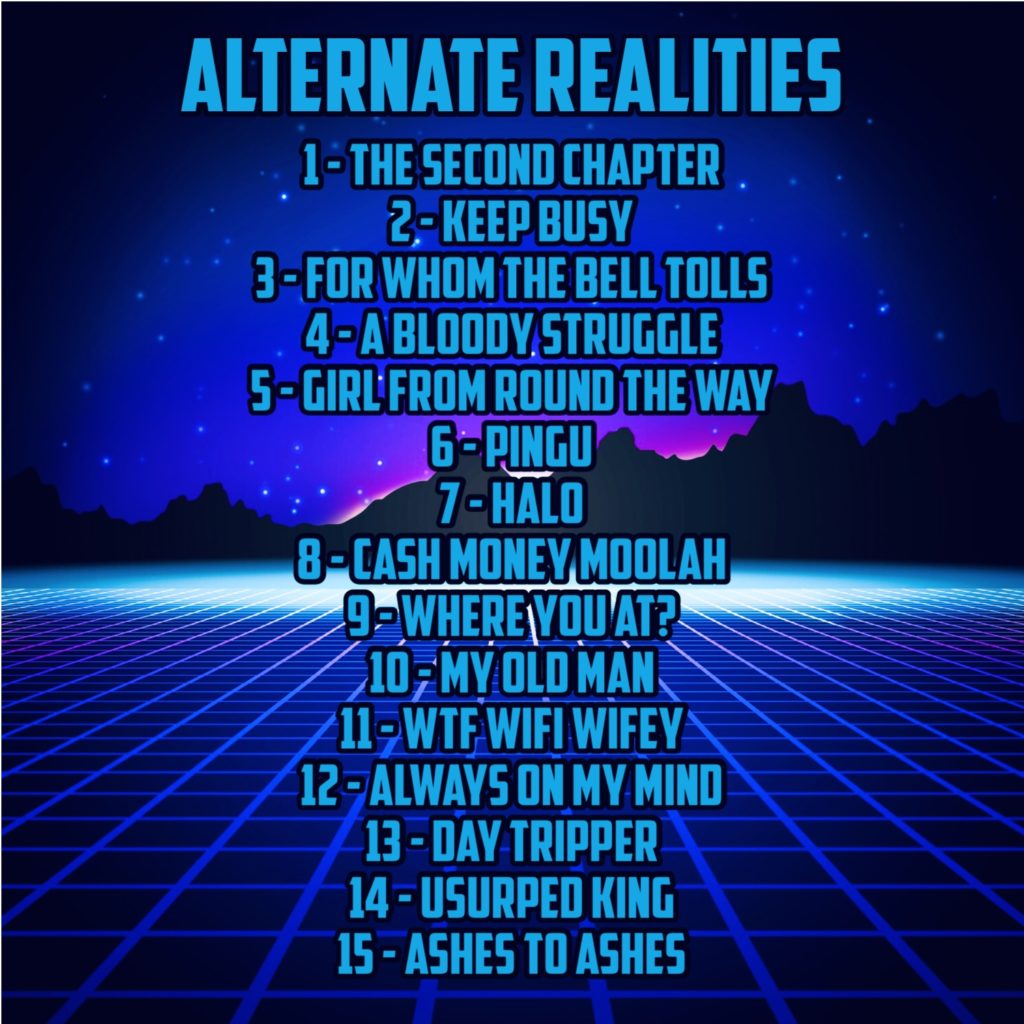 Keep Busy switches gears musically and rhythmically, though its still broadly accessible. Fast bars captivate as the scenes are set and the details strike. You try to piece together the concepts under this blanket of Alternate Realities – these varying perspectives and the constant wondering about what could be, what else might be possible; what it's all worth.
Keep Busy is an easy early highlight, and a personal favorite – a soulful and delicate hook breaks up the intense pace and relentless imagery of the verses in a powerful way. The song is also decidedly relatable, though likely in a different way for each new listener.
For Whom The Bell Tolls energizes beautifully, uniting an EDM-esque soundscape with a fierce rhythm both in the beat and the vocal-line. It quickly prompts you to turn up the volume.
Certain moments bring the artist more clearly to the center of the stage, the spotlight. Of course, Ultra_eko is a story-teller, so anything personal could still be the artist adopting the role of a third-party protagonist. A Bloody Struggle as an example seems poignant and loaded with individuality, personal truth that compels you to listen and consider and connect. Then of course the track reflects on space, the literal concept of alternate realities in comparison to this one. Even the way eko strips back the energy for a certain structural change half-way through adds further to his inherent expressive artistry and desire to break the mold.
Not keeping things too heavy for too long, this album throws in some musical colour and bounce once in a while – though the lyricism never strays too far from that naturally considerate, deeper manner of writing – Girl From Round The Way, Pingu, Cash Money Moolah. Things always intermittently switch back to intense beats and relentless lyrical outpourings though, for example the likes of a dance-ready and nostalgically thoughtful, occasionally scornful Halo.
Given how full-on Ultra_eko's music always is, the releases are rarely the kind of thing to leave playing as background audio the first time around. Even with the depth of the stories, the pace of the vocal, and the ever-changing ambiances, there are a multitude of clever, quirky lines and hits of wordplay scattered throughout each and every track.
Where You at? feels like a focused tale for the most part, but follows this same route – showcasing a natural love for hip hop and the art of writing, regardless of how intense or personal the subject matter may get.
There's also a lot of melody on the project, as suggested by the opener. My Old Man throws in an addictively joyful hook that's easily memorable – along with a welcomed touch of guitar funk in the instrumental.
A familiar-titled WTF WIFI Wifey injects another absolute highlight for its sheer energy, rhythm, colour and relatable, contemporary topic. More melody and a touch of nineties dance-pop then leads us into a heartfelt and loving Always On My Mind. Day Tripper follows and keeps the inner singer engaged with a brilliant hit of songwriting and a tip of the hat to the Brit Pop classics of a simpler time – style-wise and lyrically. Quickly recognizable, a pop stand-out for its mainstream qualities and immersive nature combined. An unexpected favorite, blending simplicity and complexity in a smooth and smart way.
Follow the bass through a penultimate indie anthem that is Usurped King – a little Smiths-like in melody and set-up. Then welcome piano for a vintage and aptly end-like closer, Ashes To Ashes. A classic hip hop track with a smooth delivery, organic presentation, and pristine production. A nice mellow finish but with a few resolving, conclusive ideas to fully round up the experience.
What a ride. Without question, the most enjoyable and infectious project Ultra_eko has released to date. As stated, there's something to be said for striking a fine balance between his naturally curious and complex writing style, and the simple weight of satisfying, hard-hitting hip hop and musicality on the whole. Alternate Realities strikes that balance faultlessly. A definite stand-out album from 2020 so far.
Alternate Realities will be available from November 16th. Read our interview with Ultra_eko for more information. Find & follow him on Twitter & Instagram.