The Bailsmen are one of New York's most well known dance bands, fusing the rhythm of swing with the raw energy of gypsy-folk and offering up an ever-impressive live show. Following the release of their album Le Mensch, we caught an interview with the group to find out more about their music and their story so far. Here's how it went. 
* * *
Hi guys, great to be able to chat with you – thank you for your time! How did you all meet, and what prompted you to start playing together?
Around seven years ago all of us started getting interested in this music seriously and started hanging out. We were meeting up in our rooftops and around Brooklyn to jam and hang out. It was one of those summers where you form bonds and friendships that last a lifetime. For some reason all of us started going to this one jam session in Greenpoint around the same time, and formed a little crew out of it.
What is it about this style of music that draws your affection?
I love the rhythm of it. It's infectious to hear two guitars and bass playing the same thing that a drummer in a dance band would normally play. It's also really exciting to be playing jazz and have folks dance to it.
Where did you first learn about the likes of Louis Armstrong and Django Reinhardt, and what other moments can you recall that inspired the start of this passion?
I learned about it from my ex-girlfriends.
But really, folk music was a big part of my life growing up. I think traditional jazz and gypsy jazz is basically the same thing. You have the melody, which is king, and everything else is based around that. and the groove is strong. Other than the lyrics, I don't see too much distinction between the way you would approach a Django song, or the way you would approach an Appalachian fiddle breakdown.
Where did the band name come from?
Brandon came up with that one. He spent some time in jail one weekend and came out of it a changed man.
How's does New York City take to Gypsy Jazz and Swing right now, what's the scene like?
The scene is great! There are a lot of places to play this music, from our favorite stages in Brooklyn, to the more upscale bars and hotels in Manhattan. Because there are so many people here the turnover is huge, you can play a regular gig and 99% of the people there will never have heard your music before.
You play over 200 gigs a year, what makes for the perfect show night?
I think having a great band with friends who want to hang out is important. Being able to have a good time with my homies on stage makes the night. Also if people are dancing or listening, we love that. Even if you're in a cocktail seating type restaurant, please sit to face the band!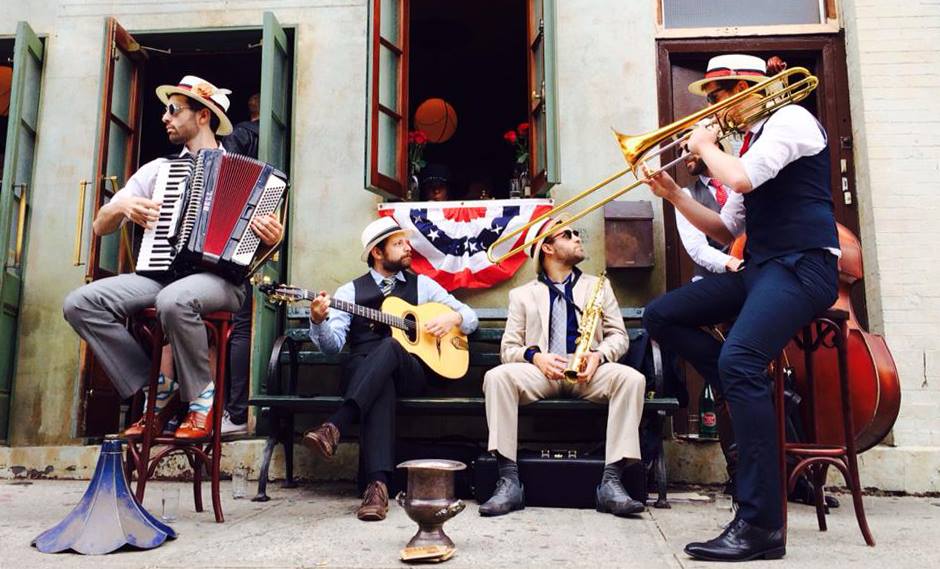 How do you maintain the energy and motivation to keep so busy as performers, and is there ever a temptation to venture out into other genres or fields of musicianship?
We all get involved with other styles, which I think really helps inform our approach to this music. Charlie (guitar) is pretty much the most pure with his genre, mostly playing just gypsy jazz. The rest of us are into ambient music, r&b, metal, trap, and 80's covers. Really everything.
How do you continue to develop your skills as musicians outside of performing together?
We all practice all the time. I just read a great book called The Music Lesson by Victor Wooten which talks a lot about not practicing. He says something on the lines of (paraphrasing) "at the end of your time are you going to think back and wish you spent more time in the practice room?" I think about that a lot. Just trying to be aware of how I approach the instrument and the groove every time I play, listen, or just live.
What advice would you give to musicians who are just starting out, who want to build a reputation as strong as yours and successfully play many different kinds of venues?
Just keep doing it. Consistency and longevity seem to be the key to success.
Do you plan or hope to venture further afield than the US at any point?
Absolutely. Outside of the US our Spotify listeners are in the Netherlands and France. If anyone in Europe is reading this, help us book a tour.
If you could play any venue or event in the world, which would it be, and why?
Djangofest Northwest and a residency in The Bahamas. Once that happens I'll be able to quit and start making trap beats.
Is there anything else you'd like to say?
Follow us on Spotify 😉
* * *
The Bailsmen will be on tour as of mid March – find & follow them on Facebook & Instagram to stay updated. Download the album Le Mensch via Bandcamp. Visit their Website for more information.