Back on top once again and just a short while since the last full-length project – the UK's hardest working alternative hip hop act leads with conceptual depth and faultlessly creative story-telling throughout Revelation.
Ultra_eko takes on a mellow soundscape with a classic hip hop vibe and a touch of contemporary lo-fi for the album's opener, Dust To Dust. As ever, the lyrics pile on the detail and multiple layers of purpose – so much so that accept a simple distraction from the flow and you'll miss it. Here there's a sort of pastor-like volume, clarity and passion to the delivery – in keeping with this concept of Revelation, perhaps.
Rapture quickly engages with rhythmic vocals and theatrics between music and performer. A heavy track, stylish and striking, an easy early highlight for its blending of age-old ideas and modern day reflections; a quality that rings true throughout much of this album.
Fast bars follow for an impressive Phoenix Rising, an official single from the project – hard-hitting and compelling to follow along. Then we get a more spacious hit of scene-setting and a haunting, unsettling aura for Intruder; along with a valuable personal touch for connection.
An uncommon edge of confidence aims high for Be Like Me – an unexpected anthem of a track, a defiant mainstream contender in terms of the current UK hip hop scene in particular. Brain Ain't Your Own is similarly impactful later on, with a darker, perhaps more conceptually intriguing backbone. Red Alert works too, blending alternative energy and intelligent bars with a rhythmically and musically contemporary relevance.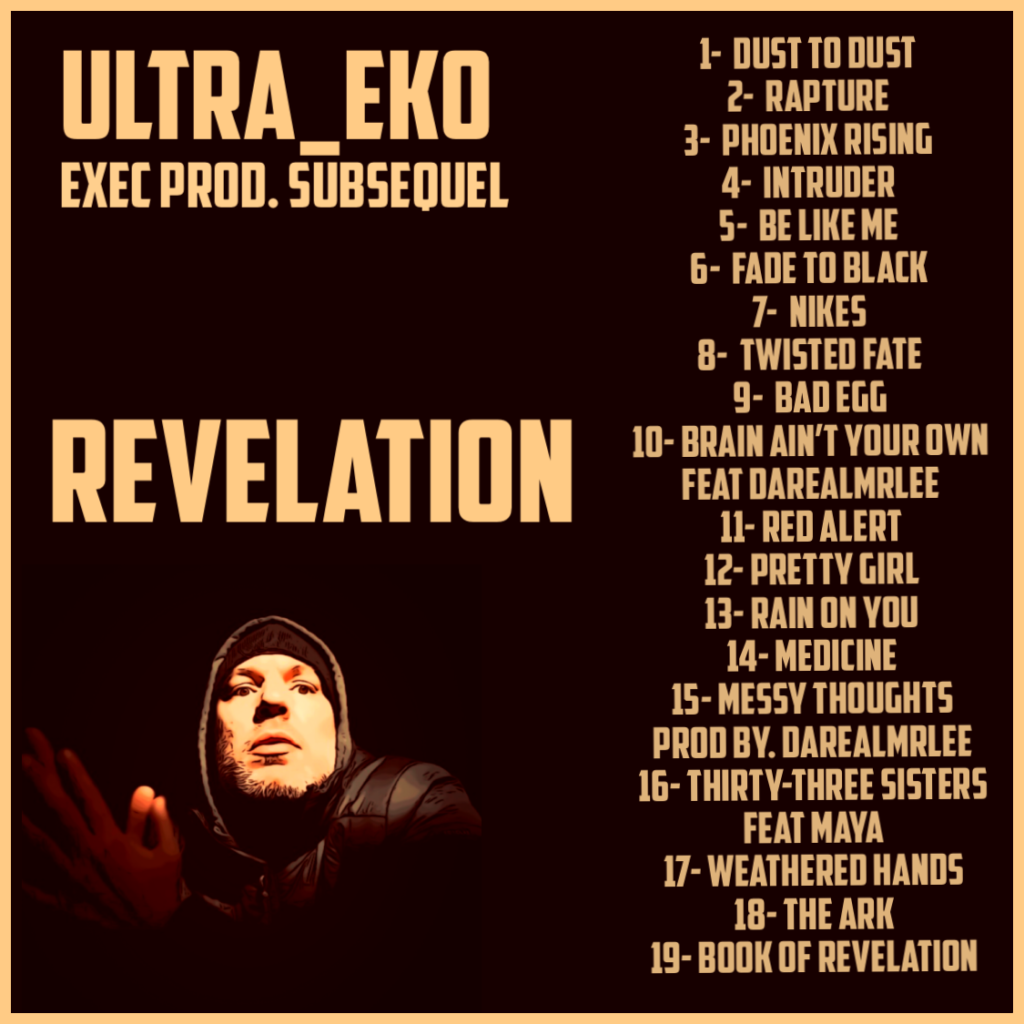 These nineteen tracks continue to weave their various interconnected webs around the listener, maintaining a more simplistic musical set-up than Ultra_eko's previous album – keeping focus on the rap core and the artist's impeccable wordplay and crafting of bars. Always we lean back and forth between timeless references and crisp, clean intricacies from our current culture.
A relentless Twisted Fate recaptures any wandering minds with unpleasant lines that flicker into view from amidst the chaos of breathless bars. Bad Egg reaches out with a similarly unpredictable back and forth between lightness and weight; a personal favourite for the intimate, honest relaying of individual experiences. Relatable in its addressing of the self.
This album has a lot of melody, a lot of hooks and a notably more classic hip hop musicality in general – when considered next to Ultra's other recent releases. Track's like Rain On You reach out with musical familiarity, simplicity, and so the lyrics tend to connect unexpectedly for their depth and the smart, stylish way in which the ideas are presented.
Great bass-work and passionate story-telling captivates throughout an aptly intoxicating Medicine. Messy Thoughts follows with an equally dark tale and musical minimalism. Then we get the addictively bassy, melodic and topical Thirty-Three Sisters – a soulful highlight with a strong groove and a juxtaposed, decidedly gritty underlying sentiment. Fantastic lyrical story-telling – second to none. Ultra_eko never runs out of ideas, phrasings, or passion for the process.
Regrouping for the penultimate moment, The Ark reminds us of the book that binds these tracks. Conscious and literary writing stands taller than ever – as is the Ultra_eko calling card, the depths of each line proving impressively clever. Throw in cinematic detailing, fragments of audio samples to really take the listener to the centre of the action, and this project more than ever presents that unparalleled escapism that is the heart of what Ultra creates.
Album out now on all platforms. Check out Ultra_eko on Twitter & Instagram. Listen to our podcast interview with Ultra_eko on Soundcloud or read more here.