From one of the UK's hardest working indie hip hop acts, Off The Grid is a brand new album of conceptual originals, setting the scene with industrial soundscapes and fast-paced, forward thinking lyrics that pour through with a sci-fi, cinematic sort of prowess. Ultra_eko is the story-teller, technology is the enemy.
Categorically paving his own way as a creative artist, Ultra_eko dives deep into a plethora of different worlds and themes throughout this collection. From the opening, all-encompassing and poignant Viral we get a general impression of what's to come, but take on the details and personal emotional touches that make up WIFI Wifey, and already you know this will be far from a simple, predictable progression.
Making sure to switch up the musical aspects to accompany each change of story, Off The Grid keeps things interesting on all fronts. Simple keys-led ambiances meet with big beats in some cases – unsettling melodies back up certain gritty lyrical backbones. Elsewhere the sound is more full, even optimistic – the unmistakable Yellow Redux – still retro and unexpected, always creative in its own unique way. This one is a definite highlight, certain bars really reach out for their clever reflections on contemporary life – their refreshing arrangements of familiar ideas.
To consider Ultra_eko's last project Kitchen Sink Dramas, which doesn't feel too long ago in hindsight, Off The Grid is indeed a notably more mainstream-ready, colorful collection. That's not to say these aren't alternative, deep-thinkers with extraordinary sound-play – far from it – it's just to agree that there's an accessible simplicity to much of the music, a melodic embrace, a rhythmic comfort.
Boy Done Good is a fine example, a brilliantly produced and performed hit of impressive contemporary hip hop, yet also a decidedly attention grabbing, compelling story-line. We get the best of both worlds, essentially.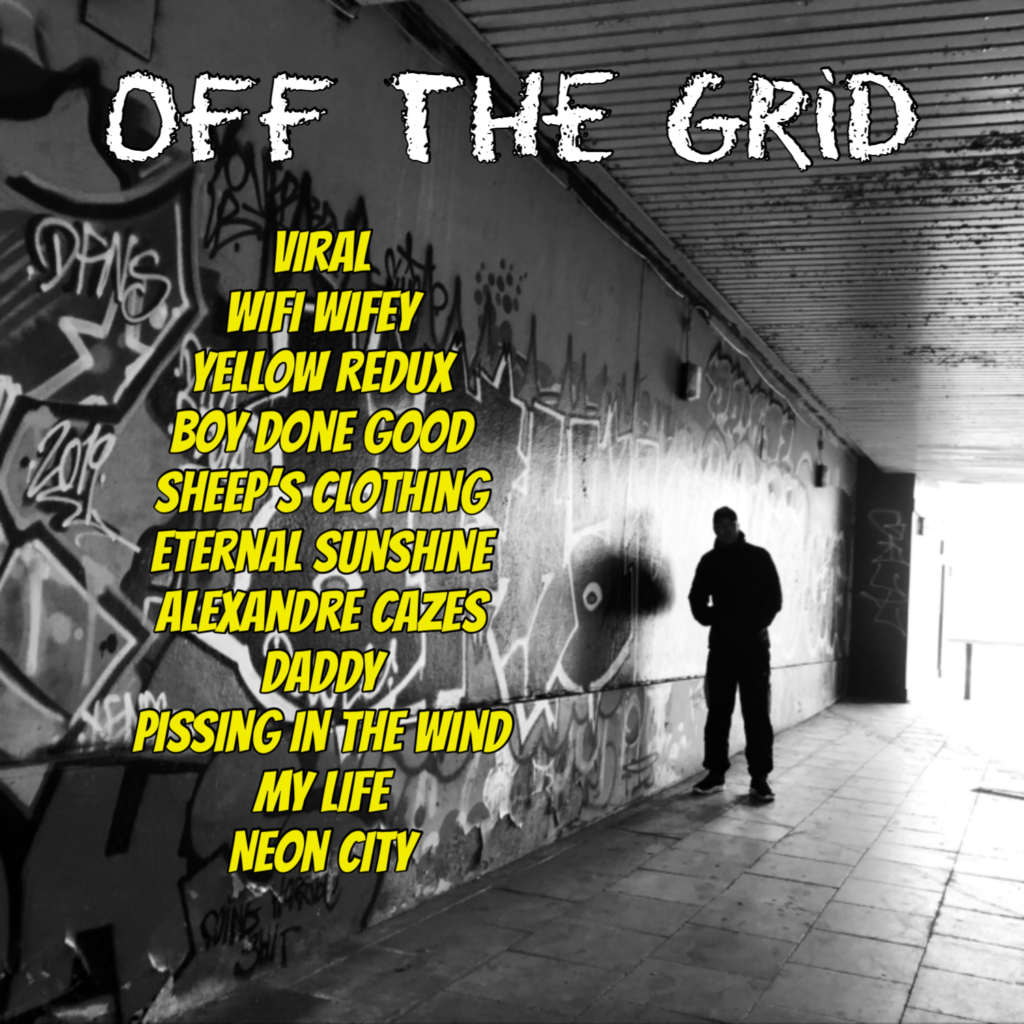 In terms of the underground rap scenes of the UK, the evolution from grime and even garage, Sheep's Clothin is one of the most striking tracks. There's a vocal quality and rhythm to the delivery, which meets with this haunting, classic hip hop soundscape, to deliver something dark and hypnotic, with rising intensity and passion as it moves along.
In contrast, Eternal Sunshine is a simple, piano-led and emotive, calm presentation that hits with beautiful impact for its juxtaposed softness and internal reflection.
Then we get the again unmistakable character and composition that is Alexandre Cazes – easily one worth more than a single listen. Less clarity vocally, but a story with multiple layers of grit and depth. Daddy follows and keeps that tone and retro synth darkness at the forefront.
Pissing in The Wind is a definite favorite, these poetic contemplations connect in a personal way – the story has its own scenes and details, but you can make the track your own. A faultless performance, and a strangely melancholic yet uplifting soundscape.
Despite the external concepts of the project, certain moments – like this – feel a little more intimate, exposing a vulnerability in the artist perhaps; or at-least it appears that way. Maybe Ultra_eko is simply a superb character actor. My Life injects a little more of this, with a gamer-like backdrop and an upfront, crisp vocal lead. It reaches out for its realness and honesty, and it works well to invite affection for this.
Bringing things to a poetic and dreamlike finish is the beautifully calming, emotionally exhausted Neon City – another favorite, easy to repeat. Again, we're invited into the moment here. There are less named characters during these final tracks, less exclusivity, more of an all of us vibe on the whole. It's powerful, and Ultra_eko has done a stunning job of arranging the album in a manner that connects and enthralls and impresses. Defiantly one of the UK's most fascinating and thoughtful, creatively uninhibited artists.
Read our interview with Ultra_eko for more information. Find & follow him on Twitter & Instagram.