It's been a minute, but the work-addict and creative rapper extraordinaire returns – this time with a simple yet striking masterpiece. Another full-length project, 8 original tracks – Light Work is the brand new release from the one and only Ultra_eko.
Adopting a classic flow alongside minimalist though unique sound-design, the project feels like a thoughtful turn towards mainstream UK rap, only it maintains the unmistakable authenticity and sharp wit and rhythm of Ultra_eko in the process.
Long-time collaborator DaRealMrLee joins eko on the opener Kingdom, a self-empowered anthem of stylish bars and unexpectedly mellow but cinematic production.
Lyrically this is some of his best work, as ever the bars captivate and intertwine shock factor, emotion and smartly-framed references on modern life.
Romance encapsulates, and brings in a likable hook to further elevate the musicality and appeal of the completed piece. Retro synths and distant rhythms and voices again lean towards electronica and easy, spacious production, while the lyrics explore what it means to be a man in today's world. Some of these bars work through a multitude of points before hitting that rhyme scheme head on – a skill renowned by fans as an Ultra_eko calling card.
While the album's title threads its implications throughout these songs and stories, perhaps it also appears in the overall impression of the project – Ultra_eko makes light work of connecting, compelling and impressing listeners.
Win Big picks up the pace at just the right moment, another single riff gifting character to the production, quirky drums up front and centre, fast bars uniting passion and precision across the entire self-celebratory arrangement.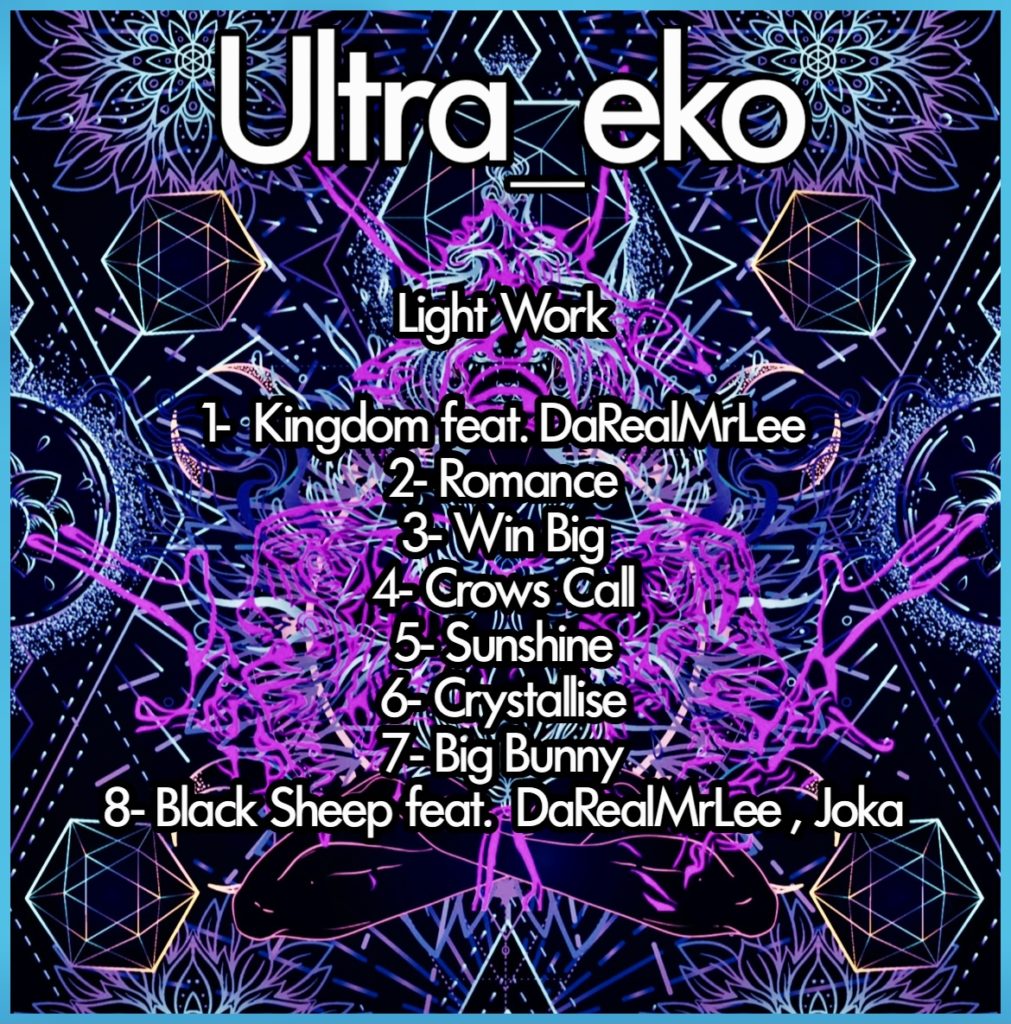 Always aware of his own role within the space, these tracks speak volumes on behalf of the honesty, observations and understanding that make up the uniquely reflective, provocative and intelligent lyrics of Ultra_eko. You can only catch as many ideas as possible; before returning for another ride on the machine that never falters.
Offering a touch of alternative contemplation is Crows Call, a little industrial by nature, bass depth and mechanical rhythms, a deeper dose of wonder and self-exploration.
Then to lighten the weight, Sunshine brings a piano-led melodic venture, heartbreaking and poetic, long-form and mildly theatrical as it again grips the listener in this slowly unraveling story. An unusual incidence of Ultra_eko consistently blending rap and melody throughout a composition, and all the more memorable for it.
Crystallise whips out the sharp unity between voice and rhythm, for a totally enthralling listen that resolves with a superb anthemic hook after each outpouring of considerations. Then we get a little electro-funk for Big Bunny, a lower-toned, calm delivery, hypnotic backdrop, and a relentless hi-hat maintaining the pace and allowing these metaphors and references to unignorably tap their way into your consciousness.
Finishing similarly to how it began, Light Work wraps things up with the atmospheric and melodic Black Sheep. DaRealMrLee returns, alongside Joka, and the three artists weave an addictively stylish web that's naturally a stand-out for its fullness, colour and consideration.
It's possible that in the same way we desensitize to shocking material over time, so too may we become somewhat numb to the genius of artists whose careers we've followed for years. It still baffles me that Ultra_eko isn't one of the names rising high on festival bills and radio playlists yet. Things are changing though, his growth within the scene is undeniable, and his versatility means that it's not just the hip hop world becoming aware, but the industry at large.
As such, it works well to consider this a fresh project from a swiftly rising independent. Perspective matters, and Light Work is easily one of the most creative, intelligent and refreshing rap albums to emerge in the past couple of years. I'd expect nothing less from eko, but as suggested – expectation can sometimes cloud our vision.
So, if you're new to his music, start here – then work your way back through an unmissable catalogue of meticulous and mighty projects.
Album out May 1st, 2023. Check out Ultra_eko on Twitter & Instagram. Listen to our podcast interview on Soundcloud or read more here.