Forever promising raw and authentic grunge rock tunes with topical twists, Trey Wonder gears up for the release of three brand new singles, each one impressing in its conceptually interesting, musically unique way.
Element 115 is a surprisingly mellow offering, leaning towards the fuzzy basement rock sound of the early noughties, with a dash of REM about the song-writing – still holding close to that instrumental drive and sense of reality that is the Trey Wonder signature though.
Simple lyrics and those ever familiar vocals keep further threads alive – the rasp, the repeat, the conceptual implications; the song hypnotically makes its point, whilst leaving you wondering and uncertain. Perhaps the most tired yet expressive vocals from Trey yet, these stand out from the mix in a compelling fashion – giving the lyrics a little extra weight.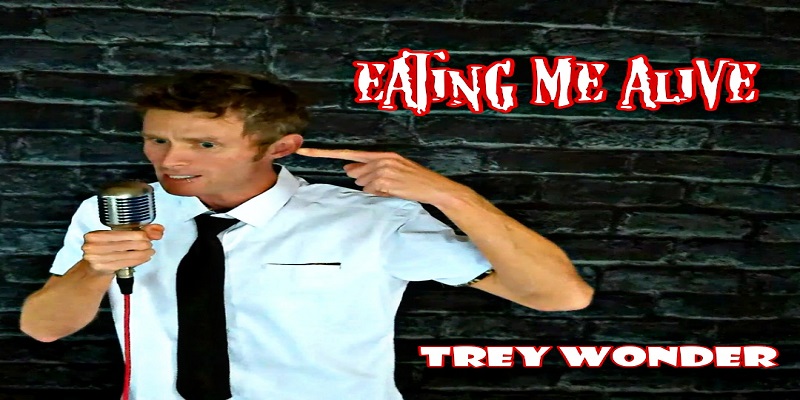 In terms of the topical aspects, Trey often blends the historical side of his work with that which is far more personal and emotional, and sometimes you can barely tell the difference. Are there connections between these three songs, in terms of the past year or the artist's own headspace in light of them?
Eating Me Alive intrigues in precisely this way, feeling brilliantly honest with its faster pace, rustic drum-line, vintage presentation and the longer-form lyrical outpouring. The ideas rain down, cutting from quick bars to shorter ones for the hook, before another chaotic instrumental injects a knees-up moment of explosive energy. In many ways, this song is the stylistic opposite of Element 115. Trey is covering all bases, and still keeping the set-up and sound authentically his.
The final single undoubtedly holds its own as relevant to the times, potentially bridging the gap between mysterious and outright political. She Hates Vaccines is a phrase all too familiar lately, and the song, with its laid-back groove and four-to-the-floor comfort, offers a similarly recognisable mood.
An easily infectious melody rises and falls, quickly memorable lyrics, grungy in a Nirvana-esque manner but still decipherable in a poignant, clearly relevant way. Obvious references are followed by clever alternatives that linger after listening – 'I love my kids, but they will be the death of me'. Brilliant; scarily on point.
This is, in hindsight, one of Trey Wonder's best singles yet. The heavy fuzz of the guitar and bass sound overwhelms the hook vocal but adds further impact to the thoughts presented during a quieter verse. The whole thing pushes you to listen over once again, to catch every missed point, to make greater sense of it – even to preparedly share it with a friend. We've all shared these ups and downs, seen the crazy, been the crazy – we may as well embrace the music as one.
'She hates vaccines, and I hate hearing about it.

Don't like my phone, but I hate leaving without it.'
Singles out April 1st, 2nd & 3rd. Check out Trey Wonder on Instagram & YouTube or visit his Website for merch & more music.