Lifelong composer and artist TOBY TUNE has crafted a collection of originals, designed for and dedicated to exploring the inner workings of the mind, and the role or experience of the self within this world of ours.
Each composition presents a unique journey, often with multiple different rhythms and layers. Fortunately, the title-track begins the process, introducing you effectively to the sound and intention of the album, and simultaneously providing a refreshing space within which to partake in some introspection yourself.
As things go on, a plethora of instrumental stories emerge, each with a fresh mood and sense of presence. The joyfulness and contrasting industrial rhythms of CHECKMATE take a notably different direction to the opener, though the song rises up with its bass-line progression to brighten and envelop the listener. This one quickly becomes a highlight in retrospect.
Elsewhere we get a fine fusion of organic and electronic elements. Natural strings appear alongside sweeping fragments of warped synths and a sort of quietly pulsating energy for Funk Me. A touch of European flair emerges in the programmed finger-picking-style melody. There's drama and lightness all at once, which makes for a genuinely unusual listen – a trait that proves true throughout Toby's work.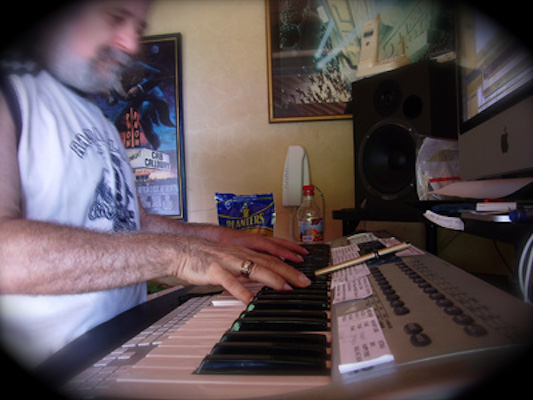 A multitude of instruments actually appear across these thirteen tracks. Piano and bass, retro synths, classic and contemporary flashes of detail. Sometimes the melodies meet and work as one, other times they work against each other to create a sort of implied dialogue or dueling dance. In every case, Toby succeeds in appearing as all at once uninhibited in his creativity, and skillful in his creation of satisfying, memorable melodies. Rarely do these qualities combine in modern music. It makes for a welcoming yet authentically new experience.
Personal highlights seem to resonate from the album's central section, including the overwhelmingly optimistic rise up of TRAGICALLY COOL, the subtle Americana swagger and melancholy united in HOMESTAY, and the light yet exciting, rather inspiring LOOKING FORWARD. And during the latter half, there are as many moments of whistle-led softness and color as there are of dramatic, heavy intention and uncertainty. The cinematic possibilities seem limitless, and Toby showcases this brilliantly throughout this project.
Always the artist toys with the very fabric of sound design, and always he maintains a sense of audience awareness – a knowledge that experimentation alone can lose attention, but combine it with the artistic building blocks known to appeal, and you're onto a winner.
PONDERANCE is another personal favorite, intense and energizing, balancing gritty sci-fi fragments with delicate, hopeful synth notes. Then there's the suddenly soulful clarity and brightness that is GOOD TIMES, bringing things to a beautifully addictive, rightfully good-vibes-driven finish.
Really well done, a composer with a true level of individuality and identity to his style and sound. An easy playlist to lose yourself within for a while.
Visit the Toby Tune Website for more information.