Stoned Fox presents an emotionally poignant, creatively free collection of tracks with this latest album Deadman's Wonderland. Taking arrangement carefully into consideration, the project begins with an ambient wash of space and quiet, as a spoken word segment lays out a series of ideas relating to the world, the self, the mind, and personal turmoil. You get an impression of what's to follow, but rather than offering a prediction, this opener merely paves the way for a series of similarly thoughtful and provocative concepts and artistic soundscapes.
Buckets Of Blood quickly redirects things as the second track on the album. An infectious and rather anthemic indie-rock piece emerges, groups of vocals offer a sense of chanting or togetherness as these poetic and captivating lyrics pour through. The song walks the line between melancholy and joy, as does much of the album – never leaning too intensely in either direction, but always keeping you intrigued. The juxtaposed words featured in the title are represented effectively.
Crematory Blues takes the form of a delicate Bowie-style song, spacious and almost acoustic, with a simple melody and an often near-whispered vocal delivery that feels very intimate and in keeping with the sadness at the heart of the writing. Even with the eclectic and unpredictable nature of the music on this project, the lyrics are by far the most compelling and fascinating thread throughout it. Prepare, if you can, to feel heart broken, enlightened, uplifted, calmed, and concerned – all within the hour.
Brokeland changes the pace again and leads with a genuine acoustic energy – a simple, organic set-up accompanies a considerate and reflective song that connects for its quiet, up-front honesty and realness. The song gradually gathers momentum but does so in a natural and fairly raw manner. The latter half sees this oddly warm soundscape envelop and embrace the listener. Appetite For The Blade follows with a similar mood and a slightly grunge-like melody-line and vocal tone. That Bowie flicker returns for the hook – always Stoned Fox arranges his tracks in a creatively uninhibited fashion, which works well to make them feel new and consistently interesting.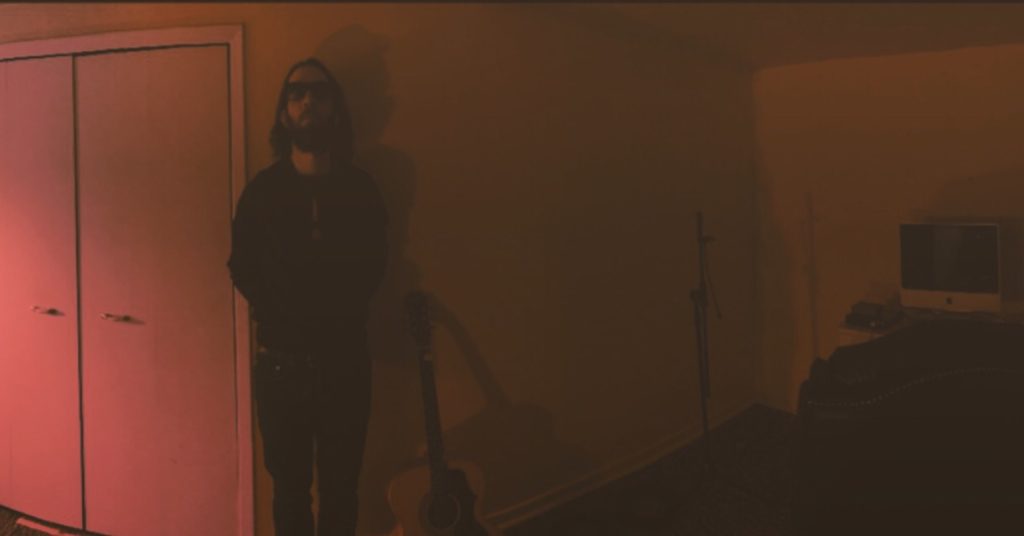 A definite musical highlight from this album is Electric Heresy –  a superb melody, long-form and rising high initially before falling back down, a marching beat and a general vibe of increasing intensity and brightness. That grunge twang returns for the hook, and by now you know the voice, the style, the ideas. The words continue to allure in a poetic and fresh way. Contrast is utilized, the verses and the hook feel like entirely different moments. A personal favourite.
Save Me reintroduces delicacy, a gentle guitar and a vulnerable vocal give off a nineties emo vibe or something a little Brand New inspired. Newlywed and Nearly Dead follows and offers an immediately memorable melody and musicality – another highlight, a striking song that really stands out at this point on the project. The distant vocals make it hard to gather every lyric the first time around, but the overall mood and the artistry of the entire piece make a distinct few ideas reach out to you. The vocals hit some gorgeously raspy, emotional peaks here.
Towards the end of the collection, Stoned Fox reminds you of those hints of optimism that walk hand-in-hand with sadness. Don't worry your heart, I'm already gone is both incredibly sad and bizarrely soothing – Gone – Hiatus / A Farewell Spell sees the vocals fade off into the reverb-soaked distance, as a hypnotic little guitar riff weaves its way around you. Hellish Mind afterwards feels beautifully inspired by Elliot Smith's way with songwriting – the story-telling and the openness, the poetry and the calm, the art. There's a mildly theatrical sense of drama to this one as it progresses. A great verse melody helps make it another possible highlight.
Happiness Forgotten brings the project to a close with some blunt vocal outpourings and a dreamlike ambiance that allows the artist to pour his final thoughts into the process. Hints of strong melody appear intermittently among some that seem like more of a stream of consciousness. Again, the song is easily compelling – entrancing even with its vocal clarity and the series of images it presents. This album has a definite sense of identity and introduces Stoned Fox as a deep thinking, creatively expressive artist with a magnetic writing style. An easy one to get lost within.