Squid Cult's long-awaited full-length project is every bit as entertaining as you'd hope and simultaneously far exceeds expectations for its unique approach to songwriting and the sheer variety offered throughout the playlist.
As an opener, Willie is a striking song, memorable for its creative structuring, its story-line, its sudden switches from the mellow and joyful to the much more hard-hitting and fast-paced. The band kick things off with character and an increasingly impressive display of musicianship. The sound is something like indie-pop with a flicker of ska and a dash of punk-rock, among other things. It's Squid Cult, simply put.
The rather iconic Rattlesnake follows on perfectly with grit and manic energy, plus an equally impressive and creative set-up. This feels like much more of a show than a simple collection of songs.
Everybody Knows is a song that stands out for its simplistic, pure presentation – the keys and the melody, the wish-list. I felt something of an Eels vibe from it, a welcomed touch of nostalgia. It's a wonderful song and gorgeously, calmly performed. Squid Cult never fail to provide you with thoughtful, scenically detailed lyrics. Baby Blue after this continues the captivating nature of the sound and lulls you in softly then hits you with what quickly becomes one of the most impressive and compelling songs of the whole album. A definite highlight, unique and interesting, musically vibrant and as creative and expressive as ever.
Adding to the list of favourites is undoubtedly a song called Angelpuke. Classic 90's rock fans will most probably respond wonderfully to the opening guitar riff and the overall weight and warmth of the music that explodes into the room as this begins to play. Think Smashing Pumpkins or Queens Of The Stone Age, even The Smiths to an extent, emotional and heavy yet somehow still beautifully delicate. Once more, mixed in with all of this, the lyrics are incredibly intriguing and quite mesmerising among the soundscape.
Keeping the energy high and adding further attitude and colourful chaos is Scenes From Subspace – the rising intensity and the clearly organic musical presentation is infectious. The riding, ascending bass line and every little layer of detail adds even more to love. At this point a live show from the band becomes a must. Hellish follows and offers a more traditional chord progression and melody-line, well received and an enjoyable moment of intimate, reflective human life.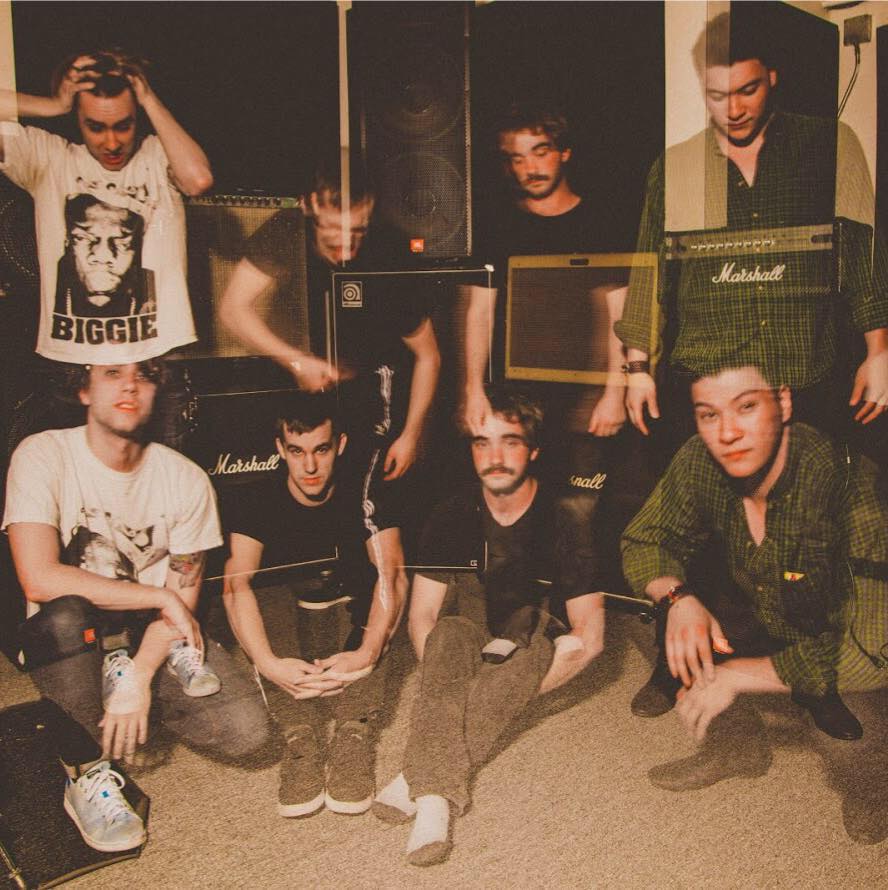 Squid Cult's musical strengths lie in their creativity and their shared passion as a band. Their music is refreshingly full of identity and ideas that feel new and poetic and honest. Their lead singer has a voice that seems naturally connected to everything portrayed. This album is an easy pleasure to have play for you, in just about any setting.
As things lean towards their inevitable end, The Urinal draws your attention for its bizarre meeting of the beautiful and the inanimate. The personal touch is mighty, the guitar work is gorgeous, and the song glows with honest expression. Red Bamboo follows and contrasts intensely – an upbeat and mildly funky rhythm and melody emerge, with yet another strangely gripping story. The bass-line is brilliant.
Everything ends with the rather blissful, notably slowed-down glow of Last Man. A reverb-soaked ambiance emerges, sounding something like a tired outro or even a soundcheck. This is the band utilising the time and space within which they play. The piece evolves to be a stunning bit of expressive escapism, unlike anything that came before but perfectly in keeping with the somewhat epic feeling of a journey coming towards its end.
Variety is everything, and yet even with that – the band hold tight to the essence of their own artistry. All Boys Leave Home Someday is perhaps a relevant representation or telling journey through life's inevitable stages. Thoughtfully and masterfully written and captured. A brilliant collection of songs.
The album will be available on August 3rd. Find & follow Squid Cult on Facebook, Twitter & Instagram.