Introducing the highly-anticipated new album from one of modern Americana's most authentically gripping artists, the blues-rock rasp and swagger of Mat D reaches peak embrace, throughout the stylish highs and lows of Jericho Gap.
Exploding into life with the classic blues-rock swagger and gritty vocals of its title-track, Jericho Gap offers slick riffs, high energy, fast-bars and classic country storytelling – feeling like an instant hit from a simpler era. Still that clarity and character keeps things fresh, and it's a pleasure to hear something a little more full-band bright and bold from the reflective songwriter who brought us the piercingly raw and emotive The Company I Keep.
Paradise Lost follows and takes us through a cinematic realm of stylish guitar licks and expressive, upbeat performance. Darker lyrics contrast the quick pace of the track, and as ever Mat crafts a melody and progression that feel familiar but not quite – walking a worthy line between timeless and original music. The intricacies of the story take a little contemplation to connect with, Mat's poetic approach forever balancing vagueness and personal anecdote in a way that feels unique yet also easy to relate to one's own experiences.
We mellow out further for That July Flood, another quickly catchy melody of short lines and vivid scenes. The softness extends towards the final third, when our unrivaled vocalist hits the true passion of the concept, united with a sublime guitar solo, to really bring home the sentiments of the song.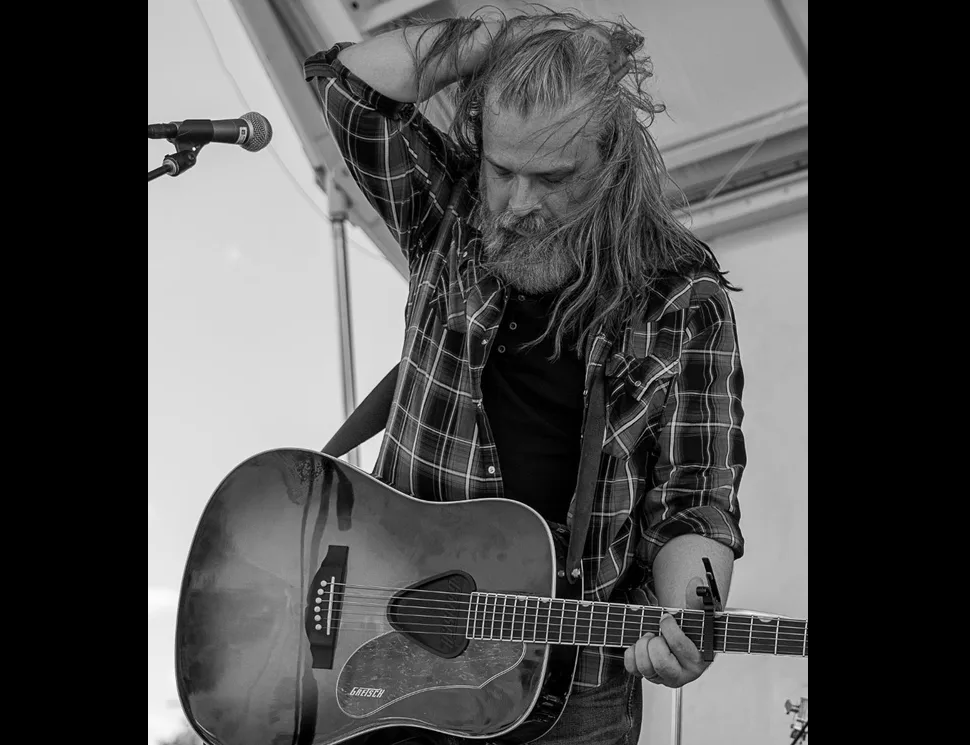 Mellow acoustic vibes lay down the intriguing Forty Watt Moon, with a brilliant use of contrast between delicacy and power. These two-songs and the one to follow consistently make for a personal favourite section of Jericho Gap. Bikini Bull Riding, Cold Beer, Dirty Girls completes the sultry and stripped-back journey with a blissfully gentle yet gripping delivery from Mat.
To raise the rhythm again, Ford Marriage is fantastic – upbeat and infectious, resolving well at the end of each line for a personal twist of depth, building the anticipation with vocal strength and subtle additional guitar layers. The pace appears to rise and rise, enveloping the listener in this intoxicating and breathless rush of events. Faultless lyrical development once more proves another calling card of Mat D.
We then delve into the ache of death for a heartbreaking and hypnotic Graveyard Honey, one of several songs on this album that begs for you to listen on repeat in order to build a stronger understanding of the ideas behind it.
Later on, acoustic softness and lighter vocals allow Exodus to really stand out, effectively silencing the room. Lines like 'I'm too old for romance, and too stubborn to die' cut through the noise of the world with humanity and heart. This overall concept of time running out affects much of Mat's writing on this album. He talks more about this in our interview.
Lodestar follows well, vintage recording tones taking things back to the dawn of blues and folk, Mat D's lyrics again painting unignorable pictures and provoking thoughts unexpectedly poignant. Arrangement matters, and the very order of these songs works its magic beautifully, right through to these near-closing moments – the impact of which is all the more noteworthy after what came before.
Wrapping things up is the fast-paced and recognizable Angel Of The Lost Hi-Way. Volume and pace unite with slick riffs and charmingly versatile, captivating vocals. For one last time we're prompted to seek out the live shows of Mat D in the coming months – something that would no doubt bring these songs to life in a breathtaking manner.
For now though, the original playlist that is Jericho Gap provides every bit of escapism, uplift, wonder and reflection that true music fan require in order to feel a little more at peace or understood within the world. And it comes with musicianship and vocals that are absolutely second to none. Not to be missed.
Releasing March 30th. Find all things Mat D here, visit his Website or follow him on Facebook, TikTok, Bandcamp, Twitter & Instagram.