Prior to the release of his superb full-length album Jericho Gap, we were blessed with the opportunity to interview songwriter and musician Mat D, to find out more about his creative process, his journey through life and music, and his plans for the future. Here's the conversation in full.
* * *
Hi Mat – a real pleasure to interview you finally, and huge congrats for the upcoming album! In your own words, how would you describe the music of Mat D?
Thank you! I would describe my sound as a melting pot of American music. A few years back I had a writer describe it as "Hard Luck Americana" with an emphasis on "Bad Man Ballads"; a mixture of rock, indie, country, blues, modern-folk and gospel-roots. I think it lives in the spaces between those genres as sort of its own thing.
"Had a guy from Mississippi call me the "Hemingway of the Highway" and that rung true as well. I would call it rootsy, hard edged country-flavoured rock n roll."
Tell us about Jericho Gap, what inspired the title and stories within, and what does this collection represent for you?
Jericho Gap is a ride down the Mother Road – Route 66 all the way. I focused on the ghost towns, the run-down motels, the old sights from Santa Monica to Chicago. All the characters and places I wrote about live and thrive in those sorts of places. Those towns and cities used to be the travel hubs and centres of yesteryear – the album focuses on them as they are now… "Great gods that decorated the skies reduced to old derelicts for the rare passer-by" It's a focus on the aftermath of its glory days. It finds its life in the wreck and the ruin.
Things get instantly upbeat, classic rock and roll / Americana with the opening title-track. We then mellow out for Paradise Lost. Always the vocals hold close to this gritty and emotive presentation. Who first inspired you to sing, and how have you honed your delivery over time?
Vocally its diverse. First – it was David Bowie. I found my voice listening and singing along to Ziggy Stardust and the Spiders from Mars. Bowie had a bright tenor and had amazing emotion in his voice. He accomplished so much with what he had. He was fearless.
Next it was discovering the music of Howlin' Wolf. I loved his over-the-top intense delivery and his range. Here was this 6-foot 5 inch mountain of a man that could scream and howl one minute and switch to high and lonesome at the drop of a hat. Truth be told I've never been a fan of my own voice – I just try to do the very best with what I have. Both of those artists and their music helped me spread my wings vocally.
You balance poetry and personal anecdote brilliantly. Do you read much poetry or literature, or is this from listening to country music or some other edge of inspiration?
Thank you! I am an avid reader and a devout listener for sure! I am not much of a poetry guy but Melville, Kerouac, Hemingway, Steinbeck, Cormac McCarthy and Eddy Joe Cotton are my stand out writers.
Lyrically? John Prine, John Hiatt, Terry Scott Taylor and Tom Waits are lyrical giants for me. I would also say that I am very observational as a writer. I slip a lot of personal emotions and feelings into what I write but I mostly present them rooted in fictional stories and characters. Places and landmarks that I come across are inspiration as well.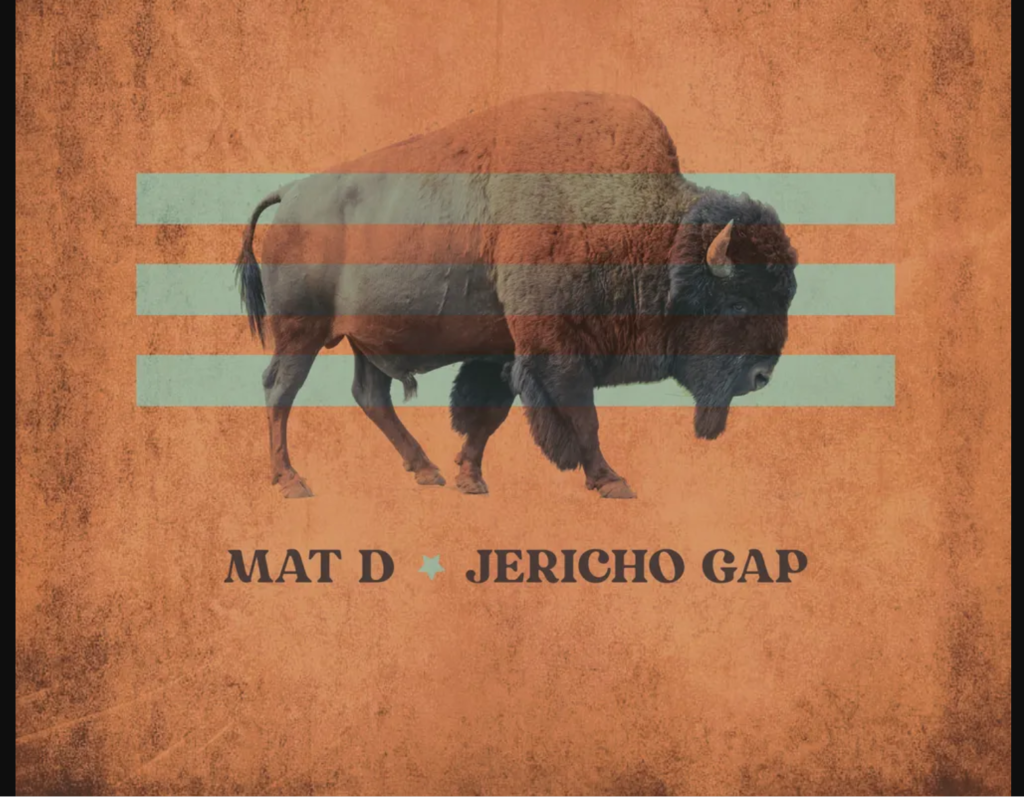 You pour a captivating level of emotion into Paradise Lost. What's the story behind it?
Paradise Lost is the heart and soul of man trapped in an environment that he can't escape staged inside the heart of cheap Motel. It could be a relationship or a hopeless situation. The human condition really.
I think we fantasize about love and life but struggle in the dark moments in between. "Velvet visions of grace in their old picture frames…" – it is the fantasy that plays out in our heads and hearts.
"We often picture life as a glamourous affair, but it's more complicated than that. Things like love, faith, fidelity & hope take hard work & dedication. Life can take a sharp turn in the other direction quickly."
It is the obsession of fantasy versus reality – a fantasy we all too often find ourselves trapped in.
When did you first pick up a guitar, and how do you make sure to continue building on your abilities as a musician?
I picked up my first acoustic guitar in 2002 after seeing Bob Dylan on his Love & Theft tour. AMAZING show. Charlie Sexton and Larry Campbell were the guitarists on that tour. They blew me away and inspired me to start writing.
Before that I had played bass guitar in garage and college bands that never really went anywhere. Dylan and his band got the gears turning. I learned a few chords – started jamming out three chord rockabilly and old country tunes. Just sort of built it all from there.
"I play & write every day, at least fifteen minutes or so. Even if I never end up using a song or an idea I am always writing or working on a melody in my head. I am convinced if I stop, I'll lose it. So, I just keep at it."
Jeff Deignan, Scott Walters and Jason Haven back you musically you for this project, will they be joining you for a tour at some point, and if so, where can fans anticipate a show?
We have gratefully been able to play a few shows together and are currently rehearsing new material. So grateful to be writing and making music with these guys. Would love to spread our wings and do some more gigs for sure. We've stayed pretty close to home but we're looking at growing and extending our fan base. These guys are just as fantastic live as they are in the studio. I have been so blessed to work with such talented musicians.
That July Flood is a personal favourite, the mellow groove and imagery, the melody, the sudden switches to passionate higher keys – it's a classic. Which song means the most to you personally though; which would you choose to perform if you only had a few minutes on stage, and why?
Thank you again! If I only had a few minutes on stage? That is a tough one. From this collection? I would say That July Flood or The Company I Keep. I think either of those are the most personal and emotional for me.
That July Flood because it is an energetic touchstone for the band – it's so damned fun to perform! The Company I Keep because of the lyrics and delivery. I think it is probably one of my most uncharacteristic songs and powerfully themed.
How did the idea of Forty Watt Moon come to you, and how does that song make you feel when you listen back?
Unrequited love and a special bond in a relationship that never works out. Good chemistry that sends you over the cliff. This one is a very personal song for me and deals directly with the love I've lost in my life. Some love only lasts for a season and we learn from it. It's tragic and bittersweet. This one is a snapshot of my own heartache and experience.
The Company I Keep was one of the first songs of yours to cross my path, and remains a stand-out. The sheer soul and impact of the rise up from quiet and space is immense. Do you remember where you were when you wrote this, and has its meaning changed for you over time?
Totally. It's the feeling that you've come so far and lost so much time that you can't get back.
"What's left in my cup is so black, I know I can't go back, I'm playing host…grieving the ghost of days come and gone"
Believe it or not, I wrote this in a about a half hour on a Sunday morning staring into a black cup of coffee. Just came to me. I was watching my youngest daughter draw a picture and thought "I will never get this time back. This is all I have. I'm not young anymore" I just felt a lot of love for my kids and my wife in that moment.
"Time is really the only currency that matters. Its limited & I think that is what gives life meaning."
Exodus is beautiful, and really well-placed within the collection. 'I'm too old for romance, and too stubborn to die' is just one of many memorable lines. What was the writing process like for this one?
Thank you! Exodus has been a touchstone for me. Another more personal song. It ties into the feeling that time is running out. The end of the road approaches. It chronicles a struggle with faith, belief, getting older and losing passion for life.
I sort of relate it to all these ghost towns on Route 66. People abandoned those towns and paved new roads to new places. It is that feeling that you want to escape that existence and move on. "Abandon these ruins" so-to-speak. It is a lot easier to do that when you're younger and more idealistic.
I also think, speaking only for myself, that often times we run away form the heartbreak and loss instead of feeling it…"I'd conjure a feeling but I'd only cry." We crave the victory laps. The romance. There are a lot of dark moments in between that break us and make us who we are.
No one escapes death, and when you think about it the dead aren't mourning – they're peace and we all end up where they are. It is about accepting the journey and knowing that the road will come to an end.
If you could sit down to write something with anyone at all, past or present, who would you choose, and why?
Hell yes. Two writers – I would have LOVED to be in a room with Johnny Cash back in the Sun Records days and work some sweet little rockabilly song up. That early sound was so simple and pure. That would be a dream come true. Either that or lay down some sweet dark ballad with him. A lot of power in that old baritone voice. What a legend. To be there in that heyday.
I would have loved to hit the road with Kerouac – in that day in age and that time in place. That would be one hell of road trip. A trek down America's Highways in the fifties? Incredible. To meet those people, to be inspired by the places and things he experienced would be powerful. I would love to be able walk a mile in those shoes in those places.
Is there anything else we should know?
I appreciate any one who takes the time to listen and I hope my songs ring true in your hearts and minds. Thank you!
* * *
Find all things Mat D here, visit his Website or follow him on Facebook, Twitter & Instagram.