Once you've pulled yourself away from the captivating beauty of the artwork accompanying this release, the music you'll discover is unlikely to be comparable with anything much else you've heard in recent months. Lucy, Racquel and Me, are a band who work together in unison to create the very best songs possible. They weren't thrown together, it seems, they chose each other – they work by using the very best of each of their skills, and the result is extremely unique, and impressive.
This self-titled album has a very clear and professional quality to it, almost as if it were a collection of pre-established pop songs. However, alongside this quality, is a really lovely touch of folk-music; that indie realism you just don't get in modern pop – and this makes it all sound very organic. You can really notice each individual instrument and voice playing it's part. It's a strong set up, that organic element makes it very real, increasing the likelihood of audiences seeking out a live show.
The opening track Hello Sunday is a great introduction to the overall sound of Lucy, Racquel and Me. There's a generally uplifting nature to the song writing and the music. It's a little reminiscent of some of the classic, pop-folk songs from The Corrs, a sound you don't really hear anymore. The band present their songs by means of a beautiful unity of sounds; stunning vocal performances, harmonies, riffs and rhythms – the whole thing makes for a fairly big but peaceful sound; a joyful sound, full of optimism.
Track 2 is a little more soul bearing than the opener, though it's good to burst into the scene with something upbeat. Children in Bare Feet has a huge amount of emotion to it. Right from the start, you can hear very clearly the leading voice and the lyrics – so you're focused in on those, and this is exactly the sort of song you need to focus in on to really appreciate it's meaning and it's value. It's a really well written piece, and once again, superbly performed – there's a real moment of soul in there, which transcends throughout the music that follows.
One Day breaks it down even further. The seductively vintage sound of a mellow electric guitar solo opens up the track, followed by a massively classic and beautifully powerful vocal performance. The lyrics seem, even more so now, to be delving deeper and deeper into experience and memory, feelings and dreams, as opposed to songs for the sake of songs. This song is pretty incredible actually, it has the jazz element down, with a slight flicker of At Last to the melody and the style, but it also brings the song writing right up there with the best of them. Plus, there's a little bit of that smokey-blues sound mixed in, just to top it all off.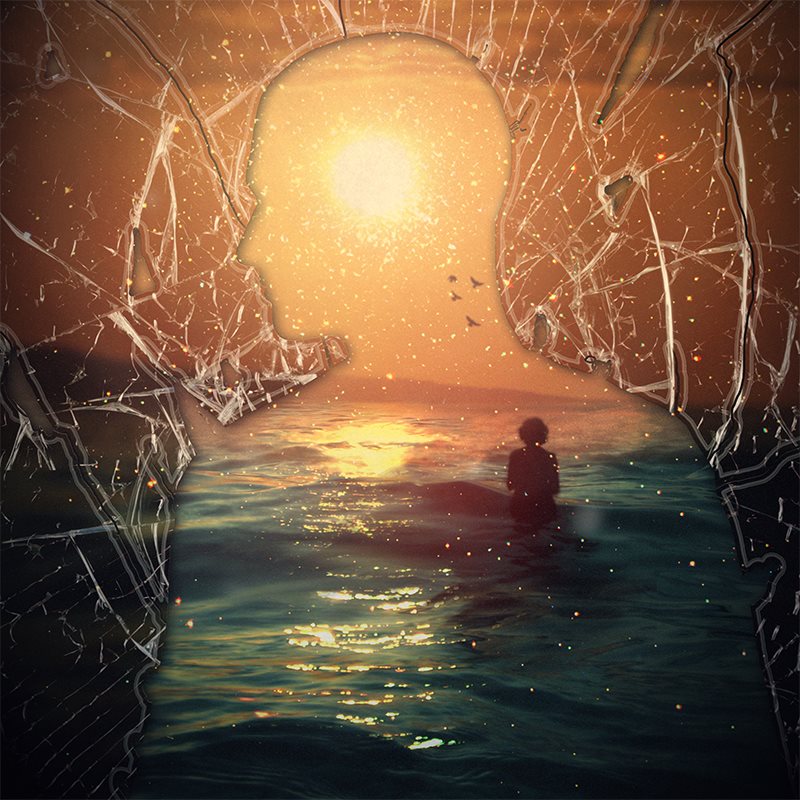 Despite this album sounding very much like a live band performance, there's a distinct element of the singer / songwriter vibe involved; you trust the songs to be relevant to the artists who made it, and that's a great quality. At the same time as this, there's a sweeping feeling of this being a fairly dramatic array of ideas and lyrics, even slightly theatrical at times. A really unusual and wonderful angle to witness.
Shattered is sung beautifully, with the simple addition of an acoustic guitar, finger picked very softly, and some wonderful backing vocals. It stands out as the sort of song that could become the theme tune to some up and coming new film. There's a massive sound to it, yet, technically speaking, it's fairly minimalist when compared to some of the other songs. The vastness comes from the chosen chords, notes, and lyrics – it comes from the depth and the emotion that is embedded within the music; a powerful accomplishment within a song.
Untraceably Gone brings a melancholic yet peaceful touch of piano ballad to the mix. Followed effectively by the memorable and hopeful sounding Love More, this middle section of the project really brings out the good vibes, despite the occasional hint of sadness. It makes you feel content and calm when you listen. The music is really well structured and performed, it's very easy to get wrapped up in the songs, which is great – you get lost in the sound, you learn the melodies and the lyrics as you go, and you become increasingly familiar with and addicted to the sound and style of the whole Lucy, Raquel and Me entourage.
Gone Baby Gone raises the bar even further in some respects, the vocal performances by this point have become a huge part of the beauty and the power in this sound. This particular track displays a superb melody line that is flawlessly sung, not to mention an overall song writing structure that builds things up and breaks them back down again in all the best ways. I heard a little Paula Cole in there at times, a similar atmosphere as presented by some of the tracks on This Fire. It was a brief moment, but after this, the songs seemed to take on even more character. What Did We Do Wrong, for example, is a mellow and relaxing kind of song, but lyrically it seems to really show a more vulnerable side to the artists. This reflective writing is something that so many people can relate to. It's a great way to reach people, and to make songs stand out in their minds – you make it relevant to a much wider audience this way.
Things get a little darker again for All True. There's still a feeling of drama, performance wise, the flawlessly reaching for and commanding of notes, but there's just a piano and a lead vocal for the most part now – plus a few distant strings to expand that wall of sound. This almost acoustic presentation makes the song feel very personal and honest. Following this emotional and poetic melancholy, it's quite a surprise to step forward into Coffee Queen. A pleasant kind of surprise; this is a fantastic song – the bass line and the overall vibe created by the go-lucky rhythm and the melody, plus the light hearted and happy set of lyrics, it all works really well. It's thoughtfully placed as the penultimate track of the album. It has that sort of simple bounce to it, that catchy hook, that mass appeal, which means you'll remember this one a fair while after listening.
Silence For Beginners brings things to a close, and by this point, the whole album feels a little like it's been a greatest hits collection. The leading vocal and the song writing style has a very distinct thread through it, but as a project, there is so much variation – drawing influence and inspiration, it seems, from anything between jazz, classical, folk and pop; there's a well chosen array of concepts and moods, so you don't get fed up of the sound; quite the contrary. It would be a pleasure to listen to future releases from these guys, just to see where else this wonderful collaboration may take them.
Find and follow Lucy, Racquel and Me on Facebook. The artists involved have embarked upon a collaborative album fusing all the best qualities from each of their skills and creativity. The leading three span globally from Australia, to France, to The USA (California). They each bring something unique to the table, and the result is really quite special. Check it out for yourself.