Categorically a favourite project of mine from this new year so far. Singer and songwriter Kirukaah has absolute crushed it with this one, everything from the organic big-band energy to the absolute soul, grit and clarity of the passionate vocal lead – not to mention the melodic build-ups, the honesty of the lyrics, the backing vocals. Jeopardize opens things up in the perfect way and boasts faultless levels of all of this and more.
Striking as a soulful songwriter and performer with a defiant edge of self-confidence and a carefree attitude, Kirukaah provides the absolute anthem and integrity for song fans to really revel in. You want to learn these words, to follow the meandering tone and melody of the vocal – throughout its unlimited highs and lows – and memorise and unite with the singer in her outcries of being over it.
'Now don't let the door hit you, where the good Lord split you, baby…'
Dynamite follows and the quality continues. Here we get a mellow, shoulder-swaying groove, and a touch of doo-wop-style support for what is a simple yet satisfying hook resolve.
Quickly showcasing herself as a versatile artist, impossible to pigeon-hole, Kirukaah switches gears for a positivity-fest as the beach-side tropical bounce of Ricochet fills the room. Another mighty, addictive hook, beautiful rhythms, and superb performances from all involved. 'Here for a good time, not a long time…'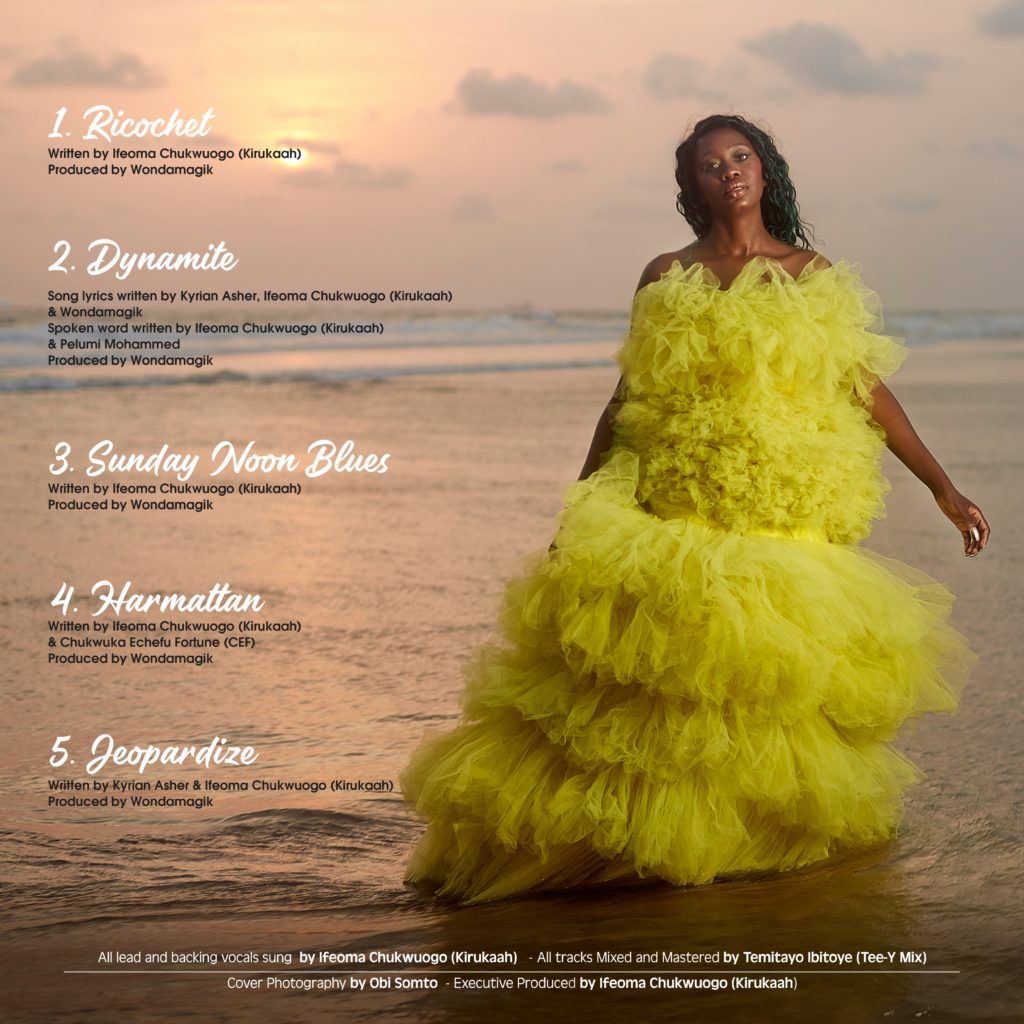 Breaking things down to the bare essentials is the seductively smooth, piano-led Autumn Leaves-esqye Harmattan, a well-placed moment of intimacy and emotion from a breathy and captivating Kirukaah.
Sunday Noon Blues (Interlude) follows and wraps up this sensational project with an a capella delivery from the bright star herself. Short and sweet but incredibly powerful, offering both nostalgia and a clear sense of possibility and optimism for the future of music.
Fantastic, what a debut. Stunning vocals, absolute character reigniting the freely expressive passion of a simpler era, brilliant musicianship, unwavering style, and superb production. Sanguine is an EP to turn up loud and lose yourself within.
Download Sanguine via iTunes or Amazon. Check out Kirukaah on Soundcloud, Twitter & Instagram.