Classical piano and a catchy choir-led hook guide us into the cinematic, inspiring and boldly entertaining new EP from the UK's own master of creative Hip Hop IAMKINGZIION.
Majestic Kingship is the new five-track EP, an impressively versatile yet undeniably enjoyable short collection, firing up its engines with the above-described colour and confidence of Money In The Building.
Instantly we get a sort of genre-free groove and mellow yet rhythmic bars, the unmistakable tone of IAMKINZIION's voice quickly guiding the self-celebration of the story – a likable introduction to an EP focused almost entirely on a clear love for the process.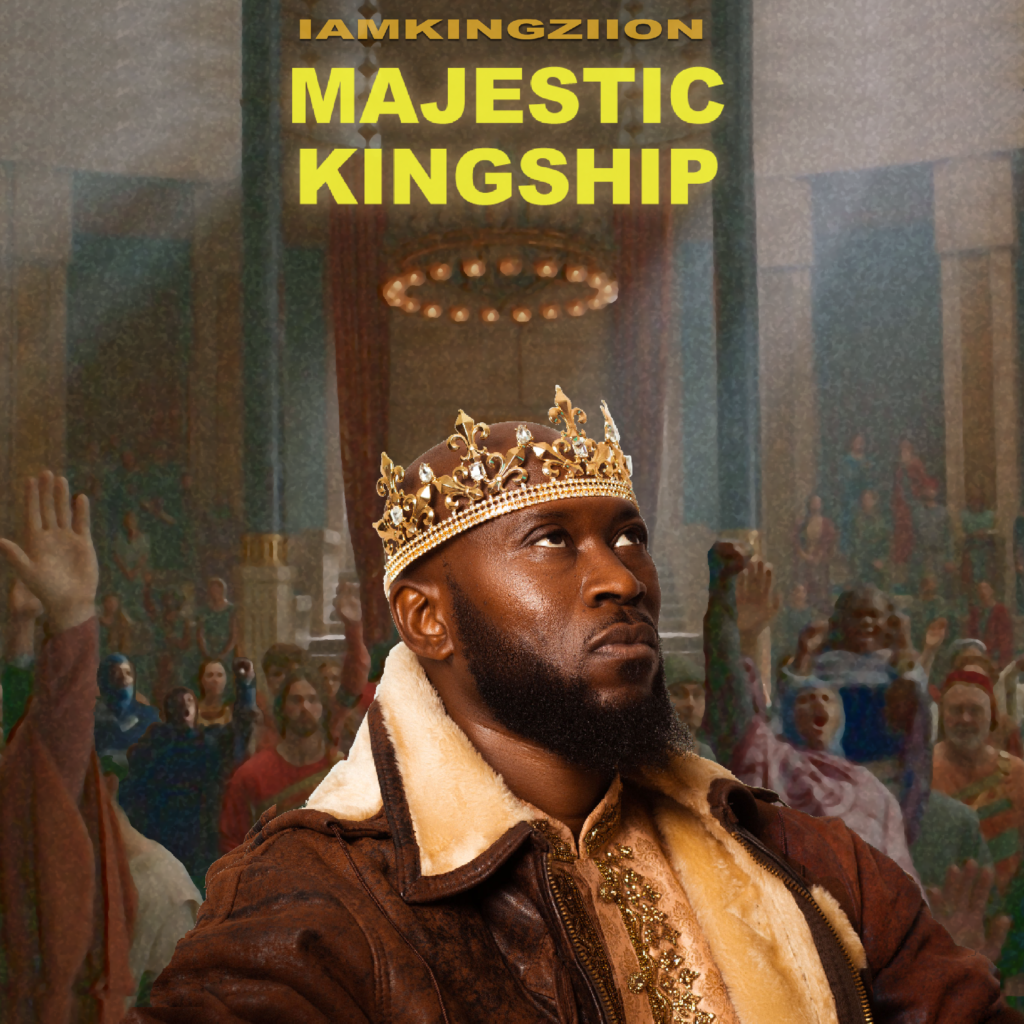 Versatility has long been a strength of the unlimited IAMKINGZIION, and the switch to the mellow Afrobeat/Afropop vibe and sultry performance of Give It To Me suggests that this remains the case. The artist captures a sense of diversity and audio depth across these otherwise simple pop-hip-hop fusion tracks, and the result is a surprisingly vast-feeling project.
Impulsion follows and another brand new instrumental set-up grips the listener with ease. Seductive riffs, melodic hooks and refreshing rhythms are a key part of Majestic Kingship's appeal, but however artistic each soundscape, IAMKINZIION always brings things back to the flow, the lyrics, and this consistent thread of royalty and unwavering self-belief.
Retro keys light up Majestic Party, with a spoken segment that again celebrates the kingship of the EP's inspiration, before offering a bass-heavy and vocally savvy arrangement. Then we get the nineties-like stomp and soul of Ghetto to wrap things up with one last blast of unpredictable yet still satisfying, smooth and inescapably captivating writing.
The gritty undertones of Ghetto lay bare a handful of heavier images, but as the music gathers momentum and passion, the lyrics turn towards the inspiring possibilities that elevate any darker insecurities. Following this build-up, we drop in for a beautifully evocative, melodic ear-worm of a hook. The completed track is an absolute highlight, featuring some additional talents that really let the Majestic Kingship EP shine a boldly new light on the intricacies of creative Hip Hop.
A total pleasure to let play, good fun and inspiring at the same time. Turn it up loud.
Find IAMKINGZIION on Amazon, iTunes, Deezer, Facebook, Twitter, Instagram & his Website.