As we continue to haplessly wander along the line between clarity and nothingness, certain artists are here for us just as they always have been – to bring that feeling and state of being to life, in the form of emotional audio escapism; to express the inexpressible, by means of an idea, sound, or statement.
While this album from Ehret is about as far from blatantly topical as can be, this simply works further in favor of it as the perfect antidote to a struggling society. Gleaner is a concept, a story, an entire experience held together by threads between all of its tracks. It authentically fuses delicacy and weight, uncertainty and knowing, personal intimacy and broad, vague attributes of life and love, in a way that's all-inclusive but lets it feel like yours and yours alone.
Throughout the first five songs we're swept away on this raw human energy, poetic and pure – complete with fragments of distortion and acoustic softness, experimentation, realness, hypnotic melodies and familiar yet strangely refreshing progressions. Ehret's poetic and decidedly honest observations on life, consciousness and the self, meet with these haunting, unpredictable and minimalist soundscapes, to lay bare the essential building blocks of existence – to welcome listeners into this unknown space, within which we are all a little lost, but feel calm and content in being so.
In the beginning, I'm here Now – a simple twang of the guitar, a reverb-soaked vocal and echo, with easily memorable, intriguing references. There's a rising sense of brightness, and an unexpected blending of qualities from both the alt-folk world and the softer scenes of progressive, alternative rock.
It's short lived, and Sow follows on with a similar, now recognizable style, but a new set of ideas and depths. Then Through The Dark lifts the pace and mood a little, feeling intense and full, more multi-layered than usual, cinematic in detail and rising anticipation.
I'd say there's no difference between you and me, but I was wrong…
With Mourning Star our attention is recaptured – our wandering minds brought back to the center, to listen to these whispered ideas and these wave-like flickers of hopeful acoustic guitar. The very simplicity and lack of melody in the intro helps redirect the experience, and showcases versatility in the Ehret creative approach.
Afterwards, Pray For Rain injects a touch of rhythmic European flavor, before Groaning Seed takes a fast strum and paired vocals to create a church-like delivery that longs for change, or growth. The contrast between these two compositions is quite striking. Ehret's experimentation in either case links cleverly with the underlying thought processes and artistic intention.
Cinematic qualities continue to appear throughout the latter half of the project. We get vocal fragments from other characters, keys and strings – September 12th, 2017 – a scene and sound building slowly around you. And here, like everywhere else, there's a story at work, but it takes more than a single listen, a little deeper thought, to connect the dots.
Two Olive Trees furthers than Spanish guitar aura from earlier, pairing vocals again. Consistently we get references to consciousness within the album.
Soh afterwards steers wholly away from softness towards electronic cinema and multi-layered audio embrace. Perhaps one of the most satisfying lyrical developments, with melody and spoken-word alike, piano and throbbing synths juxtaposing one another. A definite artistic highlight, though Poet King is beautiful afterwards, almost feeling like a subtle sequel to what came before.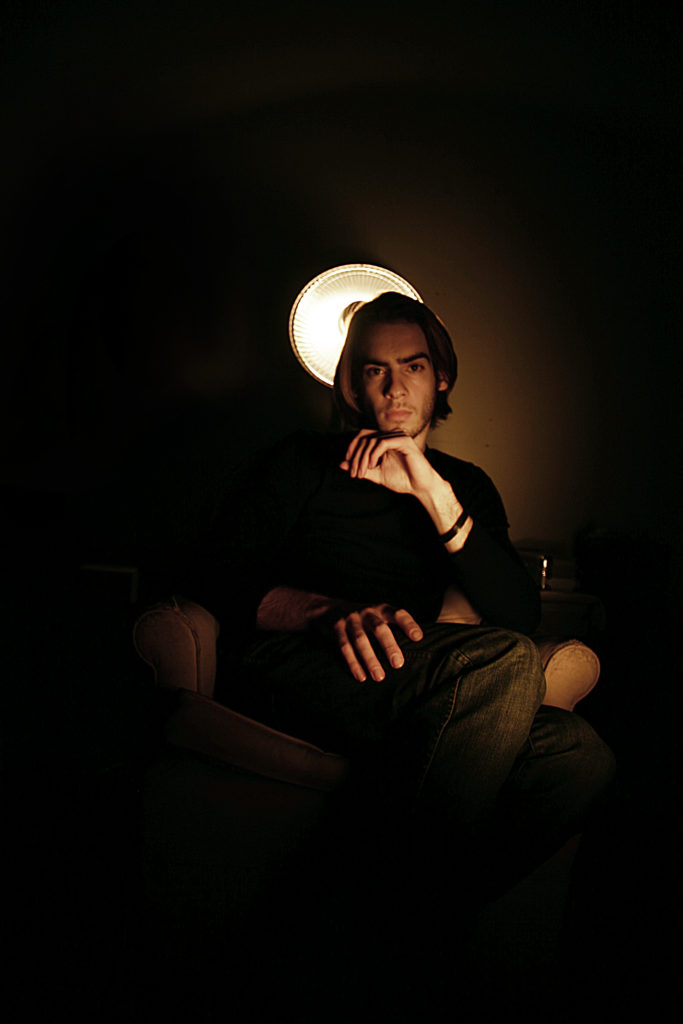 Broken Seals brings in a refreshing touch of stripped-back musicality, a kind of nineties, early noughties emo rock vibe, gentle and unaffected, revealing and entrancing. Perhaps another favorite, or the most melodically enticing of the collection (along with the closing track The Covenant), with a drum-line to further step away from the norm. Here, and on the follower Sluice, we see more examples of a clean-cut vocal that takes only a single listen to connect with. It's an addictive touch of realness, and the intimate, up front and quiet portrayal gives the impression the whole thing was written purely for you.
Then we get the power and brightness of The Covenant, an unexpected gem at the final hurdle, an optimistic song of gratitude and acceptance. It's comforting, uplifting, and rounds things off in a beautifully inspiring way. I'd rather you are happy…
Gleaner in full is a hypnotic series of unclear yet unafraid ideas and melodic expressions – a pseudo-concept album, in Ehret's own words. In a way, it's a quiet walk through the mind of the artist. In another, it's a strangely familiar walk through yours. Peaceful, occasionally unsettling, provocative, and understanding of the complexities of the human experience. Contemporary poetry and music at its most raw and honest. Undoubtedly one worth more than a few revisits.
Download or stream the album here. Find & follow Ehret on Facebook & Instagram.