Multi-instrumental composer and producer Darren J Harris returns in 2023 with his 6th studio album to date. The lifelong creative unites musical experience and a fascination for humanity and spirituality across a plethora of works. His new project Beyond appears to celebrate this limitless approach in perhaps the most impactful manner yet.
Transmittal begins the journey, intensely vast in its multi-layered, ambient evolution towards enveloping the listener entirely. Harmonised and dissonant details alike pour through with a clear sense of rising anticipation – incoming contemplations, complexities and wonder.
The latter half briefly spaces out towards industrial waves of volume that shake and unsettle the foundations in an intriguing manner. Overall though, we remain in this peaceful realm of simple yet striking vehemence; juxtaposed qualities that seem to aptly represent the underlying venture and intention.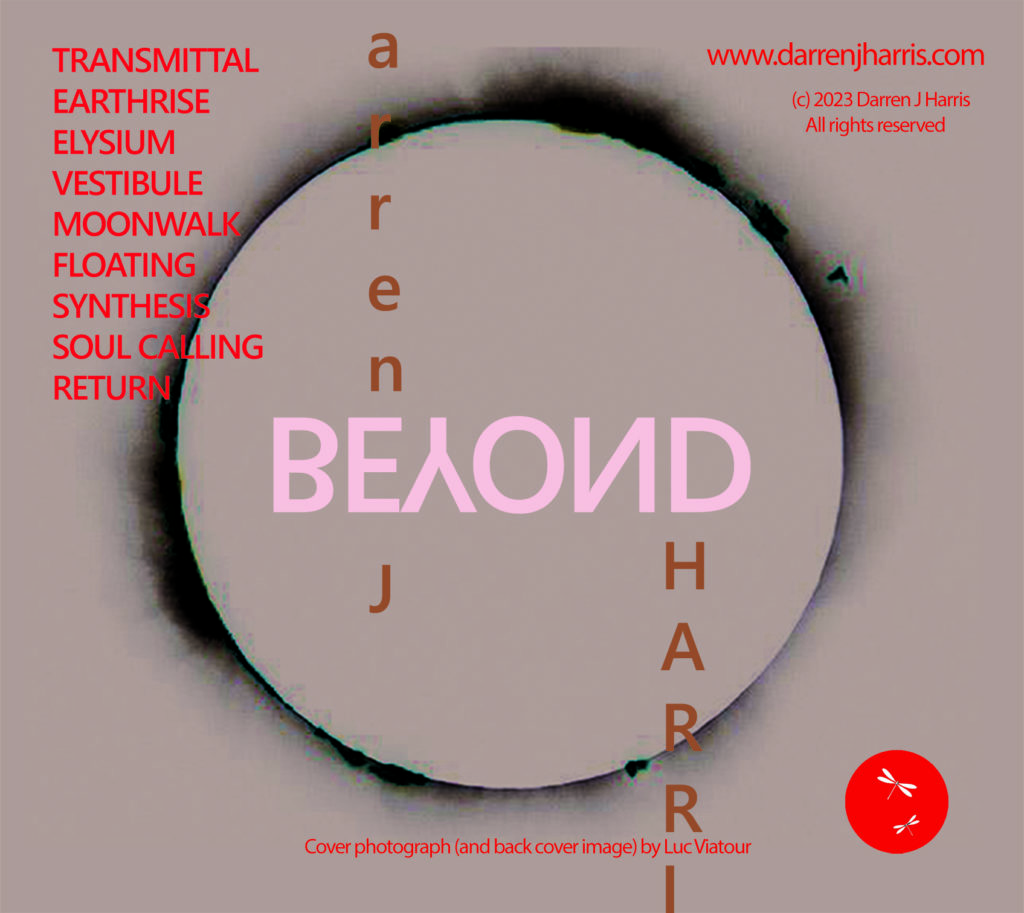 For Earthrise, Harris shifts gears in an instant, presenting a science-fiction-style realm of warped details and freely-meandering melodies, promising an other-worldly, mildly sinking feeling; which again contrasts the brightness of elsewhere – and that of the title's implication.
The unique traits of this are quick to draw the listener in – one of the most unusual and captivating instrumental pieces to emerge in quite some time, employing intricacies that actually continue to appeal throughout the subsequent panning and fuzz of a wholly immersive Elysium.
At this point its crucial to mention that Beyond, like much of Darren's work, is categorically best experienced through high-quality speakers or headphones, and at a worthy volume, for the full effect.
"I like music that is transportive, evocative, that takes you on a journey." – Darren J Harris.
Simplicity or minimalism deliver overwhelming vastness again for Vestibule, before Moonwalk brings rhythm and melody back for an engaging groove that's blissfully emotive and imaginative to commit to; a personal favourite for letting the mind wander and the possibilities rain down.
Then in stark contrast, the sheer darkness and presence of Floating stirs up feelings from a completely different side of the spectrum, before the beautifully breath-like Synthesis emerges to lighten the weight and remind us of the transformative focus of much of Darren's previous work. This lightness perseveres throughout the delicate and organic-feel of Soul Calling.
The very structure of these last three tracks delivers a sense of life and stillness intermittently – movement and nothingness, waking consciousness and sleep – two opposed sides of the very same coin. Soul Calling is another stand-out for its unique make-up and the voice-like warmth of the leading instrument.
To finish, the production veers distinctly towards cinematic power, as Return unites aspects of organic voice and industrial depth across an ethereal, engaging fusion of white noise and heartfelt connection.
Whilst being Darren's 6th studio album, Beyond seeks not to exclusively build upon an artist repertoire of ability, but rather explore a whole new world of thought and expression; as per the skills already available. The point is, Harris remains a creatively passionate composer – the sort with an unquenchable thirst for artistry and understanding. And this, in turn, gifts audiences a divine sense of escapism and guided purpose through his music.
Album out now. Find Darren J Harris on Bandcamp, Facebook & Instagram or visit his Website.