This self-titled album from Book Of Harmony brings together a distinctly dreamlike array of songs driven with an emotionally connected leading voice – one that presents each concept and melody in a way that really opens the music up to a string of new audiences. The leading voice is Leah Martin, and the supporting soundscapes are performed by a gathering of equally passionate and creatively inspired musicians.
Echoes of Freedom kicks things off in a short and sweet way, presenting layers of vocals and nothing much else, as well as a distinct and provocative concept. The project's title track follows, and this is where things really come into their own. The music on this track explodes into action, and more than just once. Throughout the four minute experience the soundscape pours various colours and details and emotions out into the room, seemingly taking influence from an immeasurable number of directions. It's a huge moment and it introduces the collective sound of the group in a powerful and memorable way.
As the project progresses the creativity continues to openly explore various avenues, often fusing what appears as classically led, organic music, with that of a more distorted and gritty nature – Breathe Into Me highlights this well. There are also many moments of calm among the chaos, times at which the emotional delicacy of the lyrics is laid a little more bare, and the leading lady's voice appears a touch more intimately, presenting something a bit more personal – Once , for example, and the stunning composition that is Water (a piece that can easily be listened to on repeat). Throughout the collection the balance between all of these elements works well – things evolve and change consistently, always feeling part of the same body of work, but always keeping you interested with some change in direction or some new, thought provoking level of depth. Water strikes as a little more trip-hop inspired, not dissimilar to the likes of Zero 7, in my opinion – a further indication of the eclectic nature of this project.
The Human Side is a song that takes a somewhat epic approach to expression, contrasting an intense, electronic rock and classically fused ambiance with a hauntingly calm leading vocal performance. Calling Angels welcomes back a generally more mellow energy level, a smoothly atmospheric song emerges, though it does offer a notably striking build-up to the hook that really grabs your attention. The structure of the song is hugely effective, bringing the level of skill involved in the crafting of this entire release even higher. A nostalgic touch of Incubus-like arrangement comes through at this point.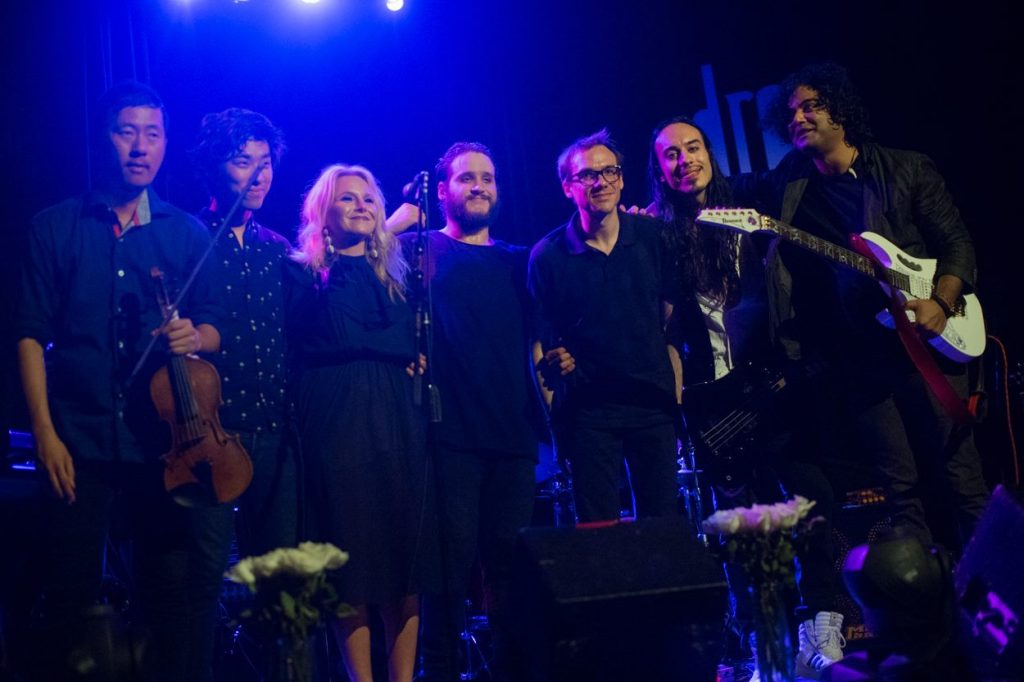 Keeping you on your toes, Ode To The Beast is a moment of pure, piano-led ambiance – soaking you in the raw, instrumental, emotional expression of the performance, followed fittingly by the relevant yet far more manic and detailed piece that is The Changing Seasons. This latter song again meanders off and away in a number of expressive and creative directions, leaning delicacy against distortion, swapping high energy for calmness, repeatedly evolving as the song moves forward. The lyrics further underline this feeling of change and endless movement.
The Dark Isle (Trad) re-ignites the raw energy of the highlands with a solo bagpipe performance. A gentle pop-inspired soundscape is next, though as you come to realise quite early on, nothing remains as you expect it to – the music consistently veers left when you try to predict it might go right. This is true of both Wishing Well and Angels and Demons – the latter beginning with blissful warmth and winding up somewhere far heavier and more intense (again relevantly representative of the concept and its inherent, opposing ideas).
The penultimate track of the album presents a reverb soaked, deeply atmospheric piece of music and writing that leads you thoughtfully into the final few moments. Signs Of Life (Intimations Of Immortality) finishes things up quite blissfully, bringing forth a distant and spacious ambiance, again displaying organic, acoustic instruments alongside of dreamlike, electronically driven synths. The leading voice appears distant hear, as if fading away into the aura of the music. It works really well to close things down in this way. There are so many different types of song on this album – to leave you feeling calm is the best way to make sure it all leaves its mark, which it does.
Stream the album on Spotify. Find & follow Book Of Harmony on Facebook, Twitter & Instagram. Visit their Website for more information.