Following the release of their album All Boys Leave Home Someday, we caught up with LA rockers Squid Cult to find out more about their musical journey to date. Here's the conversation in full. 
* * *
Hi guys – thanks for the interview. For those who aren't in the know – what does Squid Cult's music sound like?
It's the sound of all your naughty thoughts. —DT
Buckets of slime. Just absolute heaps of it, oozing all over the place. And guitars. —KM
Where did the band name come from?
We made a 400+ names excel spreadsheet to try and find a name. Nothing stuck. We knew we wanted something oceanic, evil, semi-religious… President Shrimp? No. Don Flon? No. Cuttlefish Kiss? Thankfully, no. Then one day, it popped in Karter's head suddenly and without warning: 'The world is ready for a new squid brand.' And boom. Squid Cult. —DT
What inspired the project All Boys Leave Home Someday?
All Boys Leave Home Someday is inspired by all guitar music everywhere. It's the sound of the four of us finding common ground, sort of playing in the sandbox. These are all our cool little mud castles.
I suppose on an esoteric level, it caught us all at a moment of dramatic personal change. I like to think of the songs as 11 of the billion different voices in your head, each one vying for control of your body and emotions. Which one will choose, who will you decide to become? You can't get away from it. To try would only drive you mad. You must engage with it. All boys leave home someday, after all. —DT
What does this album mean to you?
Proof that dad rock can be reappropriated for weirdo purposes? But seriously, every rock band I've ever been in has tried to do the "genre blending" thing, and this is the first time I'd say that approach has been successful. It's nice to have made something with a decent variety of styles/rhythms/approaches that still sounds cohesive. I'm pretty proud of it altogether. —KM
If people only have time to listen to one song from the project, which would you recommend – and why?
ANGELPUKE. I think it's the perfect center of everything we'd like to be, and everything we can't help but be. A little scary, a little loose, sorta brainy, kinda cute, funny, and deadly serious. —DT
How did you come up with the idea for the ANGELPUKE video?
Our friend Vsev is a marvelous technical wizard. My mom, for whatever reason, had a green screen lying around at home. She shipped it to me. Me and Vsev took our friend Jon out to Vasquez Rocks in his and Vsev's homemade Space Narwhal costume. Then we setup the green screen in a church gym (Squid Cult strikes again!!), and cavorted to the best of our ability.
Everything else you see is all Vsev doing magic. I think there's some digital effects in there, but it's mostly analog technical fuckery. Video feedback loops, shots of piano hammers, etc. Now where the self-immolation came from… that's a mystery to us all. —DT
How does making music videos compare to making records in the studio?
Well, there's a lot more that can go wrong. Like, for example, your house party shoot gets canceled and you have to redo the whole concept in <24 hours. And you rent a car nobody knows how to drive, and take it from Venice to Joshua Tree. And you almost get arrested on the way, and you're so shook you almost drive off with the gas pump still in your car, and then you realize that the desert is 35 degrees in February and no one brought jackets. And then you run out of gas on the way home and everyone's phones are dead and you have to hitchhike to a gas station in the middle of the night, where you subsequently lose your wallet. Most of those things don't happen in a typical studio session. —KM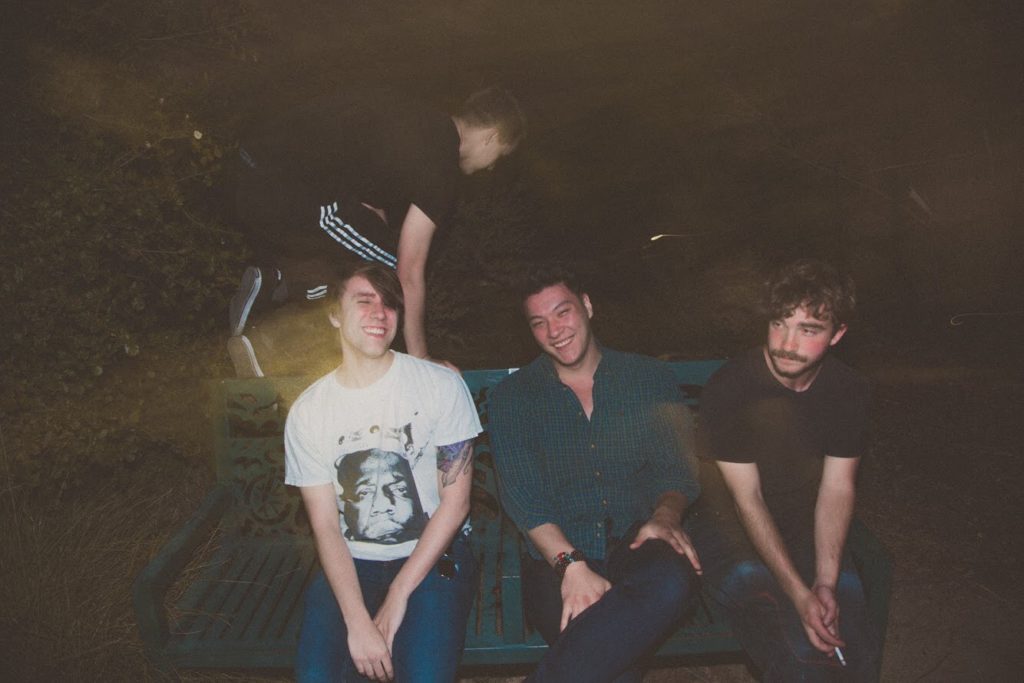 Who would you say has been one of the most inspirational or influential figures in pushing you to pursue music or life as artists?
I'm just gonna shout out our recording engineer and overall hero, Peter Novoa…He really made so much happen for us that wouldn't have otherwise, in audio land as well as helping us get our shit together online. I've never met anyone who comes close to Petey in terms of work ethic, patience, and precision. So he gets my vote. —KM
How important is live performance to you as a band?
Extremely important. The live performance is what makes a band 'real,' in my mind. The studio is not about real human beings doing anything extraordinary. It's the careful crafting of symbols and dreams, which is important if you're in a Squid Cult. But the real ritual where blood is shed and minds are forever changed, that's live performance. That's where you begin to really, truly believe. —DT
If you had to choose one song from throughout time that you wish you could have written, which would it be, and why?
I don't wish I'd written anybody else's music. But I did just see Animal Collective on their Sung Tongs tour and it kind of blew me away how amazing their songwriting from that era is. I'd love to try writing some stuff that blends that kind of primal, pure-emotion wordless energy with tight pop melodies, in a similar way. Winters Love is a great example. —KM
What's one of your greatest aspirations or dreams that you're working towards as a band?
We'd like to create a real, honest-to-gods cult. Not in the kool-aid sense, nor in the free love sense (though there's always room for free love). But in the sense of our own pulpit, populated by Squid Cult and other no-compromise creators. Our own choir of believers and like-minds behind us, our own crowd of friends and enemies before us. Our own label to release our own art. Our own circuit to bring our work to the world. Nobody between us and the world. —DT
What are your plans creatively over the next twelve months?
Dan and I collectively have like 20 projects going on (not exaggerating, we said yes to too much stuff this year) but as far as Squid Cult goes, we're working on our next album which is about alligators and the terrors of capitalism and stuff like that. We also have two really long songs we want to make into their own record. Beyond that, just trying to play more shows outside of LA so we can become extremely famous. —KM
What's something about Squid Cult that most people don't know?
We've got big plans and big dreams. We need big minds to collaborate with. If you make art—videos, graphics, sounds, words, whatever—and want to make something unique or terrifying, hit us up!! squidcultmusic@gmail.com —DT
Is there anything else you'd like to say?
Not really! Thanks for the support and the thoughtful interview!! —KM
* * *