This month we caught up with songwriter and artist Rick Shaffer to talk about his brand new album Creatures Of Impulse. We also discussed his musical journey to date, his thoughts on the future of rock, and his plans for throughout 2019. Here's the conversation in full. 
* * *
Hi Rick, thanks for your time with this. How has 2018 been for you?
Hello, Rebecca, the year has been busy finishing up my Creatures Of Impulse project and it's especially rewarding how it turned out. We had a bunch of twists with the scheduling putting together the musicians and studio availability to record. It was important to record this one in Como (MI) because the vibe is so right there. I wanted to use Stevie Carlisle, from Detroit, who is the drummer on my 2017 Stolen Moments album because he has a rocking garage blues style groove that worked well in those tracks. Also, Billy Nicole – a bass player from Hernando (MI), who was suggested by our assistant engineer Frank Kirkland. The rest of the tracks were with my long time percussion man Boo Boo Spencer who has that Hill Country swing groove, and I carried out the accompaniment and production.
Regarding the release of Creatures Of Impulse – what inspired the album and its concept and title? 
I have been very inspired by the collective works of the Mississippi Sheiks and wanting to stylistically combine the elements of garage and expand on ideas from my previous albums. I'm often asked why not represent what you do in a more traditional sense, but for me it would be an insult to musicians doing that style, and really the idea is to create my own sound inspired by the many artists who's work has influenced me.
The production focus was to keep it present and in your face. I always want that 1960's transistor radio limiting. Also in mixing and mastering for the different listening formats available today, and that headphones are what most listeners use on their devices.  The album title is from a quote I came across by the writer Joseph Conrad, "For in truth we who are creatures of impulse are not creatures of despair."
Have your thoughts on life and subsequently your writing style changed much over time – and if yes, how so?
Change is the one constant, with the biggest change for me in my life and writing is staying in the moment, to not be distracted. I got off the major record company treadmill a long time ago, which was a huge detriment to the creative process for me.  An important change is producing the material myself. I know what the sound should be, not someone else who has their own agenda to how it should sound. I believe in writing and playing what I feel, then putting the album out there. It's like leaving crumbs and turning people on to my ideas and sounds. I've seen that over time the record I made with The Reds continues to grow its listener audience. Time is the decider in the end and you can't worry about what you can't control.
If someone only has time to check out one song from the new project, which would you recommend – and why?
High & Low because it really represents the Hill Country / Rockabilly groove, and in the lyrics — "Don't try and live by others expectations" — something that is a thread in all my work. The track itself reflects many elements like incorporating a more modern Ronnie Wood / Faces slide style and sound, distorted Link Wray rhythm guitars, atmospheric percussion shakers and spoons, along with the production approach of the Polydor Records self-titled Link Wray album recorded in the Three Track Shack that's a masterpiece in my opinion.
What prompted you to consider and write about the ideas expressed in Flawed Perfection?
I wanted to let the material, recording, performance and production live, breath and feel. I didn't want to over analyze everything and reach for the perfection of "Auto Tune" a lot of artists use that makes the vocals sound the same, as well the same production techniques over and over. Mistakes and the wrong notes don't exist in Flawed Perfection, it's a live and natural moment. I've seen many artists get paralyzed by it's never right, it's not a perfect vocal, groove, or sound like a major label release. That's not for me. There's an old saying, "Don't worry about the horse being blind, just load the wagon," in other words, just do the work.
In what way do you think this project differs from what you've released before?
This album is more roots influenced much like my early solo albums. The last two albums Outside Of Time and Stolen Moments are definitely more rocking garage blues in the sound. Both were recorded in Detroit at Del-Tone, a great little studio, with rock-n-roll musicians and a great recording team, which is totally different from the laid back Como vibe .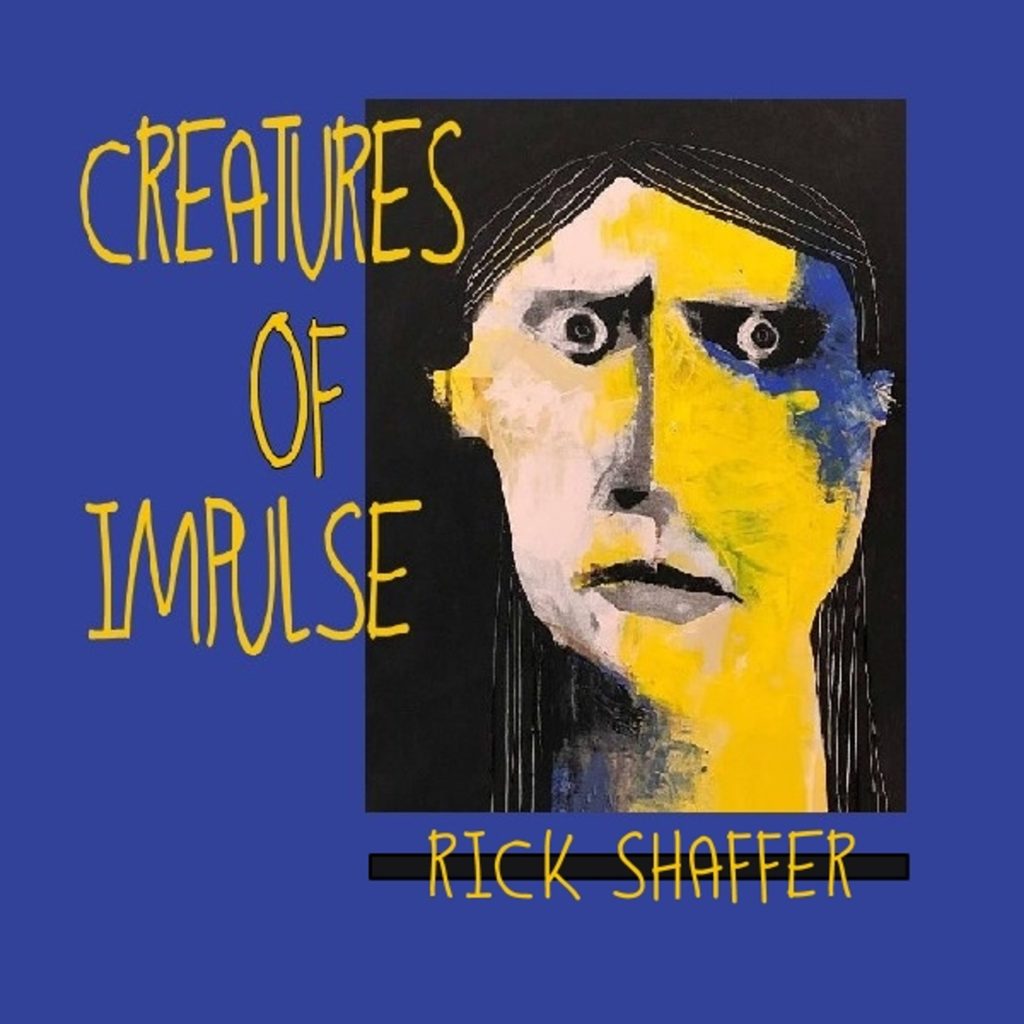 How did the artwork for the album come to be?
The work of artist Mark Mellon was brought to my attention by my manager, Theresa Marchione. We both admire his work so much that we licensed his art for the Stolen Moments and Creatures Of Impulse albums. I like the abstract outsider feel of his art, and it's commonality with my sound of being primitive and modern at the same time.
How do you get started when writing songs – guitar and vocals, full band jam, lyrics first?
There's no formula. What ever happens that moves me, a groove, guitar figure, guitar sounds, a phrase from a book, or an experience. Lyrically it's sometimes a stream of consciousness with the backing track, then picking out words and phrases to develop the vocal.
Did you hone your vocal style over time or have you always had a natural ability to sing with rock and roll grit?
My vocal style is always a work in progress and the "grit" has been earned through the years of performing. It's around the phrasing and emotion, and I'm hoping to one day have the Bob Dylan "gravel" and the John Hammond vocal attack.
What are your thoughts on the future of blues rock or rock and roll in general – are things on the up again, did they never really go away, is hip hop the greater force now?
Speaking for myself, it ain't goin anywhere, and there will always be an audience for the feel and sound. Sure Hip Hop is a greater force because it's a huge commercial music style with tremendous production, strong grooves, and lyrics relate-able to the music buying public. But the truth is there's room for everybody.
Will you be touring with the new album?
I have no plans to tour.
What are your main hopes and plans throughout 2019?
I want to continue to write and explore the garage blues sound. My partner Bruce Cohen and I are in the early talking stages of a new recording by The Reds. His album, Five BC, a hybrid of electronics and atmospherics that's some of his best work was also just released, so we're taking The Reds project slowly.
If you could sit down to lunch with absolutely anyone, past or present – who would you choose, and what would you ask them about?
Joseph Conrad the brilliant Polish novelist who is one of my favourite writers. He lived life and had a broad vision, and an outsider who wrote in such haunting prose and with a strong sense of morality.  The Conrad view of the human condition and trials of the human spirit makes his work still relevant today, and to have the opportunity to ask him to break down modern society would be very enlightening and entertaining to say the least.
What's the best thing that could happen for you right now as an artist?
For myself, continue to grow as a writer, expanding ideas and sounds. For me and Bruce to collaborate on another film that's challenging, like when we created score and songs for director Michael Mann's film Manhunter, because film is a very creative and gratifying outlet.
Is there anything else you'd like to say?
Work hard, stay humble, and play it like you feel it. Thank you, Rebecca.
* * *
A huge thank you to Rick Shaffer for such open, insightful and inspiring answers. Check out the album Creatures Of Impulse via CDBaby. Download Let Go for free via Soundcloud. Find & follow Tarock Music on Twitter. Visit their Website for more information.