If you haven't yet explored Bruce Cohen's latest album Four BC, you most certainly should. The story behind it is a unique and interesting one, but more importantly – the music is well worth taking the time out to experience. We caught up with the artist behind it all for an in depth chat about creativity, inspiration, touring, the future of electronic music, and much more. Here's how it went. 
* * *
First and foremost, thank you so much for your time with this – it's a pleasure to be able to chat with you!
You heavily utilized the concept of Four from the album's title – each track was improvised within four minutes, with no edits, which is incredible; especially considering the detail and power of the whole collection. Were you at all nervous about doing this, what inspired the idea, and how do you know when a project so spontaneous is truly finished or ready to release? 
No, I wasn't nervous at all with this project. When it comes to creating music I have never been the nervous type. Of course I knew the album title would be Four BC, and I just wanted to change things up a bit and thought how cool it would be to give myself the four minute time frame. With this project it didn't matter where I was with the song I just knew I had to stop around the four minute time, so I did just stop playing, and in some songs the piece would play on for a few seconds more and in some they would end abruptly. On the other BC albums I would tweak, overdub, edit and listen to them over and over before deciding if the songs were ready for release. Four was different in that what you hear is what I played live in the studio.
Did you decide on having 12 tracks before you began? And how long overall did the collection take to complete? (How far apart were each of the four minute sessions?)
No, I never have an idea of how many tracks an album will have. I create numerous  recordings for my solo projects and submit all the tracks to Tarock Music's Executive Producer, Theresa Marchione, who also co-owns the label. She's the third ear and together we decide which tracks make the cut. Originally 10 tracks were selected, but there were two songs I really wanted on the album, so we ended up with 12.
This project was done much faster because of my self imposed 4 minute time frame, so that made it a lot quicker then previous albums. Sometimes I did two or three tracks in one evening, and sometimes just one track in a session. I didn't do all the sessions one after the other though, only when I felt like recording. So it probably added up to a month or so of actual time.
Were there certain sessions that came about more easily than others, and what do you find makes for the perfect creative space – are there any methods or tools you use to set the right kind of mood?
The ambient tracks were the easiest to do because I would just play the synth solo and go with the flow. The tracks with percussion and bass were more like playing with a band. I record mostly at night, so the music is definitely night music. Getting the exact sounds I wanted was the most time consuming, but once I had them the rest was a breeze. The sound comes first, and it pretty much dictates how the song will progress.
Your music is all at once intense and fresh and exciting. Four BC is loaded with atmospheric and effective soundscapes. Where do you begin with your compositions – do you set the scene first, consider the concept, or simply find yourself thinking of a particular riff or sound? 
Thanks for the compliments. With this album the concept ruled the recordings. I had to make sure I played for only four minutes and what I could do in those minutes. The next thing was finding sounds. I'm a sound man more than a technical man and for me the sound is everything, especially to get an emotion or feeling. In Four there was no scene to set since it was all improvised without any preconceived thoughts or plans. Totally stream of consciousness.
Who or what are some of your original musical influences?
Wow, too many! Actually my biggest early influence was Traffic. But, Steve Winwood is why I became a keyboardist, especially on the Hammond Organ. Actually with Winwood it goes back to the Spencer Davis era. There was no such thing as synths back then. And, of course, Miles Davis who got me into improvisation. In fact, it was because of seeing Miles Davis live playing that Yamaha YC45D combo organ, I had to get one which I used on all The Reds albums. However, the band who really influenced me the most as a musician was the Velvet Underground. They proved a song didn't have to have five chords and changes when one or two would do just fine. And they also showed that noise could be beautiful. But, after I heard the first Roxy Music album with Brian Eno's work on that and their second album I was hooked.
That's how I approach my playing on The Reds albums, as more of a soundscape then as a soloist behind Rick Shaffer's guitar. Sometimes you couldn't tell which was the guitar and which was the keyboard. It would just blend into one huge sound. There weren't too many bands in the whole punk movement who had keyboards and doing what The Reds were doing. I guess almost anything I listen to influences me in one way or another.
What do feel your style is, production wise, with Four BC?
I guess you could call it ambient groove. It's ambient but with a sense of rhythm or movement to it. Very melodic and dark at the same time. I like taking the listener on a journey where they have no idea where they will end up, but are ready for the ride. Production wise it's very wide open and spacial. I love happy accidents though. When you hit what you thought was a wrong note but instead it gave the song something else you didn't expect.  Miles once said there are no wrong notes. By the way, special props go to Brian Lipski (at The Sound Lab) who did the mastering which really put the entire album into the stratosphere, and really opened up the project.
Every track on the album has a single word title – four letters in fact – was this also an intentional move? Do you find it easier to be creative when there are rules and a definitive direction in which to move?
Ahhh, you caught that! Yeah it was done on purpose. Just to add some fun to the project. Sometimes if you give yourself  no time limits you can get self indulgent about it. The time frame of four minutes forced me to think and compose a lot quicker. Sometimes you can over think a song. Should I do this, should I do that? Did I miss something? With this album when the four minutes were up that's how the song would be finished. My next project will have a much different approach.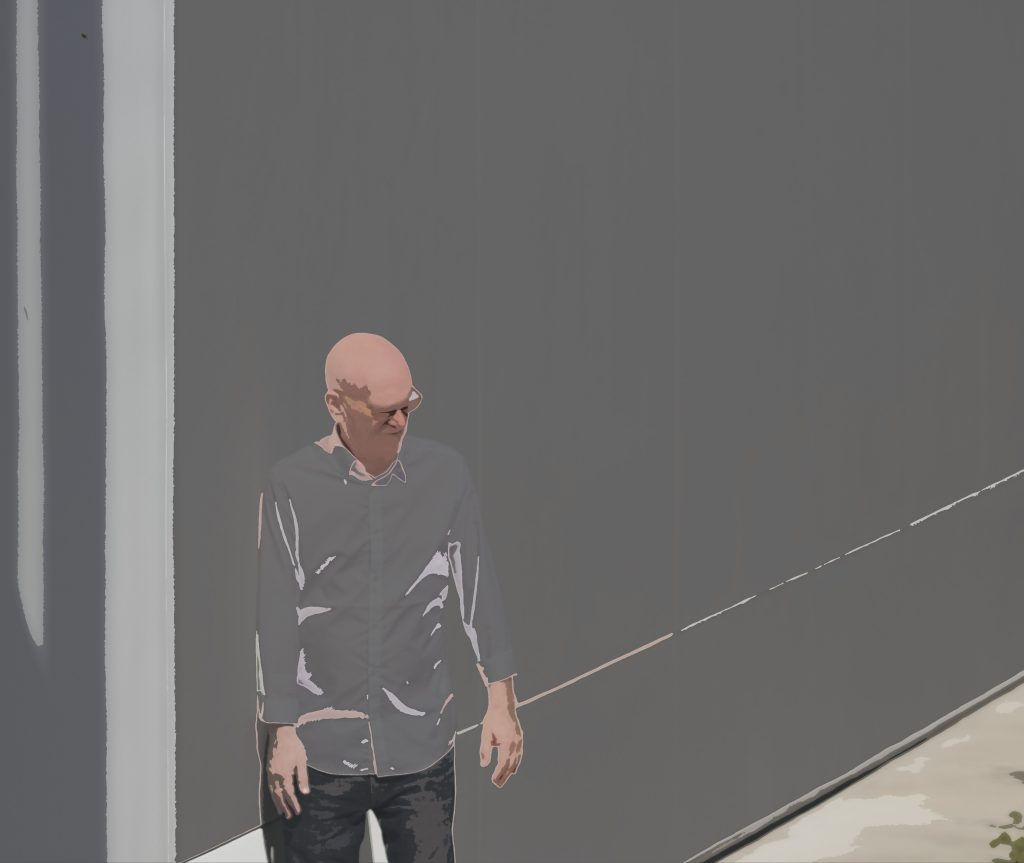 Where do you see the electronic/ambient genre heading in the future? 
One cannot ever predict what the future will hold, especially with electronic music, because it's always changing and evolving. I would like to see live ambient musicians performing as groups instead of just one person on stage pushing play on their computer of pre-recorded music. I once saw a performance of Phillip Glass' A Thousand Airplanes on the Roof with multiple keyboardists playing. Something like that. A band of boards playing live on stage. With percussion of course. There has to be percussion.
How does your earlier work with The Reds, and your previous solo albums, fit into your long range development, especially with this new album?
It was with The Reds that I found my 'sound' and how I would approach my playing. If you soloed the keyboard tracks from The Reds sessions you would hear how I was evolving from all out aggression and noise, to more of a soundscape ambient sound. One BC is when I got my feet wet, on Two BC I became more comfortable in my playing, then on Three BC I went totally EDM. You can hear how one progressed from the other and how Four BC ended up as the most experimental and definitive. Four was definitely the most fun to record.
Do you have a personal favourite track from Four BC? If so, what is it about that particular one that means so much to you? 
Sorry, no favorite. I don't want to make the other tracks jealous. It's funny I don't record to make individual tracks, I record to make a complete album. At least with Four it was that way. So for me Four is just one track divided into 12 parts. But, if you insist, I would choose Drop just because I love the dub feel it has. Four was completely different from the other BC's in the approach. The tracks on my earlier albums each had a story or theme behind them. A river, a planet, a person  or someone who inspired me. But Four was total improvisation, a total stream of consciousness. No blueprint or preconceived story lines.
You have a really interesting and eclectic background. Your earlier work includes working with your partner from The Reds, Rick Shaffer, on films like Nightmare On Elm Street 2, Band Of The Hand, and Michael Mann's film, Manhunter. When composing music, is your focus only on the album you're working on, or are you also thinking how various tracks would work in a film?
Both. I record as much music as possible, then me and Theresa decide which tracks should go on an album and which go into Tarock Music's library for films. Sometimes a song will serve both purposes. As much as I love music I also love film, so when Rick and I hooked up with Michael Mann to score Manhunter, and other film projects he was involved with, it was the ultimate experience. It's more rewarding to compose score watching the actual film scene, then when our finished tracks get licensed for film or TV.
Do you have any musical plans in motion for additional solo releases, and what direction you might pursue with new songs? 
Yes, there will be a Five, and I'm leaning towards doing a down-tempo album without time limits or restrictions. I already have a few tracks in the can. Sometimes I wish I could sing to add that element to a song. Believe me you wouldn't want to hear that. Ha!  Instead I might get a guest vocalist for one or two songs on the next BC album.
How important is performing live to you as an artist? Will you be touring in the coming months? And what do you think makes a truly memorable live show?
Been there, done that. My touring days are behind me. Being on the road is brutal living even being younger when The Reds toured with acts like Blondie, The Police, the Ramones, and Joe Jackson. No, my BC albums are more about the listener laying back, putting on their headphones and going on a musical journey. The BC projects are meant to be studio projects with no intention of performing the music live. If I do any live performing it's with my improv jazz/funk trio Big Fun 3. (Our albums are released on Ropeadope Records). The Big Fun 3 line-up is a guitar, drums, and me. I like a group format, especially trios.
During one of our sets I might give the guys a break for a few minutes and perform a BC track. I live in Miami with lots of art galleries, lounges and audio listening venues where musicians can perform in a more conducive setting for ambient music. Maybe we'll do those type of gigs. Also, there are house concerts where musicians perform in someone's home to a small invited audience, that's getting very popular.  For me a memorable live show is when there's a group of musicians on stage just extracting music out of the air and taking the crowd along with them.
Is there anything else you'd like audiences to know about you, your music, or your plans for the future? 
I am always experimenting and trying new things musically. I have a wicked sense of humor and sometimes you may even hear it in my music. Right now I'm promoting Four BC. As I said earlier, for Five BC I'm leaning towards a more down-tempo type of vibe. But that too could change. Nothing is written in stone, anything could happen. Just like life. Thanks for a very refreshing interview with some great questions, it's appreciated. You guys really did your homework.
* * *
Find out more about Bruce Cohen on the Tarock Music Website. Follow them on Twitter to stay updated. Download a free MP3 of the track Seen on Soundcloud or head over to CDBaby for the full collection.