Life-long musician and early grunge pioneer from the Seattle area Kevin Wood has played in a plethora of bands over the years. His catalogue spans the decades and showcases an unquestionable connection to rock musicianship.
We caught an interview with him to dig a little deeper into his journey and experiences across the musical eras. Here's the conversation in full.
* * *
Hi Kevin – thanks so much for the interview. What do you remember about the dawn of grunge; how did it all begin?
The dawn of grunge was the use of the word Grunge to describe bands that were becoming popular in the late 80s. The term described a lot of the post Punk bands. Malfunkshun was turned down at Sub Pop for not being Grungy enough. To us the term was not flattering. But as time went by that definition was applied to pretty much any band in Seattle that wasn't playing straight metal or traditional Punk. Basic formula was distortion, tangible lyrics and too the point rock songs.
I think to the outside world, the term Grunge was more meaningful.
The clothing style I saw that would typify the movement, I thought was what the bicycle corridors were wearing at the time. The layered flannels and low shorts with sturdy foot wear. Most everybody had longer hair. Facial hair was also making a comeback at that time as well.
What can you tell us about the music of Malfunkshun?
We were a band the learned to play as we played. Over the years we became proficient at our instruments and developed a unique sound. It was based off of what we enjoyed listening to, mostly heavy and loud. We really had something special going on. We were always coming up with new ideas that the competing bands would use. Our sound has always been unique. I think that is due to our wanting to be different and our punk history.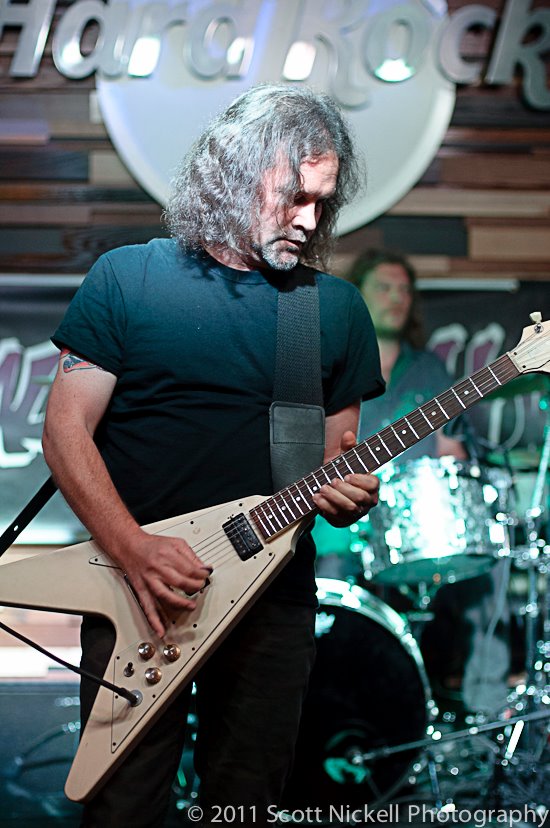 What about The Fire Ants, what was so different and appealing to you about starting this second band?
It was fun to play with Dan (Bass) and Chad (Drums). We put together a more traditional rock band and as a player I felt it was an excellent fit. My brother Brian rounded out the group as Vocalist. I liked the focus we had as a band.
How did you come to connect with ex-Nirvana drummer Chad Channing, and did you spend much time on the scene with the bands and/or other musicians who made it to the global stages?
I don't remember how I met Chad. He was around and as we were living in a pretty small community, we eventually worked at the same restaurant. I lived on Banbridge Island and I used to see Chad all the time. Ben Shepard was also around a lot back then too. I'd go to Seattle and do gigs and rehearse, but didn't really hang out a lot. I knew most of the musicians in a more professional way.
How would you summarise the four years that Devilhead spent making music?
That was a continuation of Fire Ants in that I worked with my brother Brian as singer. It was a fun time. We got a lot of attention, gigs, touring and wrote some pretty amazing music. We put out 2 albums and worked with some incredibly talented people.
What are the five best tracks from your catalogue, and why?
Winter Bites is epic.. I do wish I could have fixed up the solos on that album. To me it was a demo that never was completed.
Fire Ants 100 Wives is my favourite. It was a real team effort and a great set song.
Devil Head, Black Hills is one of my favourites from Pest Control. It has a great vibe.
Rains of May by Malfunkshun is great in that I am using some under utilized modes for a rock song. Jeff Loftis sings on this one.
From the Malfunkshun Monument, Good Bye Just In Case. That song's lyrics are haunting in that Andrew is seeing his demise at the age of 16 years old.
You were born on UK soil but soon returned to your family's roots in Washington – how different do you think your musical journey or style may have been had you remained in the UK?
I would have retained my accent. I might have been involved in the great trends that were coming out of the UK. The Metal Revival, the Hard Rock like Motorhead and such. That took longer to take hold here in the US. I was a big fan of 70s Judas Priest and of course Black Sabbath, so if had stayed there I might have been more influenced by that.
For those new to your work, where would you direct listeners as an introduction?
https://kevinwood.bandzoogle.com/
https://thefireants.bandzoogle.com/home
https://malfunkshun333.bandcamp.com
https://allhailthecrown.bandcamp.com/releases
Is there anything else we should know?
I am in the process of including what is missing for digital distribution. Also release all of the music from wammybox.com on bandcamp is under way.
I used to sell CDs from wammybox.com, but that has really dropped off to a point where it's no longer worth the upkeep.
I also have some new songs almost ready to release. And I have been doing studio work for various artists from home. The studio work is a lot of fun and I am looking forward to more of that.
* * *
Find out more about Kevin Wood via Bandzoogle or Wiki. Check out Malfunkshun via their Website.