Prior to an epic live streaming event with WaveXR this coming Thursday (20st August), we caught an interview with DJ and Virtual Reality Artist Celeste to find out more about her journey, her role in entertainment, and her thoughts on tech, live music and the future. Here's how it went.
* * *
Hey – great to chat with you, congratulations on your recent successes. For those who don't know, what kind of music do you utilize, and how long have you been on the scene?
Hi. So good to be on your radar. I have been working as a mobile event, festival and club DJ for 13+ years and I currently have 25,000 songs that I have collected and catalogued. So my style variety is diverse… I'd like to think I'm like a music librarian a bit, I'm pretty geeky about music.
My recent passion and stronger focus has been curating and spinning deep/tech/bass house music and I also really love lower tempo future bass/tribal sound.
How did you first get into DJing, and how has your style and your career progressed over time?

I was the only one of my friends in college to have a juiced up 1000watt portable sound system, so I was constantly commissioned to bring my speakers, set up and provide music for parties… I got tired of doing this for free so I started charging and realized that Californians love to party and I could actually make a living doing this.
My style has been all over the place, out of necessity, because I had traditionally been a "hired gun" and had to play mainly what the client's wanted to actually be able to make steady money in this type of DJ field. My style has changed as I became more sought after and could start playing more of the music that I truly loved and that moved me…
What does it mean to be a Virtual Reality Artist, and what got you into this?
So, these fantastic new VR programs have given us what I like to call "next level tools for creation"… this is for both music, visual art and performance as well as a myriad of other sectors for business, education, etc…. to me it's mind blowing.
I have always had a strong visual arts side, desire to create and had studied art formally before I got into music and sound engineering. Now, there are some programs, like Tilt Brush, that artists have in their wildest dreams 10-20 years ago only could have imagined – they are at our fingertips now as is the ability to bridge this art with performance and music.
For example, when I first got my Oculus last year, and opened some of the art programs, the FIRST thing I thought is, wow, I can actually design my own festival dream stage… at the time it was just for fun and kind of like a joke, but then I realized that I CAN actually DJ live on one of these stages!!!! It was like a fucking dream come true.
You have a concert coming up on the fairly infamous platform WaveXR – how did you secure this one, and what can people expect from the event?
Yes! This is pretty much my FAVORITE VR social and music event platform that I have found out there with a fun and diverse community of attendees from all over the planet who come on a weekly basis to check out the different DJ's offerings.
What makes WaveXR really special is the super high tech immersive environments, amazing visual FX abilities, along with the music as well as the fun interactive nature of the program that the creators/engineers have given us. When I say this, I mean, the designers have a GREAT sense of humor and have included fun toys, games – like a jacuzzi effect that avatars open and magically appears on the dance floor – everyone gets "inside" and we hang out while listening to the DJ – it's actually a good ice breaker too and encourages people to be more social and close to each other.

I started DJing in Wave because I showed a strong interest in performing right from the start, watched many tutorial videos, networked with the resident DJs and also was there supporting their shows, carefully studying what they do, etc.
Do you cater your sets differently according to the type of event that's happening, and how do you effectively gauge an audience's reaction and energy in terms of switching things up part way through the night?
Yes. I always do my best to tie the music carefully in with the visuals or what the "vibe" of the event is going to be like. I feel like I am pretty good at reading the crowd and riding the wave spontaneously adapting the music to fit. I HATE taking requests though.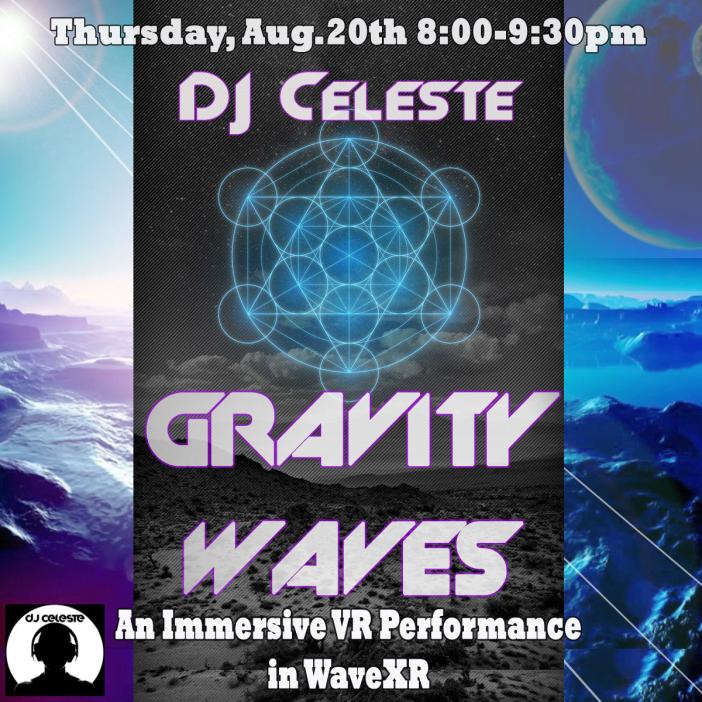 What's been your most memorable experience as a DJ so far?
There have been so many awesome ones in real life, like getting to DJ a private party for Elon Musk & Grimes in Malibu and the Giant's stadium in San Francisco!!! Holy cow. BUT, I have to say, my last Wave performance, I spent 5 months building a spaceship nightclub environment where I piloted my guests on an intergalactic journey through time and space. I designed it so that the spaceship had dancefloors on the wings and people could see the ship traveling through wormholes, asteroid fields, swirling universes, even a crazy cool black hole that I created.
It was EPIC and, an experience that has changed my life. It made me realize that this is my ultimate passion, in blending my design skills with my DJ skills to create an inspiring place where I can help people get into flow state, experience moments of awe, escape, wonder and fun. I think at our fundamental level, all DJs want to do this.
Who has inspired you the most over time to pursue life as a professional DJ and visual artist?
So many artists and visionaries throughout the years lending inspiration to my unshakable quest to bring beauty, joy, passion and celebration into this world. A few names come to mind; Bjork, Radiohead, Imogene Heap, Bassnectar, Rufus Du Sol, Madonna, Royksopp, Odesza, Pretty Lights, CloZee, Zhu, fucking LED ZEPPELIN (my favourite sexy rock band ever) and definitely the Burning Man community.
What's your biggest goal or ambition right now?
Ok, well, fame and fortune is the objective I suppose. Ultimately, being able to continue work like this and make a decent living (or beyond decent… like flourishing… like, I have enough money to officially be a philanthropist like Bono). Designing epic shows/environments for myself and other, bigger name DJs. I would be thrilled to get some bookings with larger festivals like Tomorrowland, Lost Horizon, etc.
Do you worry about the future of live music following the events of 2020, or do you have hope that things will work out, just perhaps in a different way than they have before?
Yes, I am worried. All my colleagues are. We are doing our best to adapt, roll with the punches and prep for an uncertain future. We all wonder if things will change irreparably, if nightclubs will go out of business, if the economy will tank?!
Ultimately, live events will trump VR events because we have real human interaction, and there's no comparison to getting rowdy with your best friends at a festival or nightclub, but Jesus, what is going to happen??!?!?!
What's something about you that most people don't know?
I am completely deaf in my right ear from a car accident that happened when I was 16. It's been a crazy struggle on many levels, but I persevered, adapted and learned how to DJ and produce music despite this handicap. It's something I am proud of and hope to inspire others with similar handicaps.
Is there anything else you'd like to say?

Yes, pertaining to philosophical debate some of my friends and I have been engaging in around the negative aspects of VR… including, addiction to VR, getting lost inside our goggles, forgetting NATURE and that we are a part of nature and the organic world and that we can't forget this essential part of life where we are connected more than we even realize.

We are increasingly becoming disconnected from the earth the more we progress into this seductive technology and we are forgetting that we have to take care of this planet, fight governments and big business that are exploiting and destroying the forests and oceans for profit. This has always been a huge cause for me and I try to donate as much money as I can every year to various non profit organizations doing essential work to protect the environment and I encourage anyone here to do the same since a lot of us don't have time to get as active as we might like.
We love technology, but we should find the balance between being outside in parks and then in the metaverse. And also don't forget to hydrate properly when you are partying in VR!! I keep forgetting to actually drink water.
* * *
Check out more from DJ Celeste & get involved with the upcoming show via Twitter or her Website.