Following the release of the brand new director's cut of Pandemic Madness, we caught an interview with LA artist and performer Benton Oliver – known on the scene as Creature Benny. Here's the conversation in full.
* * *
Hi, thanks for the interview, and congratulations on the new Director's Cut release of Pandemic Madness. Just to introduce yourself, where are you currently based, and how would you describe your creative style?
I have been based in Koreatown, Los Angeles for the past six years– definitely the whole lifespan of Creature Benny – and you can find me sitting by my stoop editing music pretty much every single night of the week.
I would describe the creative style of Creature Benny as a silo, in that I write, play, program, sing, record, edit, mix, and master every song. I've worked with my brother on the songs you hear him on, and my friend Jeremy Phipps on the song Election Day. But other than those few examples, the whole project is a one-man Fever Dream.
What prompted you to write and create this video at this particular stage during the chaos of the pandemic?
My close friend and the Director/co-mastermind of the Pandemic Madness video, Jeremy Trombetta and I always intended, in the universe of the video, for the sequence of events portrayed to happen day after day after day in a Groundhog Day-like scenario.
In maybe November of last year we had a conversation where we kind of formalized that fact out loud, and also realized that the end of the video didn't necessarily convey that idea clearly, so we decided to release a Director's Cut at some point, probably in the new year.
When the Omicron variant became the main headline in mid-December and everyone's vaccine and booster-induced confidence was shattered, it felt like a good time to get that Cut of the video together and out into the world.
Jeremy's responsible for everything about the alternate ending to the video and I couldn't be happier with how it looks and how clearly it drives the point home of jamming with your inner demons as a daily routine. Super talented dude.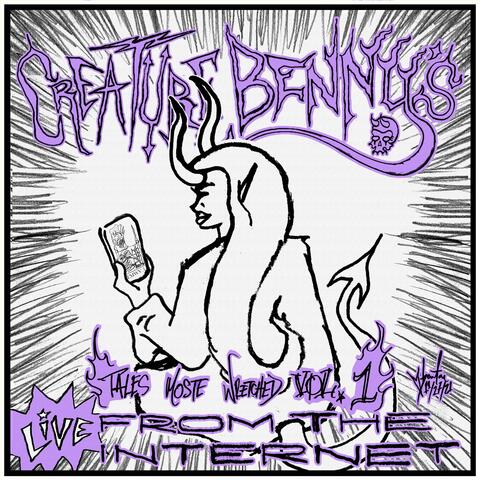 Has your style or emotive devotion to expression changed at all during the past two years, and have there been any benefits in your view, to the way you imagine and create music?
The majority of the songs that I've released, and will be releasing as Creature Benny music over the next two years is stuff that was written between 2016 and 2019, which was a truly prolific writing period for me in a certain mental space. Creature Benny has a pretty specific voice and subject matter, and I was completely immersed in it at that time.
I don't know if anything's changed for me, but when the pandemic first hit, that was definitely a catalyst for me to begin releasing the music I'd been writing and sitting on for years. Editing, mixing, and readying the music for release has been a great way to stay busy through the darkest parts of the pandemic and worst bouts of Pandemic Madness as well, so I'm grateful for it on that level too.
How did you come to connect with director Jeremy Trombetta, and what is it about his style or work that connects so strongly with your intentions as an artist?
Jeremy and I actually met in fifth grade in Atlanta, GA, where we both grew up. We were great friends on the school bus, and then lost touch throughout middle and high school, and also college. We reconnected in Los Angeles when he moved out here a few years ago, and have been tight ever since.
Jeremy's really good at everything he does or wants to do, and I have a very clear idea of what Creature Benny is, looks like, and feels like, so we are able to come together, each do our part creatively, and crank out more or less exactly what's intended or something even cooler. In addition to a great friendship, we have a great working relationship.
What can you tell us about the album Tales Moste Wretched, Vol. 1 – how would you encapsulate the project, and is Volume 2 something already in the works or just a distant idea at present?
Tales Moste Wretched, Vol. 1 is a cool album I drove myself half-crazy making in the fall/winter of 2020, and I am extremely proud of and pleased with how it turned out. I would encapsulate the album by saying it's a collection of pretty rockin' songs about alienation, being a shithead, the plight of the world today, and some off-kilter spookiness.
Tales Moste Wretched, Vol. 2 is most definitely on the way! I plan to mirror the release plan of Creature Benny phase I, although this time I plan to take it easier on myself and space it out a lot more. But I'll release five EPs and then an album comprising all of those songs, plus an intro, at least one interlude, and a few bonus tracks. And that will be Tales Moste Wretched, Vol. 2.
Which two tracks from the project would you recommend to new listeners, and why?
I think I'd have to say Canine Centiman and Rock and Roll (My Face Off) are the two Creature Benny starter tracks.
Canine Centiman has the kickstomping punk rock element and attitude I've tried to imbue in much of the Creature Benny collection of songs, and also the alienated shithead narrative perspective where many of the songs live.
Rock and Roll (My Face Off) has a slightly more intricate guitar vibe, and surface-level introspective lyrics that try to be both true and universal– some things we're all thinking but not saying maybe?
Creature Benny does a lot of this woeful wondering aloud. More to come.
What is it about the raw and authentic edge of rock and freedom of musicality that keeps you creating in this nostalgic, live-style manner?
Although every single song may not come across as what some people might consider straight-ahead "punk rock," 70s and 80s punk rock is definitely the spiritual center of the Creature Benny project. Not only do I identify strongly with the DIY ethos of punk rock, particularly 80s American Hardcore, but I love that the subject matter of punk music is so broad- you can write a punk love song, but you can just as easily write a punk song that is scary, or gross, or stupid, or fantastical, or funny, or outlandish in some other way. And if it sounds cool then fuck yeah everyone's stoked.
And there's something about recordings that aren't of the highest quality that feels energetic and exciting and alive to me, so the fact that the Creature Benny sound is a little more ragged and swampy than polished and crystal clear, based on the DIY approach, feels like a strength rather than a weakness. .
What's your plan of action for the year ahead?
This year I plan to release all five EPs that will lead up to Tales Moste Wretched, Vol. 2, and then the album as well. Look out for all of that.
Is there anything else we should know?
Creature Benny only exists because I wrote some songs, and decided they were worth recording and releasing. And then I actually did it. So do your thing, 'cause no one's watching anyway. Get Freaky Nasty.
* * *
Check out Creature Benny on Instagram.