What is the HUMU?
The HUMU is a Smart Cushion designed to allow users to hear and feel the music or audio they are experiencing at an intensely enjoyable and exciting new level. HUMU is short for Human Music. The product is, essentially, an inventive new Bluetooth Speaker Cushion that lets you experience audio not just through sound but through touch. It has been designed by Finnish innovators Flexound:
HUMU was designed to be the first in soundwaves electronics that makes you feel sound vibrations & an excellent 3D sound that comes from distributed stereo-sources which separate directions of sound. There is, as yet, no other device in the world that provides you the same sound experience as HUMU.
What's it Like?
In all honesty, and we're not being sponsored, there's no obligation for us to merely give compliments – this thing is incredible. In many ways it feels like you're wearing headphones when you rest your head on it. The room can enjoy the music, but the experience is really something else for the individual user.
I'm one of many people who've experienced a long lasting battle with anxiety and unsettled nerves, to which we aim to throw in balance via exercising or meditating, making sure everything is organised and we're not overwhelmed. But even with all of those things in place, sometimes there's just an edge. The smart cushion, for me, instantly alleviates those feelings of tension.
It works in so many ways, and we'll talk about watching films and the effectiveness of various musical genres, but there are certain types of music, particularly ambient EDM or anything that's synth and bass heavy, that just sound and feel amazing through the smart cushion. To each their own and the experience will vary in intensity depending on your own musical preferences. Get the sound right and the sensation of feeling the music pour over you is mesmerising.
You can feel it through your shoulders if you rest your head and neck on the cushion, or you can just hold it, wrap your arms around it like you might a regular cushion or pillow. The music immediately surrounds you in atmospheric warmth that has an instantly calming effect. Even just placing your hands or feet on the cushion is enough to make a moment that much more enjoyable. If the music is right for you, the effect will give you shivers, and those endorphins can change your entire day.
The Audio Experience
The HUMU is fantastic, enjoyable and effective on a day to day basis – to relax, to experience movies, while working and reviewing new music releases. It often only takes the length of a single song to feel the overwhelming benefits – whenever you need to calm things down. If you're panicking about events to come later in the day, just load up your favourite piece of music on Youtube, and sync it right to the smart cushion – it should always be automatic once you've connected your devices, you just turn it on and press play.
You don't need to be all that close to the synced device for it to connect, I've had the music running from a laptop upstairs while using the HUMU downstairs, the effect is the same. All that happens when you get too far away is that the signal starts to drop out, so there are instantly detectable breaks in the sound and vibrations, therefore you know pretty quickly to shorten the distance a little.
The original product, from what I can gather, was designed to help children with special needs such as autism, and really, once you try it – you can see how beneficial this could be. There are many schools around the world that have set up multi sensory experience rooms for children, and this would be a brilliant addition, in my opinion, to that kind of setting.
The further we get into this modern world, where everyone's voice can be heard, the more we realise how anxious and unsettled so very many of us truly are. This kind of product, as simple as it may seem conceptually, can be such a breakthrough in bridging those gaps between wanting to do something and actually doing it. The calm before the storm is an essential part of making sure the storm works in your favour. The smart cushion has been so well researched and crafted that it just works, and it works beautifully.
Watching Movies
In addition to the musical benefits of HUMU, if you rest your head back on it to relax to an action movie or series, the experience is about as close to the cinematic one as possible. You can feel the detail of the soundscapes, not to mention the strength and emotional connection of any music included in the feature. Plus, it's comfy- replace the arm of the couch with the HUMU and you're in for something pretty special.
Feel The Bass
As well as this being the ultimate in calming music tech, the additional upside of HUMU is that you can intensely feel the bass of any piece of music. This is similar to the feeling of resting your hand, head, or entire body on the speakers at the club. What's great about HUMU though, is that you can now feel that intensity for extended periods of time, through a much gentler and more comfortable packaging, and without risking damage to your ear drums.
The smart cushion isn't an overly loud speaker; it's plenty loud enough to enjoy, and the sound is crisp and clear – the lightness of certain synths or strings in contrast with the thickness and buzz of the bass is phenomenal – but none of this will hurt your ears at any point. The volume simply depends on the device you're using to sync the audio – you control it all from there, whether it's your phone, laptop, PC, or tablet. You decide how intense you want the effect to be.
For Musicians
The designers at Flexound have considered so much when putting this together. Many of you are music makers as well as music fans, so can the smart cushion be incorporated into creativity, and if so – how does it measure up?
The best way to test this out is to connect your instrument to your PC via whichever interface and DAW you prefer to use, then connect the audio via Bluetooth to the HUMU. This way you can play live or record and listen directly through the smart cushion. In my experience, using the iSolo wireless microphone attached to an acoustic guitar and then paired with the laptop is a hassle free way to utilise this function. It sounds beautiful, it feels quite organic due to the wire-free environment, and it brightens up your playing and performing in an inspiring way.
In addition, to lock in an electric guitar and add a little distortion or swagger via whichever effects or plugins you're a fan of, is a completely invigorating experience. If you can rest the smart cushion behind your head and neck and then sit and play your electric guitar, you'll be playing to your heart's content for as long as possible. The HUMU connects you to your own creativity in a magnified and multi-sensory sort of way. It's pretty magical. Please note though, there's a limit to the level of faux pedals you should bring onto the scene when playing through Ableton. You shouldn't over-do it with weight or distortion, particularly bass players. This is for personal exhilaration and not necessarily suitable for performances.
Comfort
The high quality of the faux suede material surrounding the speaker aspect of the smart cushion means that this is a genuinely soft and comfy piece of tech. It doesn't look much like a speaker, it looks like part of your furniture, which is great – it blends right into the home environment. It's light, easy to move around, easy to charge. The outer cover is removable so you can clean that and keep it fresh. You could also, in theory, re-cover it with something that matched your own decor, though I don't know if this would affect the final experience a little. Fortunately the Flexound HUMU team are extremely approachable, feel free to get in touch with them if you have any questions.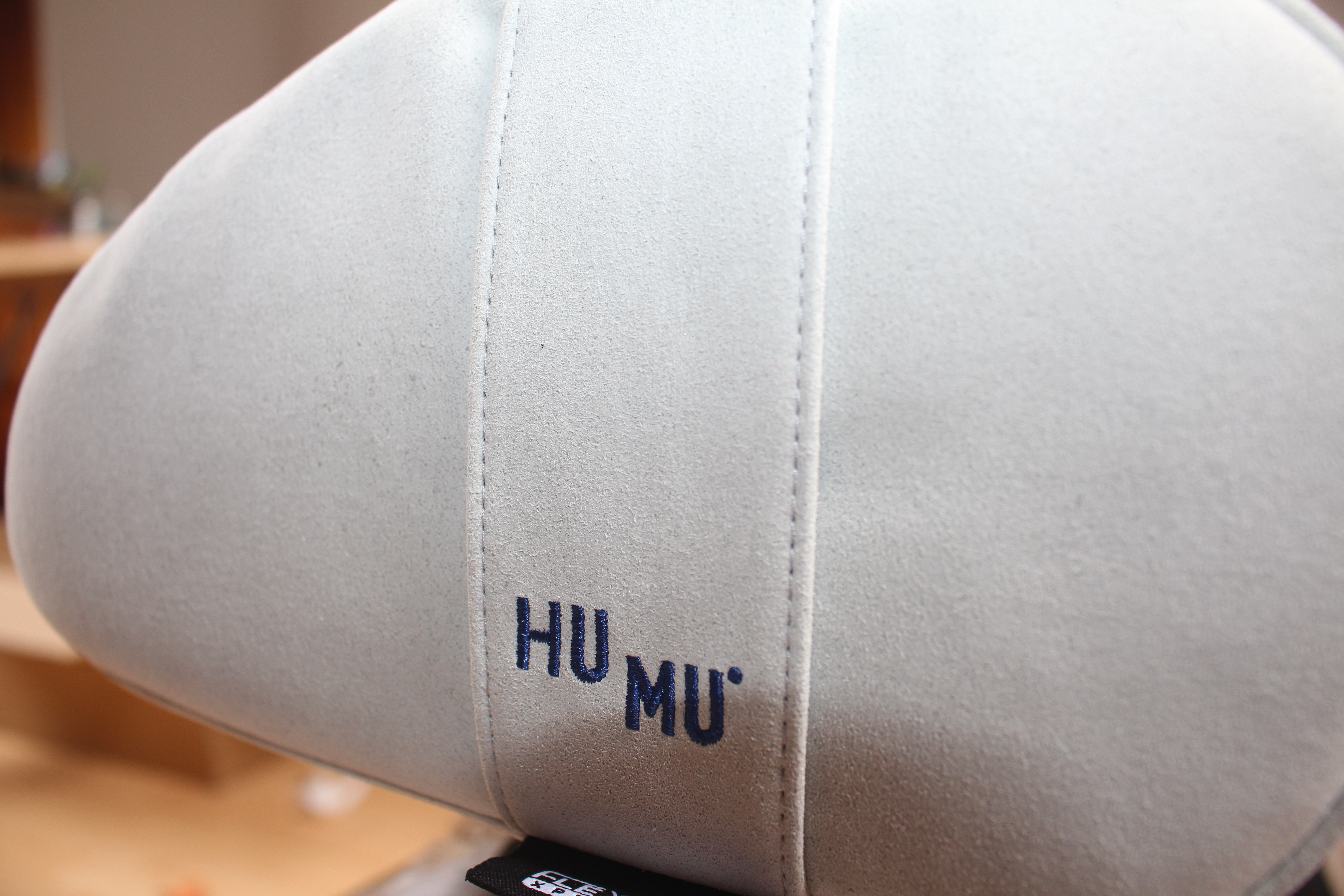 Battery Life
Considering the size, the quality of the sound, and the weight of the vibrations that come through the smart cushion, the charge lasts a decent amount of time. You charge it for just three hours via USB, and away you go. The smart cushion switches itself off when it's been out of use for a while, so you can generally forget about charging it for quite some time. It's reliable, in every instance. As with most Bluetooth speakers these days, you can also connect it to your PC if you prefer to use it without having to charge it – you simply need an AU cable to connect it up.
Final Thoughts
This is absolute escapism, the ultimate experience in home entertainment, in my opinion. The only downside is that when you remove yourself from the experience there's a little something of a come down – reality hits, and there's no comfort blanket of bass-heavy warmth to protect you from it. But, the positive effects stay with you in the long term.
The smart cushion is so light, it's pretty easy to carry with you wherever you want to take it. It's portable, it's comfy, and it revolutionises how you experience music and audio in general. Hopefully the next step for Flexound might be a bigger speaker platform – I look forward to the smart couch.
* * *
Recommended Listening
These are some tracks we've found particularly exhilarating when using the smart cushion. We'll continue to add to it over time. Enjoy!
DJ Foh – Feeling Better / High (Incredible Bass)
Nick Mulvey – Mountain To Move (When it kicks in, about half way through, wow.)
Afro Celt Sound System – Big Cat
Pendulum (The 'Fasten Your Seatbelts' era)
* * *
Visit the HUMU Website to order or for more information & follow them on Facebook, Twitter & Instagram to stay updated.