To wander and explore the beautiful city of Salzburg is a fairly inspiring experience in itself. However, it is without doubt one that is immensely enhanced by the multitude of street performers who set up stage there; lighting up the moment with their music and their art. To visit Salzburg on a Saturday or Sunday in particular is an experience that is wonderful in the most undeniable way.
Accompanying the blue skies and the general hustle and bustle of a tourist-heavy, busy city centre, there are numerous moments at which you witness the pausing of the crowd – as if somebody has frozen them in time, quite often with their phones or cameras held out at eye level, as they stand in sheer awe and enjoyment, while one or more, of many, talented artists changes the path of their day for a moment.
It's a beautiful thing to witness and be a part of. It's inspiring, to say the least, and it reminds you of how incredible life can be, or in fact is, alongside all of the hardship. The truth is, to travel in this way, and to see the reality of what life is about in these various stunning locations, is to know for certain that there is far, far more good in the world than bad.
This first street performance we witnessed in Salzburg was on the walk up from the riverside into the city, just opposite the delightfully artistic padlock bridge, and merely a stone's throw from Mozart's birth place; making this manically beautiful classical piece even more poignant, excitedly lighting up our joyful, touristy radars as we first stepped foot into the wonderful city of Salzburg.
Unfortunately, I didn't catch the name of this act; if anyone knows who they are, please do send us a link, we'd love to write a little more about them..
The city was overwhelmingly vibrant with musical atmosphere, and it's so noticeable after having visited several other European cities so far, which had much less going on. There is something so captivating about live music in the streets, it really makes the day so much more eventful, and memorable; the music lights up the buildings in a way, lifting your mood, and so lifting and improving your view of the world – kind of like a healthy drug.
The amazing band Street Whispers were another among the artists we saw street performing in Salzburg at the weekend, their's is the featured photo. They drew an impressive crowd, and it's no wonder why – their music was fantastic, another musical act wonderfully enhancing an already beautiful day in the city. They had CD's for sale and you can check out their music and find out more about them over on the link (click their name, just above). Here's our clip from the day..
The artist below is Vitantonio Mastrangelo. His instrumental playing with just a touch of reverb was stunning, a really peaceful additional blessing among the naturally calm ambiance of the city. You can check him out over on Facebook. Due to background noise, and a slightly wobbly pair of hands, our video was of a far too inferior quality to share; not quite conveying the true level of the guitarist's artistry. So we found this one instead.. Enjoy..
We're well on our way to discovering at least a fraction of the immense amount of talent and creativity that is alive and glowing throughout the cities of Europe. A fraction is more than enough to cause side effects such as happiness, inner calm, and general bliss. Stay tuned for more new music and moments, or click through to find out why we love buskers so much. In short, buskers, or street performers, bring something unexpected, unplanned, into your day. They remind you of something, and it's good to be reminded; it's good to be inspired.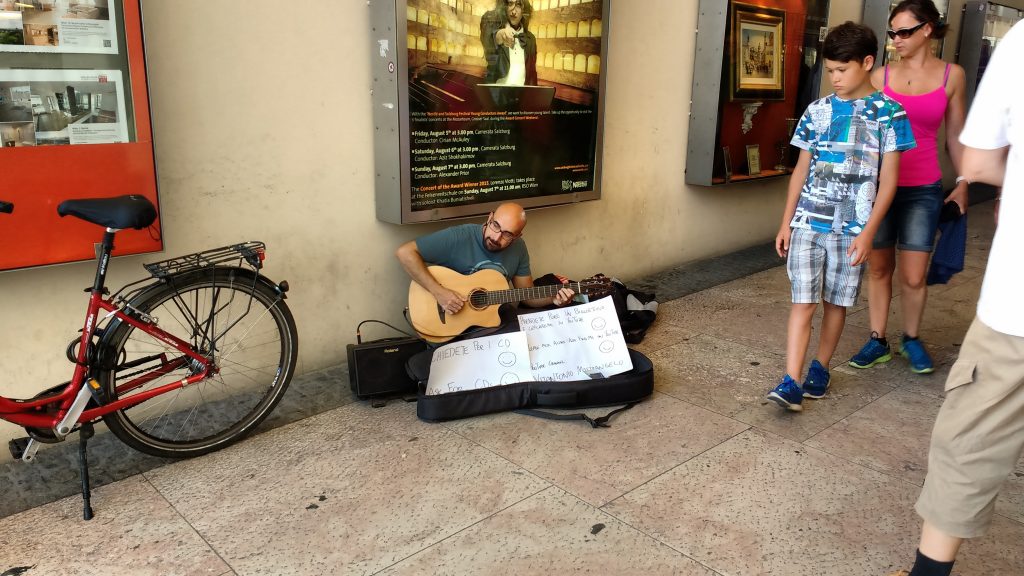 Above – Vitantonio Mastrangelo, street performing in Salzburg, Austria – Saturday 13th August, 2016.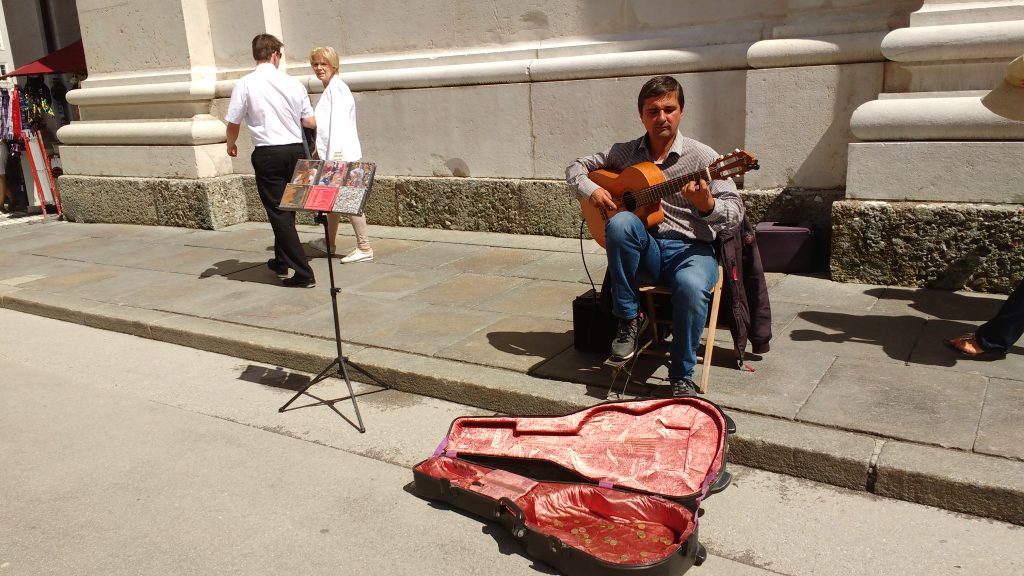 Above – Street Performer in Salzburg, Austria, Saturday 13th August, 2016
**Please do let us know if you can fill in any of the gaps as to the identity of the musicians whom so far remain unnamed..