Zach Callison and band are currently killing it as their debut tour moves through the US. The release of this album marks a huge step forward for the hard-working artist, and with songwriting, musicianship, and live performance passion combined, he's set to create bigger and bigger waves over the coming months and years.
Phantom Love begins the project with a delicately theatrical, emotional performance that intrigues and increases in passion as it progresses. Callison offers a valuable level of intimacy and that all-important personal touch, which works well to connect from the offset, and afterwards – as the music builds and his vocal delivery intensifies – the music evolves to be all-encompassing, heavy, surrounding you with this song's inherently alternative rock aura. Following this, a totally unexpected flicker of reggae and hip hop combined emerges, reminding you of that creative unpredictability from the single Curtain Call. This opening track sets the bar high and free for the rest of the project.
interlude I – Franticity adds a level of loudness and a crowd feel to a project that is clearly the work of an uninhibited, natural artist. This album is far more of a show in itself than a simple collection of songs. She Don't Know follows and brings through a pop-rock feel, quick verse melodies and a soulful tune introduce a level of anticipation that's met brilliantly by the impact of many of the lyrics and indeed by the hook – though this is surprisingly preceded by a level of quiet and space. You can't predict anything on this project, Callison's songs follow their own rules entirely. This track felt a little like Nothing But Thieves as it poured through, but even this evolved into a bizarrely retro and brilliantly entertaining instrumental break. A live show is not something you'll want to miss out on.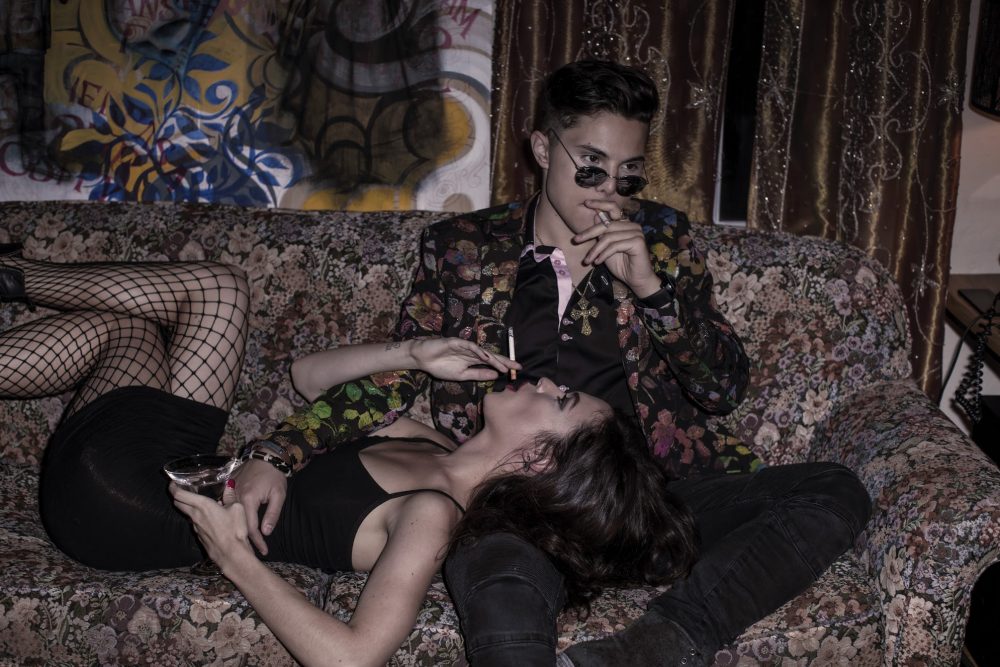 interlude II – Christie Only Knows takes the theatrics a little further, the piano intrigues and captivates, Callison's voice whispers to you – and still, even in its quietness, his delivery is a performance. He's a performer, not merely a singer. There's something quite vulnerable and compelling about this piece. Nightmare follows and the mood remains thoughtful and reflective. Callison's spoken word delivery is totally poetic and entrancing with every word as the story-line surrounds you. A single listen is far from enough to capture it all. A well placed moment of provocative depth that again evolves into something mighty and beautifully unexpected. A definite personal highlight. Fusing impressive rock guitar work with hip hop and poetic expression in an intense and addictive way. Once again, far more of a piece of art than a simple song.
The more he lies about happiness, the more lonely he gets…
interlude III – Second Thoughts follows and feels like a fitting, dark sequel. The infamous Curtain Call afterwards fits brilliantly and offers that strange air of familiarity for those who've stumbled upon it before. interlude IV – Showtime (feat. Grace Rolek) later ignites these back and forth theatrics and takes the show to new levels of drama and darkness. It stops you in your tracks a little as it strikes.
Things come to a close with Callison's debut single War!,  a big-band track with a broad spectrum of musicianship from horn sections to electronica. His rap verses on top of this add an infectious pace to the process and finish the project up in a colourful and loud way. It will be well worth tuning in to see where things go next for Zach Callison. Check out his socials below to get involved with the current tour.
Listen to A Picture Perfect Hollywood Heartbreak on Spotify. Find & follow Zach Callison on Facebook, Twitter & Instagram. Visit his Website for more information.