The indescribable splendor of a musical master; always at peace, yet always at work. Always in tune with his values and the world around him. Among the absolute best live performers I've ever witnessed; his solo headline set at The Gold Coast Festival in Cornwall was beyond phenomenal – fusing the acoustic with the outright rave themed magnitude of his mind blowing didgeridoo skills. The music surrounds and soaks into you. With album after album of incredibly expressive, thoughtful, and unique music – we are blessed to have such a creative among us. The new album Nanna, due for release in March of this year, looks set to follow suit – if the single release Come People is anything to go by. Find his socials at the bottom of the page so you don't miss out.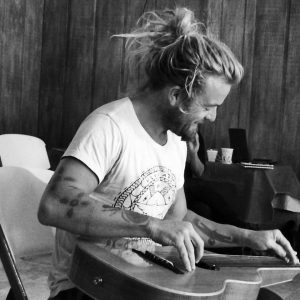 Xavier Rudd is an artist through and through. There is no pretension, no evident desire to be above or better than anyone, no desire even to be a part of the culture that celebrates musicians, actors, etc. who make it out of the small time. He just makes his music, and lives his life, and strives to make this a better world for everyone. A world of unity and togetherness. Unequivocally admirable qualities that we can all relate and aspire to.
In March, 2016, Xavier Rudd heads to Europe with his band to embark upon a tour that is very swiftly selling out, so get yourselves locked in on the schedule and get those tickets booked. The music will blow your mind, as will, probably, everything he chooses to talk about in between. An advocate for a multitude of environmental and humanitarian issues – visit his website to learn more about The Movement, and how you can get involved.
If you want to be amazed by a musician, and feel blessed to have someone of this mindset and multi-instrumental ability still active and very much a part of our generation – you need to take your chance to witness Xavier Rudd performing live. A massively iconic figure in modern music, a hugely influential artist of our time, and a truly incomparable writer and performer. It doesn't get any better. This is the beautiful and compelling new track and video from Xavier Rudd & The United Nations – Come People. Turn it up loud.
Find out all you need to know over on Facebook, Twitter, and the Xavier Rudd Website. His Instagram account is a must as well – pictures to inspire and show the wonderful side of life. It's a beautiful world. Be part of it!