Wild Rossa and the '88 are a band you won't want to miss out on this year. Their self titled EP offers up a supremely exciting collection of music; it's a huge relief to find out that there's a brand new band around who actively and joyfully pursue this kind of sound.
From the offset, the lead vocal is stunning –  a striking bit of character that fits like a glove with the swing and jazz fused music storming out around it. The creativity shines so bright even in just the opening song. Five Year Fool is absolutely beaming with entertainment, musical skill, and that ever important touch of personality that makes this their thing, and theirs alone. And they do it so well.
There's no worry that the the band will be a one trick pony, as by the time the second track begins to play, you're already soaked in a completely different kind of vibe. Seduced by the emotion of the broken down vocal and the simplicity of the musicianship – a sublime level of talent, but this time relying on the power of songwriting and passion to make the point. The lead vocal is utterly phenomenal, the ability to switch so effortlessly between the gentle, the almost whispering, to the powerful, the full throttle croak of a singer pushing himself to the absolute limit; as if it's nothing at all. It's mind blowing, to say the least.
The track in question is called Julian (She is a Woman), and what it offers is 5 minutes and 39 seconds of utter talent, passion, and originality. It's extremely rare these days to come across an artist or band that so clearly love to make music for the pure art of it; for that freedom it gives you, the means to express yourself so completely – to lay everything bare and be entirely honest and open. It's even rarer for it to sound this damn good.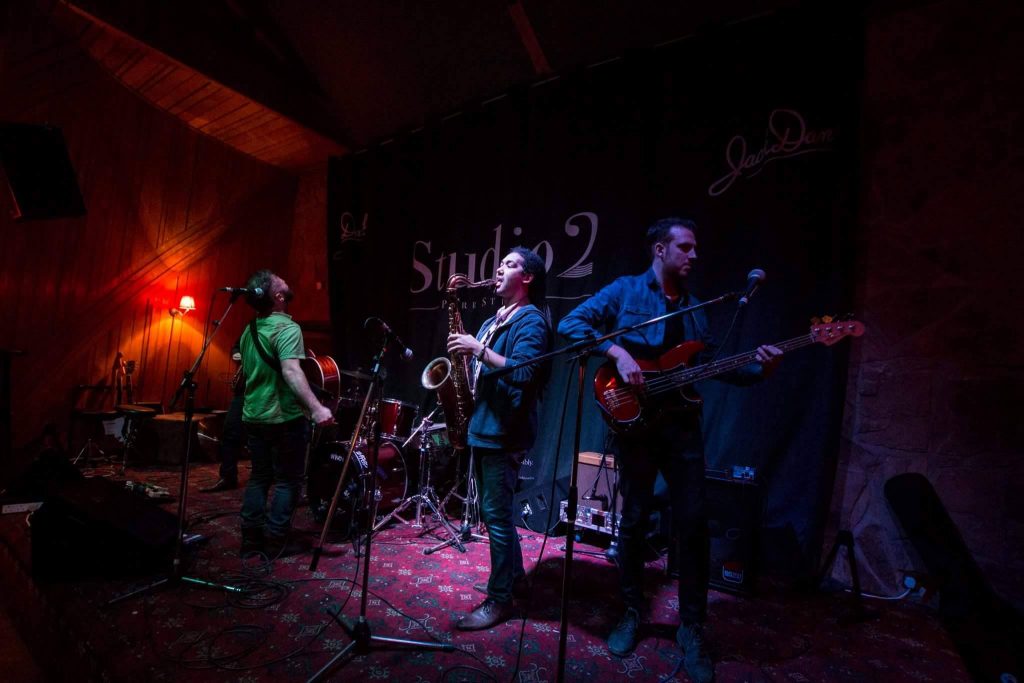 Wild Rossa and the '88 is a name we all need to check in with. They've already been bumped to the top of my must-see list for gigs this year, and that was only by track three. In a way, the EP gets better and better as it goes along; and yet, in another way, it's incredible from the moment it begins. It would be an honour just to watch these guys jam for an hour or two. We could all dance, or listen in awe, or contemplate our lives over far too many glasses of whatever it is that's on offer that night. We could all cheer as loudly as possible, and congratulate the band on their winning formula for this thing, this sound that they've achieved. This wonderful, refreshingly original sound.
Not a single negative comes to mind when listening to this project. Four songs is not enough, that's all that can be said. The track Gasoline takes off into it's own world entirely, there's a real nostalgic sense of the classic Carlos Santana vibe, but there's also something quite blatantly now about it. It's a party of immense crowd capacity; quite overwhelming when you listen through headphones, but beautifully appropriate through a half decent pair of speakers and turned up to 11.
That's What a Man's Supposed to Do brings up those black and white images of rainy nights and whiskey on the rocks. By this point, the inherent story telling skills become apparent; you know it all along, but there's so much else going on before now that there's just no time to really appreciate it. What I mean is, one after the other, after yet another, this EP consistently offers a surprising new moment of wow. You need to listen three, four, five times to take it all in.
It's a lot like watching some classic film from start to finish. You grasp entirely the sound of the band, and it's perfect – just what has been missing from the music scene of late. But also, it's just not enough. I want to be able to scour through interviews and live clips, as the avid modern day music fan so obsessively does. Time will only tell, I suppose. A live performance is a must though, it's undoubtedly the next step for those who can hear the magic in this music. Check it out for yourself. This is the brand new video for their latest single Feel It.
As if all of this isn't enough, what further broke my heart (and saved my soul, all in one go) was the lead singer's insanely amazing cover of Gloria Gaynor's I Will Survive. It's heart stoppingly powerful, and yet purely acoustic. I've actually had to go listen to something mediocre to bring myself back down to earth. One of the best UK bands there has been, one of the best bands world wide in fact that we've heard this past year. Not to be slept on. Get out there and experience the phenomenal talent that exists in this very world around you.
The band are based in Liverpool, a city with a superb and thriving music scene and more than enough reasons to visit for a long weekend or half term holiday. The self titled EP Wild Rossa and the '88 is due to be released on March 25th. It's only a few weeks away, we can hold on til then, and we will most certainly remind you when the time comes that you can take home this music for your own sublime experience.
Listening to these songs is like being indescribably deep in meditation. You really can't think of anything else while it plays. It's not background music; it's heart music, head music, and right there in the moment music. Follow the band on Facebook and Twitter. Remember the name. A redundant instruction really; you will, when you've heard the music.