Big Blue is an infectiously hard-hitting song from Wayside Loop's album Anti-Logic. The band offer something of a classic Incubus approach to creativity, fusing elements of hard-rock or heavy metal with something that is notably more melodic and characterful. It's a brilliant sound, in my opinion, incredibly refreshing at this point in time, and this particular song has been thoughtfully crafted with every new section offering something interesting and cleverly detailed.
Rather than quickly becoming a rock track that blends into the background, Big Blue is a song that grows more and more impressive each time you hear it. If at first you find yourself swept away on the sheer energy and passion of it, later on you start to notice more and more of these subtle intricacies that make it such a considerate and unique experience. This is the switch from the verse to the hook on a bigger scale, and the flickers of alternative instrumentation and guitar on a smaller scale. The rhythm changes, the space in contrast with the weight, the softly sung moments in contrast with the screams – nothing carries on for too long that it becomes overbearing. On the contrary, each moment sits just right, carefully paving the way towards what's next – similarly to how the scenes of a film might.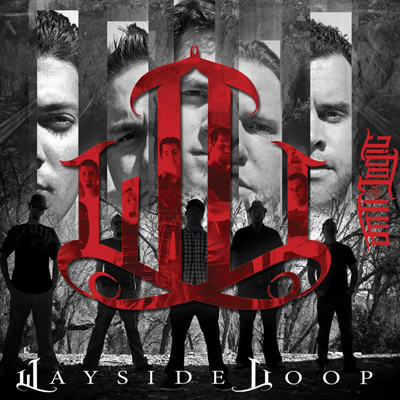 Elsewhere on the Anti-Logic album the music hits with a more intense level of volume – leaning back and forth between the likes of P.O.D and Stone Sour. This particular single though is a supremely well chosen one, in my opinion – it reaches out to any number of listeners who find themselves drawn in by a few different sub genres of rock.
One thing that you come to notice throughout the music of Wayside Loop is that their songwriting means something very real to them. Their lyrics intrigue and mystify, they offer insight and provoke a certain level of thought that's brilliantly backed up by the mood of the music. Consider the opening lyrics of Big Blue, as an example – the instrumentation rains down with weigh and vibrancy, then it all falls away, and the words a human curse, could it be worse emerge. It's a sort of dark poetry that captivates and draws you in.
The melody also changes several times, keeping you involved and hooked on the concept and the progressive, evolving stages of the show. This creates a consistent level of contrast that makes those later, heavier moments hit with absolute impact. Contrast is key and the band have mastered it on this single. The hook melody is insanely good, and even as the song continues, there are still more moments to appear that will surprise and hold onto your attention. Well worth a look.
Stream the album in full on Spotify or find the song on Reverbnation.