Starting with Late Night Drinking (which we've already had the pleasure of reviewing here at Stereostickman), You Can't Change The Past arrives here, fully formed, in the last quarter of a turbulent 2020. And by fully formed, I mean fleshed out, thought through, realised.
Sounding like a sonic mish-mash of Oasis, Gay Dad and Cast, with a little bit of historic Fleetwood Mac and maybe a touch of the late, great Thin White Duke himself rolled in, it's a 10 song set that doesn't intend to hang around waiting to be invited in – it's gonna kick the doors in!
Late Night Drinking is (maybe) an inadvertent anthem for our times: Covid-blues in an indie rock suit and all the better for it, with a straight-ahead chorus and memorable hooks. It wears its 90s credentials proudly on its sleeve, along with its classic songwriting chops. A confident start that says 'we're a band, here are some songs, get on with liking them' and one that marks out its uplifting chorus with energetic tambo and sweet harmonies. With a singer sharing the vocal timbre of the aforementioned Mac's Lindsey Buckingham, and some very limber bass lines, it's accessible, fun and fizzy.
Listening to Bowie is up next, and it's punchy and punky and over in a smidge past two minutes. It wisely does not replicate any Bowie traits, but simply jangles along energetically referencing a few of his titles while showing off hooks that are all its own.
Next is It's Forever, the title of which may well be tipping its hat to Oasis' Live Forever, though it has more in common with Wonderwall sonically – it's the chord choices for the acoustic guitars that do it. Again, we have lush vocal arrangements pushing the song along, and the busy drum patterns and bright guitars decorate another sub-three-minute splash of colour.
There are some country elements to the twangs on offer here and an intelligent arrangement gives the lead vocal space to breathe. Some smart guitar syncopation and a breakdown also elevate a rich tune. These guys sound like they are having fun capturing these songs, and that fun communicates.
Gotta Stay Strong allows the lead vocal more of the spotlight. We get to hear the singer's lower register and a determinedly Brit accent anchoring the indie rock firmly to the British Isles. The singing isn't overly flashy, it's authentic and energetic and is matched by some bolshy, swaggering guitar and thunderous drums. Over far too quick, this tune. That's a good thing…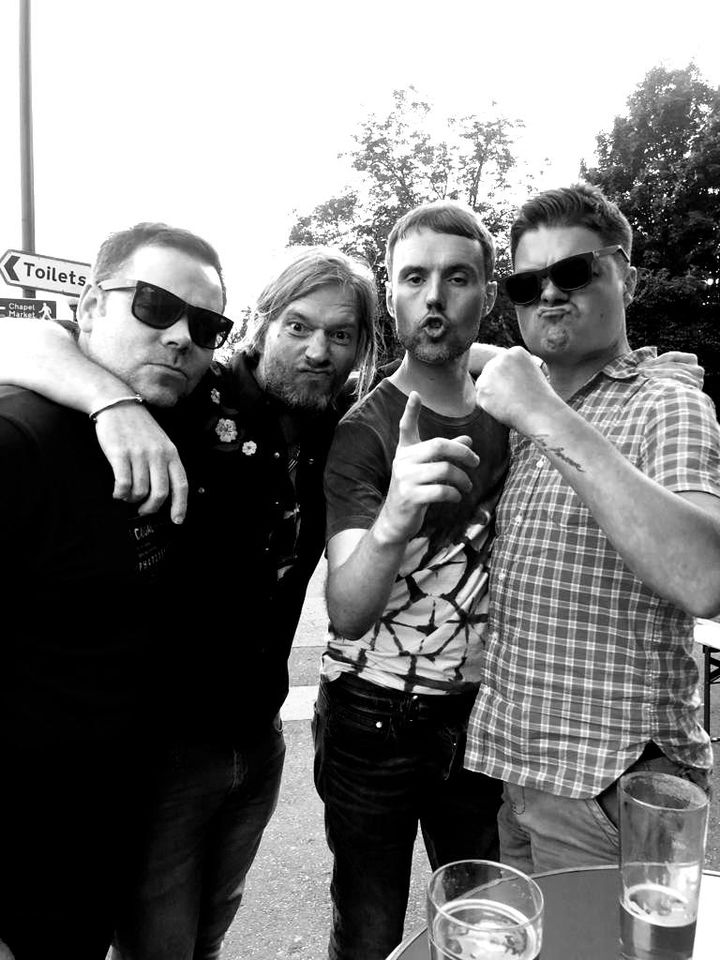 Things get even more Brit-centric with Robin Friday. It could almost be Sex Pistols, but it's too proficient – maybe a better reference would be Blur's Bank Holiday from the iconic Parklife album. Laden with attitude and reverb and a touch of feedback and raucous ambient outtakes, it's furious fun.
3 Hour Blackout gets epic. The needle goes past 3 minutes for the first time and dynamics are more extreme. When the guitar solo kicks in during the second half, the Gay Dad reference is more pronounced. There was a reason that band were lauded by the music press when they emerged, and some of that raw energy and passion is definitely present and correct here.
Medicine Man again showcases some slippery bass lines and smart guitar riffing. It's muscular, and has an ever-shifting arrangement that keeps the listener interested. It builds nicely and exhibits a great sense of Q&A songwriting. The band asks itself questions then provides satisfying sonic answers.
'I'm awake / But not forgotten' is a great couplet (and terrific hook) from the unlikely-titled Underneath a Shopping Centre. Why the song isn't called I'm Awake is beyond me. Not that it bothers me: it's got me listening, and got me thinking. It's got a great narrative thrust and I notice that the songs appear to be growing in depth as well as length as the album progresses.
An Indian-inflected vocal melody permeates penultimate track Why Did You Say Those Words. It's my favourite track on the album. I'm put in mind of the Harrison-influence Beatles tracks here. It robustly rocks along and the drummer is hammering out his parts like crazy. Some manic tambo picks up his enthusiasm and we rocket through to the album closer, Old Age Makes You Strange.
A wistful and pensive number, as the title implies, it's imbued with a gravitas that might be unexpected bearing in mind a lot of the lightness of touch experienced thus far. Some lovely subtle layers of guitar (both electric and acoustic) add loads of colour and movement. The outro is fabulous: seagulls, wave sounds, organ and all.
You Can't Change The Past. Well, that is true. But you can borrow from it, and take inspiration from it. This is an album of crafted and loved material, beautifully sung, played, captured and mixed. A 90s heart may beat at its core, but there's a modern sheen hovering over it all – along with smart production and arrangement choices. A great listen.