Whatever the word Calypso conjures up for you, this song and video is almost guaranteed to be a fairly fitting and brilliant embodiment of the sound and energy we naturally associate with the term. Complete with steel drums, good vibes, engaging rhythms; that beach-side aura thrives here. Escape the grey days and the rat race for a while and dance the night away with the infamous Calypso Twins.
Ainsley's Caribbean Kitchen has been given a boost of additional colour and optimism thanks to this brilliantly addictive and uplifting theme song. Bringing together the songwriting skills of Paul Boross (of Morris Minor and The Majors) and Henry Marsh (of seventies hit band Sailor), Kitchen Calypso sees Boross and Harriott reunite to showcase a timeless friendship and an equally timeless and likable display of music and performance.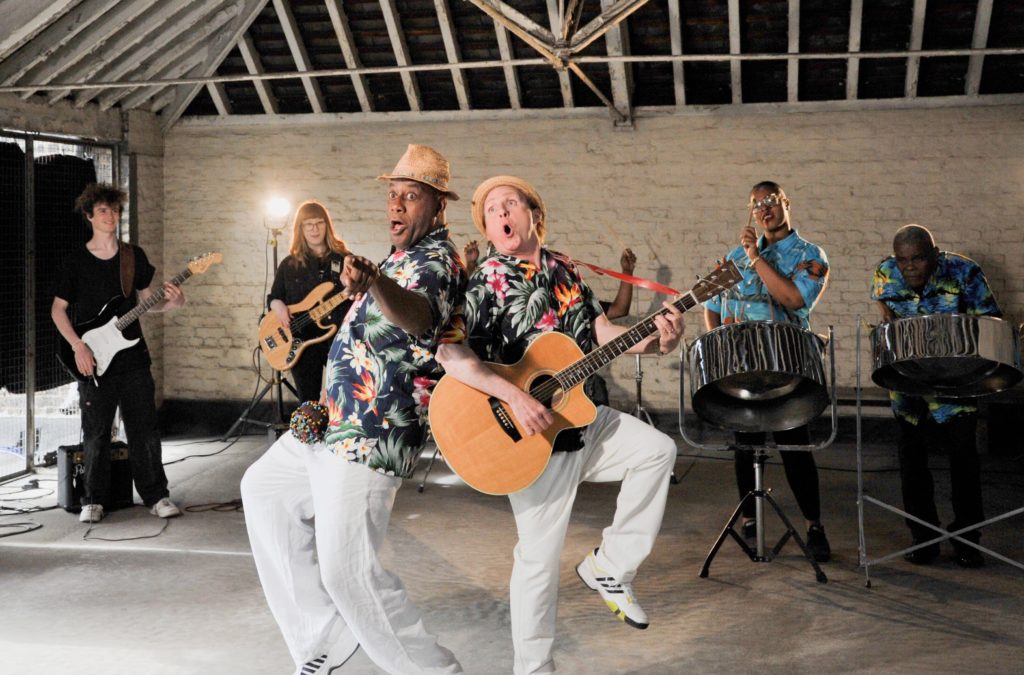 Pouring through with classic summer vibes and an organic set-up, Kitchen Calypso is quick to light up the room – and to sweep its listeners away on the raw hope and brightness of its riffs, rhythms and melodies.
The Calypso Twins first went public with their sound live on TV, way back in 1990. What's great is that the musical-comedy duo return this summer with just as much vibrancy and love for music and performance as ever. This song, in many ways, encapsulates that very optimism and lust for life, utilizing a few simple yet skillfully crafted layers and elements, offering an easily memorable and immediately energizing release that's close to impossible to dislike.
This is easily the holiday track most of us crave at this time of year – particularly us Brits, whenever the rains return and try to dampen our spirits. The Calypso Twins have done a great job with this composition and performance – it's an effective hook, an infectious theme tune, and the crisp quality allows the natural rhythm and bounce of the music to stand tall and connect in a pure and enjoyable way.
Before you know it, that leading melody is running on loop in your mind; and you're most probably more than happy to let it! Take yourself back to the beach with this mighty summer classic.
Download or stream the music here. Visit their Website for more information. Find & follow Paul Boross on Twitter & Instagram. Check out Ainsley Harriott on Twitter & Instagram.