It feels like quite a while since I last delved into the music of Strangely Alright. Even so, something about this latest EP suggests that the band have been consistently pushing for a thicker, more energetic and striking sound, and the results pour through at full speed here.
Stuff as the title track kicks things off, immediately presenting the listener with an impeccably memorable guitar riff – simple, and skillfully fusing the electronic and organic worlds. There's intensity to the whole thing, a full and heavy wall of rock and roll fills the room, and meanwhile this indie-rock-inspired leading voice drives the song's ideas and melodies in a gritty, passionate way. The instrumental soundscape overtakes all else, admittedly – the track grows to become a totally explosive and immersive listening experience.
It's a brilliant piece of music, complete with fragments of voices and flickers of external instrumentation placed rhythmically between lines. It hits with impact, feeling anthemic and recognisable – at the same time as blissfully loud and refreshingly vibrant. As suggested, it feels like the band have taken steps to move onwards and upwards, and it's paying off.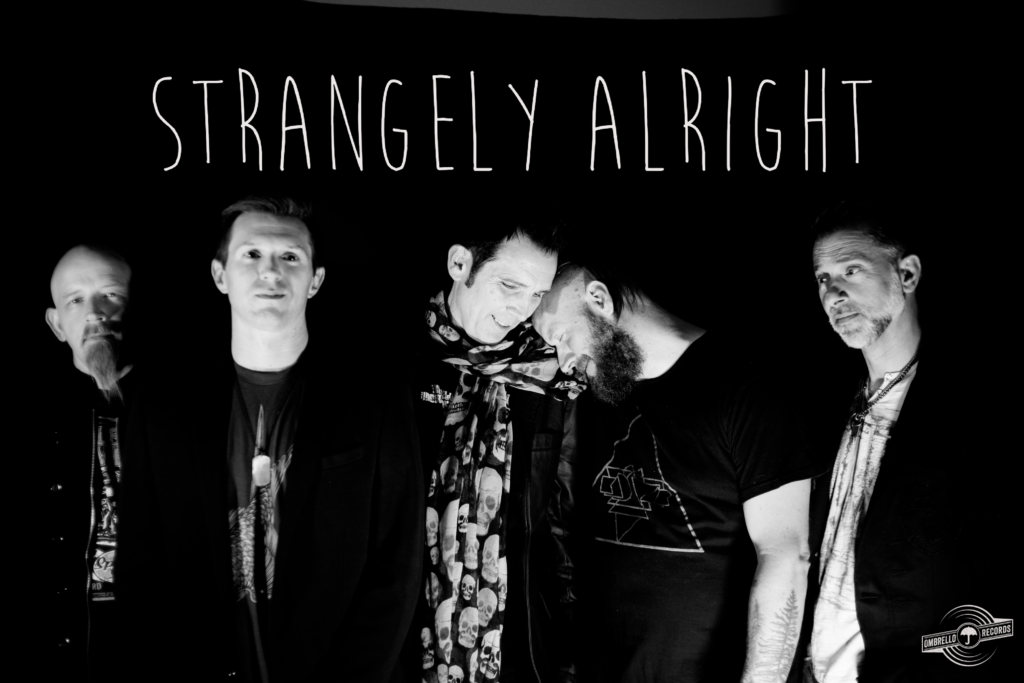 Things continue in this manner throughout, though adding fuel to the fire is the fact that the band have considered the values they wish to represent within their music – filling your world with energizing intensity, but also speaking out on behalf of love and positivity. The level of togetherness presented in these full vocal choruses is beautiful – Building Bridges follows the opener with a similar level of weight and personality. There's also a striking piano progression looping throughout, adding further character and keeping you aware of the structural brilliance that's at work from start to finish.
Strangely Alright have crafted these songs to be dramatic and appealing – multi-layered and interesting at every moment. This one in particular is quite stunning – by the end you find yourself swept away entirely on the energy and power of the moment and the soundscape. Always there's something valuable left lingering in your mind.
Mama always said, she always said – treat people right.
Wave Goodbye changes the pace a little, a more spacious piece of music emerges, feeling indie-rock like and bringing together electronic keys, distorted guitars, and an infectiously rhythmic backbone and melodic set-up to match. Short lines feed the beat and carry you along well. Still the anthemic strengths shine brightly. Certain lyrics really reach out from within.
Information Game sees the band lean in a slightly more electronic rock, fuzz-factory direction – a heavy track appears, but not without moments of Bowie-like melodic delicacy; even the vocal tone on the 'ohs' has a touch of his style to it. There's a lot to listen to here, a fair balance between the intense and the light hearted – again, short lines let this sink in with an easy to relate to aura.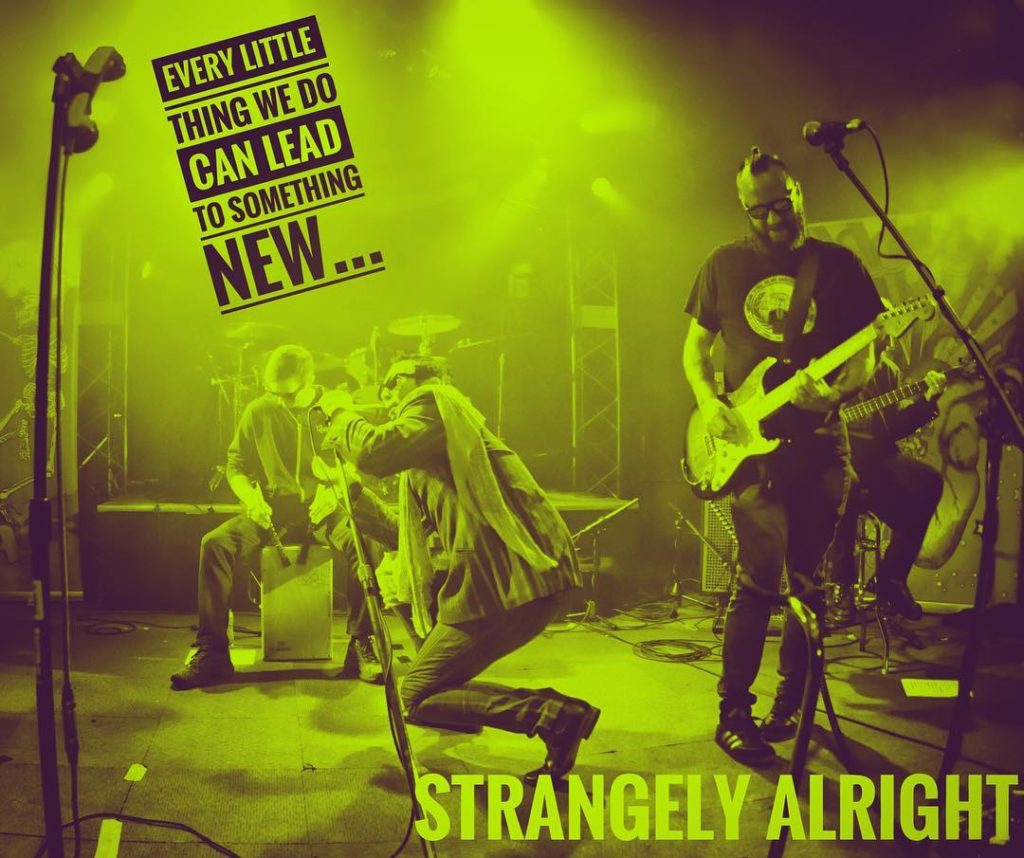 Classic rock and roll peaks its head around the corner with Whatcha Gonna Do, superb guitar work sees riffs cascading around you in a stylish, satisfying way. Still the Strangely Alright sound is at the core of it all – this punk-rock, electronic rock, freely meandering, partly psychedelic wave of creativity – but eclecticism does feature on this project; it works subtly but undoubtedly in the playlist's favour. The lyrics are lost in the energy here at first but the song is worth a second and perhaps third run through to take it all on.
Don't You Know ends the journey and begins with a sixth and final introduction – a snippet of vintage spoken moments from history. The song that follows has a lightness to it at first, a little Brit-pop like in the way the melody and those vocal choruses develop. The unity between the guitars and the melody adds further to that vibe. Later on though, the song becomes something much bigger – another mighty instance of explosive, passionate audio.
All in all, this project is insane – every song is an epic anthem of classic rock, but it's also never quite as you'd expect. Strangely Alright aren't afraid to fill the moment with creativity and unpredictable instrumentation. There are more than a few moments of weight and power. It's a brilliantly well presented, uplifting collection that marks a huge moment in the band's journey.