Sometimes you come across a project that just immediately gets inside of your head space. The backdrop to some unheard of and previously un-thought of story just unfolds in your mind, and every sound and every note and every effect just further builds and builds on this atmospheric array of art. Queuelbum is exactly this kind of project. Serge Bulat has set out on a creative journey of exploration. There is music, a multitude of music, but first and foremost there is a scene – a philosophy, another world; one which you are invited to step over to as you listen. You aren't just pressing play, you're embarking upon a journey, with the artist, and without any room for preconceptions. Expect the unexpected.
The opening track Automaton does a lot of the work in creating this lasting first impression. It takes you somewhere else entirely, it lets you know that this won't be like anything else you've heard in recent months, perhaps years. You then swiftly, suddenly arrive at Say Hello To Mr Armstrong. These haunting bells ring out, this inescapable riff, one that almost seems accidental, or slightly ajar. Following this, the most unexpected of bass lines. This is like something from an 80's action film, fused with a little horror; the kind you might find in the very dark spaces beneath an un-turned stone. And then, having said all of this, you soon find the music to be quite pretty – it's pleasant, it has it's story to tell, and you really feel compelled to hear it out.
It's strange, without lyrics you can often feel the urge to skip through music and get to the good bit – after all, there's nothing to miss, no crucial lines to look out for. But that's not the case with this – you won't be in the right head space for what comes next if you don't full involve yourself in the now. It's very much a book of tales, and every page has it's moment; it's imperative information to pass on.
Then we get to Idiots in Heaven, and this is where the music really kicks in – the musical music, so to speak. This piece has a rhythm and vibe to it that just pulls you from your seat and right up into the centre of the sound. It's simplistic, very few instruments – minimal even, but slowly building; slowly filling out, rising up, and the effect is a sort of peaceful completion. A soothing hit of satisfaction. The bongo-like beat sounds so organic that it could almost be a live performance. The keys seem equally right there in the moment with you. The chord progression that comes in towards the end adds this whole new dynamic to the story, and once again, it's not just music – it's something else. Some other kind of art.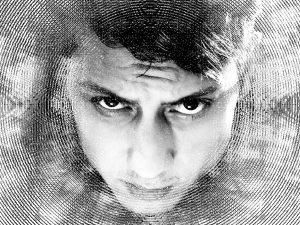 Queuelbum – a shifting realm of sound, visual art and philosophy; your ultimate race against time and limitations. The experience requires maximum involvement: challenge your imagination and be willing to break the rules of logic. – Serge Bulat.
Track 4 is a thing of beauty from the offset. You're transported to some other place, some oriental land of peace and harmony, in some other time perhaps – where things are far less manic and complicated. Clouds Of Yesterday is a beautifully fitting title for this track, and the music and soundscape that unfold tell a mesmerizing tale of what feels like change and growth. There is comfort in the music at first, then a moment of uneasiness, a little anxiety, a little fear, then everything smooths out again. It feels like a transition – an essential life lesson. The music is great, story aside, the distorted synth and the tripped up beat work really well in filling up the room and your head space with all the right feelings.
Prognosis brings back that anxiety a little – the haunting bells from Say Hello to Mr Armstrong are back, but they sing a different tune, and they're accompanied by a military style shuffle and a distant but vocal piano. This one for me has the feeling of creeping around somewhere you shouldn't be, or someone, something, creeping around without you knowing. It also feels like it would work alongside the hatching of a plan, again that idea of change and growth and working it all out comes forward through the music.
It's my belief that through art you establish the contact with past or future self.
The effect is furthered with Interqueue, by now we are right in the depths of this experience and this transition. It almost feels like you've transported to the centre of the mind itself, and every sound and moment comes from somewhere so distant, yet right in front of you, and it ricochets from every wall and every thought, right back to the present you. Third World River turns a corner from here, and the music is back, there is a feeling of melodic hope, the optimistic clap, the flicker of a major chord, the echo of an uprising.
There's so much power within the music of this project that it would seem an absolute crime not to listen to it in it's entirety. When I stopped listening, took off the head phones, looked around – I felt a little as if I'd been on some immense journey. As if I'd spent time somewhere brand new, like I'd spoken to someone from the far corners of the world, and learned about something I never even knew existed. The power of art is alight, and being waved high above the world with this album.
I tried to find a balance between "loving" and "hating" time and incorporate it into music.
Those wonderful oriental or other worldly rhythms return with Walker, the sounds incorporated into the piece add to the effect of being somewhere else entirely – things are happening there, it's not just the music and you, there is so much more – there is so much more to the world than your own experience of it. The music throughout this track makes you feel quite fantastic. It opens your mind, relaxes you, and inspires you to get up and go – all at the same time.
Queuelbum finishes with Eared Ones, a piece of music that taunts and teases you – it even seems to teeter on the edge of flat-lining at certain moments. There's no clear sign of whether or not this will be a happy ending, there is only this feeling of finality – this feeling of the end. Neither joyful nor sad, neither yours nor someone else's; just something that was, and no longer is. There is a beautiful ambiance of drama and change expressed in this final section. The music is wonderful, unusual, and a little scary in some ways. As is the concept at the core of this project, I suppose. A job done with superb relevance and accuracy.
All of this is merely my own interpretation of the project, my own experience of it. I strongly urge you to embark upon your own experience, to listen to the album, and furthermore to follow Serge Bulat on his journey – what he is exploring and creating is incomparable, and utterly unique. The project itself is phenomenal, and the more you learn about it, the more the pieces of the puzzle start to fall into place. Or, perhaps more accurately, the more the pieces you thought you knew – start to fall away.
Download your copy of Queuelbum over on iTunes. Find Serge Bulat on Facebook, Twitter, and Instagram. Read about this journey over on his blog, and listen, watch, and experience the beauty of an idea expressed and explored through art – through music – the bridging of the gap between past and present. See for yourself.