Scotty RAiN hits with impact from the offset as the album Ease My PAiN storms into the room. Kicking off with the heavy and bass-led, fuzz-soaked weight of Too Many Drugs, the underlying concept for the project is made clear early on, meanwhile Scotty RAiN's unwavering flow pours through intensely and barely sees him pause to breathe.
Dark vibes and impactful beats continue to emerge as the album progresses, RAiN's intensity also grows more striking with a fine balance between personal story-telling and observational detail. Knocked! is a fascinating track, a haunting riff backs up a deeply thoughtful, provocative string of lyrics, reflective on life and the role of the self. Even at this early stage, there's something quickly recognizable about Scotty RAiN's vocal style and lyrical approach. His slightly offbeat delivery and that lack of pause within his bars helps build a defiant sense of identity that undoubtedly stands out amidst today's hip hop landscape.
As the sixteen-track deep collection moves on, the project begins to feel like an undeniably personal and honest depiction of an artist coming to terms with life and moving through various stages of difficulty. The concept of Ease My Pain is referred back to consistently – struggle and turmoil are temporarily overcome by intoxication and escapism. New Drug (Stuck) lays all of this out with immense clarity – lyrically full verses captivate amidst another mildly hypnotic, classic hip hop backdrop. Later on, Brutal Nights is equally revealing and highlights a level of vulnerability, though this is dealt with in confidence by the sheer energy and fearlessness of Scotty RAiN's lyricism and performance.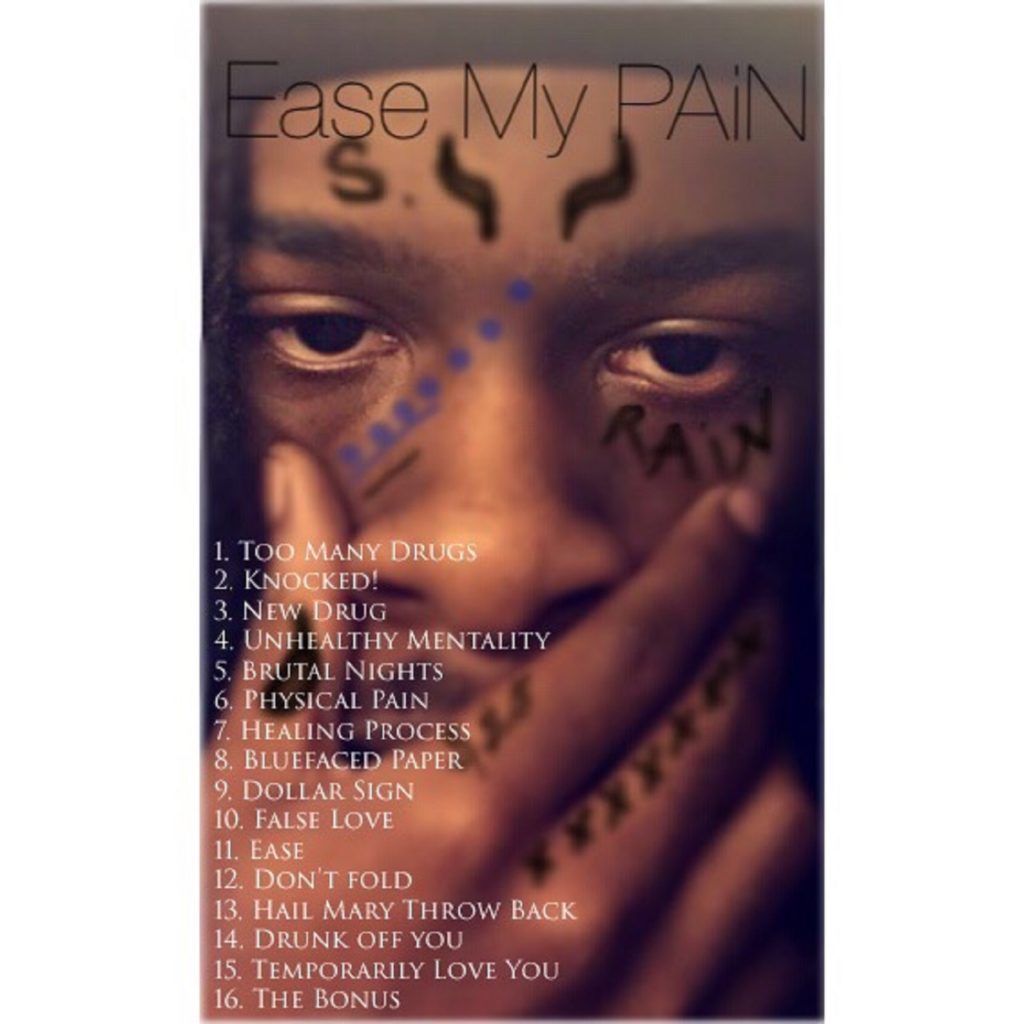 Physical Pain stands out for its off-centre piano riff and the re-use of the echo and vocal gatherings that fill up the outer edges. RAiN's vocal flow feels like a stream of consciousness, a little reminiscent of early Outkast in some ways. Meanwhile he continues to confront his demons by relentlessly offering up intimate details and his own unapologetic truth. Afterwards, Healing Process makes for an unexpected moment of brightness and optimism – a huge moment that's undoubtedly welcomed at this point in the playlist.
During the latter half of the album, Dollar Sign is a track that fits well amidst the simple rhythms and anthem-like chants of contemporary hip hop. False Love stands out for its hopeful and loving aura and the seductive swagger of the instrumentation. Don't Fold later on contrastingly grabs attention for its minimalism and grit. Hail Mary Throwback then samples the infamous Rick and Morty and proceeds to offer an unmissable beat and a short-lined verse that again tips its hat to the rap sounds of today.
Towards the end, eclecticism peaks through again as Drunk Off You sees Scotty RAiN get intimate and loyal in his lyricism. A gentle, jazz-like backdrop suits the loving mood of the track in a beautiful way. Temporarily Love You creates contrast afterwards and re-injects intensity and vocal weight amidst a decidedly colorful, creative beat. Rick and Morty then return to bring the project to a hard-hitting finish with the intensity and energy of Bonus. Scotty RAiN reaches passionate heights and leaves you with a lasting image of him as an unstoppable lyricist with a clear love for performance.
Ease My PAiN in full is an album with plenty of personality and a uniquely expressive approach to modern hip hop on the whole. An extended introduction to an interesting and consistently honest, open artist.
Download or stream the album here. Find & follow Scotty RAiN on Twitter & Instagram.