Sawti Sunik's debut full-length project sees the unpredictable creative join forces with Hazardis Soundz, for a six-track explosion of identity, gritty bars, stylish production and a clear contemporary edge that's as relevant as it is carefree.
From the stylish theatrics and confidence of General we're off to a strong start – the modern Hip Hop sound thrives amidst this kind of fearlessly immersive, passionate balance between humour or free character and integrity, and these qualities stand tall throughout Born Again…
Conducta Boof follows on with familiar vocal inflections and a notably more haunting ambience – indicative of a story at work, an incoming scene that will captivate, and it does. The flow is different, versatility at work early on, and the soundscape again weaves in plenty of evolution and stylistic choices that further the unique reach of the project.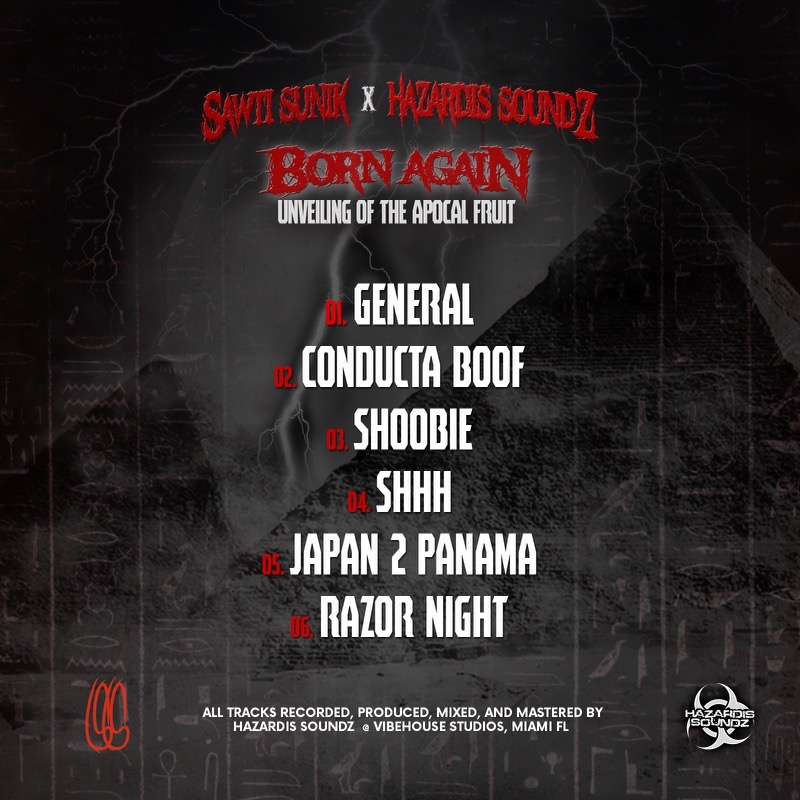 Shoobie takes the story-telling and humour a little further, grittier than ever, increasingly passionate and inspiring in its detailing of the climb.
Then suddenly there's the delicate riff-work and reflective nature of Shhh, still incorporating those screams but telling a tale of contemplation in amidst the carefree commitment to performance. The soundscape here stands out for its softness and organic layers in line with the trap beat.
Piano and bass unite for a powerful hit of intensity as Japan 2 Panama injects a clear anthem of flair and fire combined. An easily memorable highlight for both simplicity and style.
To finish, Sawti and Hazardis wrap things up with the late-night grit and pace of Razor Night. Faster bars, clever writing, intelligent framing of ideas woven in amidst a relentlessly hypnotic soundtrack. Another natural highlight, these final two making for an unmissable section that raises the bar and the rap world's awareness of the artists at work with unquestionable presence.
Download the EP via Apple. Check out Sawti Sunik on TikTok & Instagram or visit the Website.