Appealing from the outset thanks to softly raspy, expressive and emotive vocals, alongside a fast-paced organic folk-punk vibe with dashes of distortion, Washington's Round About lay down their identity in a poetic and powerful fashion, throughout their brand new album Inner Voices & Curious Choices.
The Blind Lead The Blind has a familiar pop-rock anthem vibe to it, nostalgic and comforting, reflective – perhaps all reasons for it being an ideal way to start this album.
As Better With Time follows though, we quickly realise the eclecticism between tracks. Different vocals, a more stripped-back, almost funky progression and deeply personal lyrical thread. The songwriting is the strength, the style is free to interpret each feeling or mood, and these are all reasons why Round About are a band worth knowing.
From arena-rock immersion to joyfully delicate folk musings, Inner Voices & Curious Choices tends to offer a little of everything implied by its title. Weave in catchy hooks, seductive solos and overall faultless musicianship, and the nine-track album is a pleasure to lose yourself in for a while.
Menagerie softens the mood further still, an intimate indie anthem of Man-eater conceptual origins, with seductive story-telling and an engaging use of contrast between softness and distortion or subtle grit.
Then we get the folk-country swagger and uplift of a knees-up live show for A Single Kiss, the opening voice returning for a poetic outpouring that calms the soul and permits the mind to wander. Another great melody, and another favourite track from the collection – great resolves, great riffs, a set up that begs for you to witness it in real-time.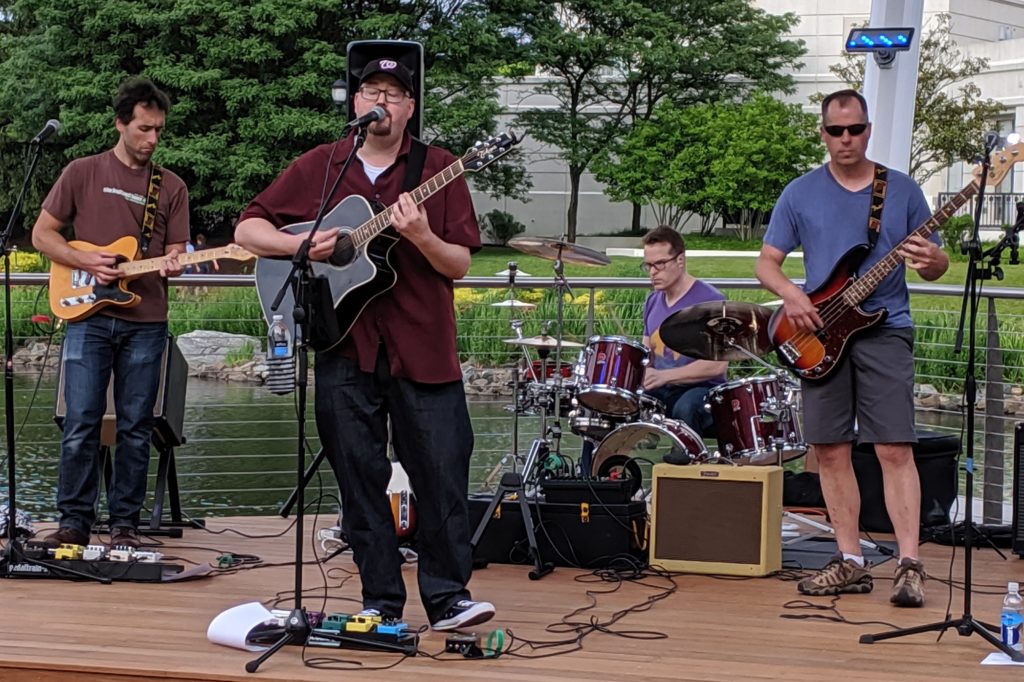 Swagger and style pave the way with space and character as In Between leads us through an honest tale of modern love and a musical realm of rising energy and intensity.
Next we get a warm, pop-rock crooner of a track that's a tad reminiscent of Elbow in its quietness, poetry and distant vocal sound. Course Correction is a slow burner but ultimately beautiful in relaying the topic and aptly setting the mood.
Afterwards, a touch of offbeat reggae rhythm and quirky lyrics inject dynamic for a classic, catchy and fairly addictive hit that's a total joy to turn up loud and join in with. Sending Out Signals is a definite stand-out, unique yet effective in structure and the way things roll along and build.
Arrangement also works its magic here, as Try As You Might takes a beautiful acoustic route towards euphoric uplift after the energy and bounce of the former song. Lyrics reflect, feeling both personal yet relatable – the perfect time to turn things towards the listener. Then to follow, the album's closing track – The Most Important Thing – furthers this vibe, promising a much-welcomed hit of optimism and humanity that lingers when the whole thing comes to an end.
'Find your own voice, it's the loudest in the room. Make your own choice, it's the most familiar tune'.
Their fourth studio album to date and one indicative of evolution and vast change, personally and globally, Inner Voices & Curious Choices is a dream to let fill the room. With stunning musicality throughout, a plethora of lyrical gems, and an overall embrace that naturally celebrates the album as an artform in and of itself, this is one worth knowing about.
A fine testament to the passion, commitment and talent of Round About, and an effective lure for new fans when it comes to exploring their entire catalogue.
Check out Round About on Facebook & Twitter or visit their Website.