The album Robot Raven Rockers brings together a whopping 18 original songs that collectively showcase the absolute best of the band's abilities and raw energy.
As a starting point, the song Password drives with an immediately creative set-up – partly acoustic, almost reggae-like in rhythm initially, then this classic rock duo of vocals emerges, slightly medieval in nature, and things continue to grow and evolve in an unpredictable manner from here on in.
What you notice about these songs is that the writing takes the form of deeply thoughtful ideas and consistently expressive soundscapes with effective structures. This opening song works well to intrigue and subsequently satisfy, it sounds somewhat retro but also fresh in its subject matter and its fusion of the organic and distorted worlds.
The musicianship throughout the project is equally impressive and easy to enjoy. Turn Me On follows the opener with a brilliantly upbeat aura and an addictive overall energy level. The melody and the contrast between the quieter verse lines and the chorus ones that follow works really well.
Eclecticism roams free on this album but there are certain threads that return repeatedly to remind you where you are. On occasion there's a psychedelic feel to the music, still that leading voice has a comforting familiarity, and always the songs feature immensely effective hook sections – often the sort that could easily bring a crowd together for a big moment. Crank It Out is a fitting example of all of this. Then, Half A Mind utilises softness to present some deeply poetic and provocative lyrics that get you thinking and actually feeling perhaps less alone or more understood.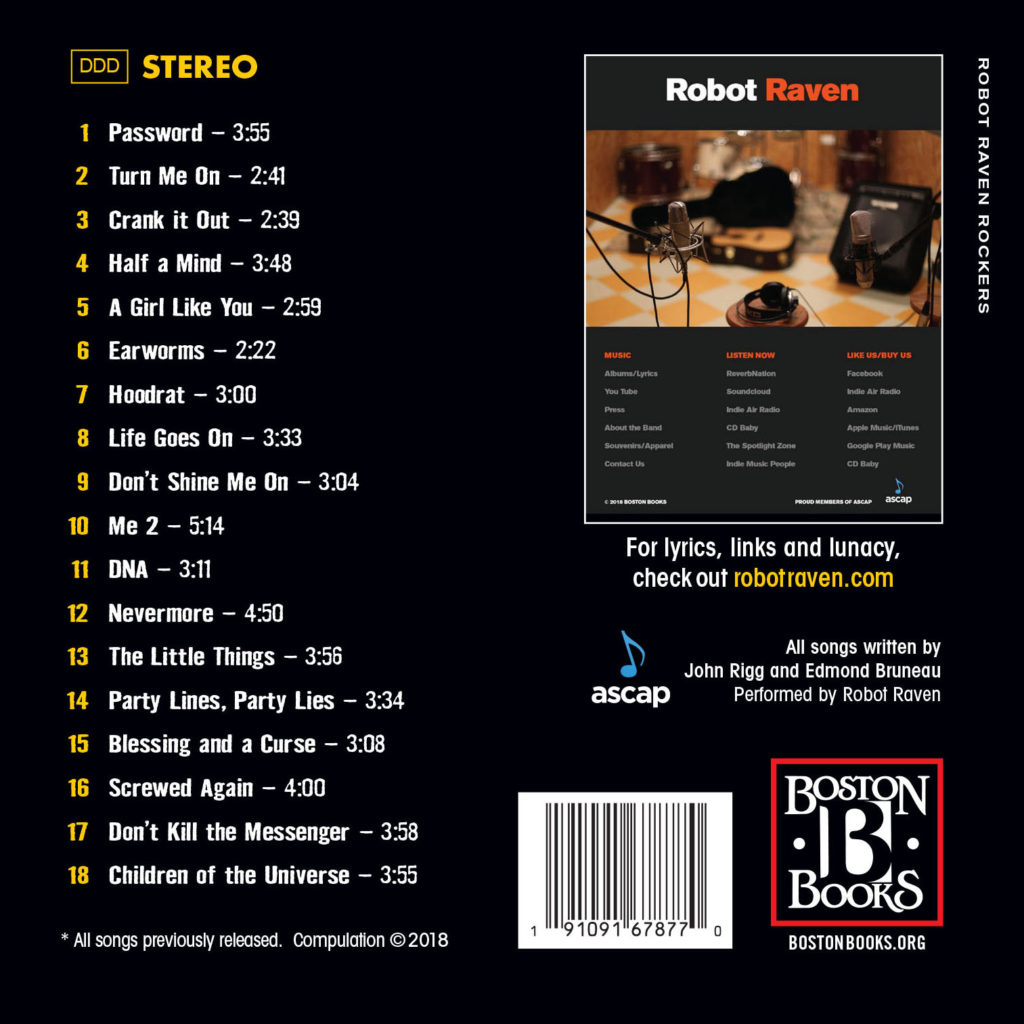 Elsewhere on the album, dashes of cinematic rock, Americana, surf sounds and honky-tonk appear intermittently – always the centre-piece is the songwriting. In some ways this feels like a huge collaborative project, a mix-tape – in other ways you adjust to and recognise the sheer creative freedom and energy of the band pretty quickly.
From one moment to the next the musicality rises up and sometimes falls away. A hint of Elvis emerges with Earworms, a touch of indie-rock follows with the clearly anthemic Life Goes On. Even when the music is multi-layered and colourful, the lyrics inspire a considerate awareness of the world around you – the band present as much in the way of thoughtfulness as they do of fun. The acoustic rawness of Don't Shine Me On afterwards redirects things and offers much more of the former. The song's chorus is mighty, as always – Robot Raven know how to write a good hook.
In terms of socially conscious writing, Me 2 draws focus to the recent rise of the #MeToo movement with a dramatic and striking piece of music and performance. At its fairly central position within the collection, the sudden realness and struggle brought about takes you by surprise – drawing attention for its darkness and volume, keeping the conversation alive and helping push towards a better future. The song's hook pours through with passion and power, underlining the band's clear connection to and support of this societal development.
You took what wasn't yours; it's only mine to give. 
Later on, Nevermore is a musical highlight for its classic rock warmth and easily memorable riffs. The Little Things is another for its inspiring sense of gratitude, togetherness and appreciation – as well as the energizing switch from delicacy to full-throttle rock and roll.
Blessing and a Curse is one of the most distinctive songs of the collection – the music and indeed the leading voice present a certain care-free level of grit and vibrancy. Screwed Again afterwards suits those thoughtful moments watching the rain fall and pondering the world and the choices you've made.
The wonderfully heartfelt choir-portrayal of Children Of The Universe brings things to a finish with emotion and depth, as well as a unique balance between that which is intense and that which is warm and welcoming. All in all, there's far more to this project than a simple write-up can convey, but it's easy to let these songs pour through one after the other and not get tired of the variation and the ideas.
Find & follow Robot Raven on Facebook or visit their Website.