23 songs strong, Kick Back Relax represents a smorgasbord of influences and stylistic shifts. It's an hour and a quarter of experimentation, sonic manipulation and production tricks that regularly raise an eyebrow. I'm not sure how relaxed I felt at the end of it all!
Kicking back, then, I immediately notice that these tracks feature an array of vocals reminiscent of different influences at different moments: it's a pretty dizzying proposition. The title-track opener features vocals not unlike those of Kevin Tihista's Red Terror or even early Bowie in terms of the wrangling of the melody. Next track When Loving Right Is Wrong sounds like the vocals of The Tubes' Fee Waybill. Hold Me has stacks of Beatle-esque backing vocals, but the whoops and pops of Momus.
And that's only the beginning of an appreciation of just the vocals…
Hold Me starts off sounding like Hotel California, then leaps from a dive board into a bizarre mix of MGMT production sensibilities with the loosest of drum rolls that somehow still allows the kit to stay on the rails. Guitars wail and the vocals become more impassioned…
I Want To Know You continues the Beatles-inspired harmonies – this time, though, they go on throughout the track! Ricochet cracks out the ELO influences. I'm not kidding, some of the instrumentation choices and little stabs and production tricks coupled with the chord progressions makes Ricochet sound like it could have been included on Out of the Blue. And never more so than when the Q&A backing vocals kick in.
Robot Raven are a fan of double tracking, and of putting vocals through chorus and flange/phasing treatments. They also love vocals – lots of vocals! And as the lead vocal has a very idiosyncratic vibrato and method of wrangling enunciation, this creates big slabs of colour sonically, and a very fat sound. They have also eschewed the use of autotune in favour of character and performance. For this kind of 60s-soaked and slightly psychedelic collection, that's a great shout.
There are 60s choices in evidence on tracks throughout – like mixing the drum kit hard to one side, guitars to the other, with the vocal straight down the middle. Don't Wait 'Til I'm Dead actually calls to mind Jungle from the aforementioned Out of the Blue – but not in terms of the mix…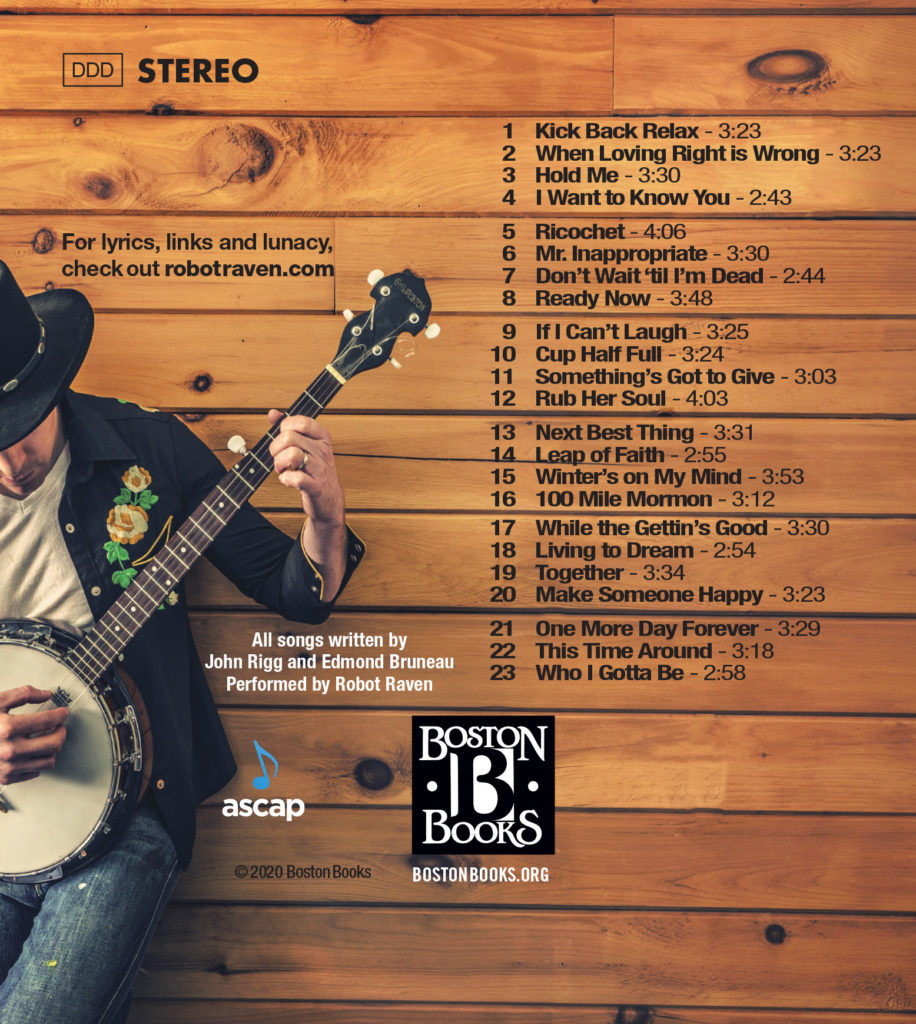 I listen on, never knowing what's coming next. The vocals are ever-earnest, however, sometimes with the tremulous fervour and conviction and edge of a younger Johnny Cash. There are lovely pads of oohs and aahs and counterpoint melodies pinning down extra lyrics. They feel genuinely live, and are mixed to suit that.
The homespun feel of the whole shebang is exacerbated by the (deliberate) choice to cut off some songs dead before they have properly faded out…
If I Can't Laugh features lovely unexpected chord changes that I found really satisfying. Different sonic palettes and little runs and riffs keep arriving and departing, delighting and surprising in equal measure. The crunch of drum machine handclaps underpin and the guitars wail and…
Suddenly Cup Half Full makes me think of Nick Cave and The Polyphonic Spree. Dizzying. 'No one gets to eat all the icing on the cake / No one gets to have it all without mistakes to make'. A standout lyric amongst a rich song with Bacharach strings, plucked guitars, Roy Wood production…
Surf music puts in an appearance, so does the ghost of Elvis, then Roy Orbison… What IS this collection?
I'm kicking back, alright, but I'm not relaxing. There's a wealth of talent and crafting here that's pretty humbling to behold. It's like Robot Raven have hit a natural high and been told to go and record something that distills the last 70 years of songwriting into an album, and been given access to a studio full of vintage gear and told to knock themselves out. So they did!
Leap of Faith sees the vocal sound morph into latter-day McCartney.
And so the collection marches on. When everyone else is zigging, it's time to zag, and this is a singular, extraordinary body of work. A melding of primarily 60s- and 70s-influenced classic rock songs and sounds and yet sounding audacious and as fresh-as-a-daisy enough to consistently beguile the listener. I'm at a bit of a loss for words, whilst seemingly being able to write endlessly about it!
The album's subtitle ('songs from the mellow side of Robot Raven') implies that this is a compilation, but that doesn't diminish something that arrives fully formed and firing on all cylinders… I'll leave the last word to the band, from final track Who I Gotta Be: 'Ain't no livin' if there's no forgivin' / Gotta be who I gotta be'. Well, quite!
Find & follow Robot Raven on Facebook or visit their Website.