Rob Harris introduces himself as something of a songwriter extraordinaire with this latest collection of originals. Blue Sky Morning is a decidedly eclectic, unpredictable yet exciting and endlessly enjoyable new playlist.
Beginning with the infectiously upbeat and unexpectedly conceptual Suki And Sumi, the project offers its audience a guaranteed string of new stories and somewhat classic, often nostalgic, always satisfying escapism. A great way to enhance an hour or so of your day as the summer months kick into gear.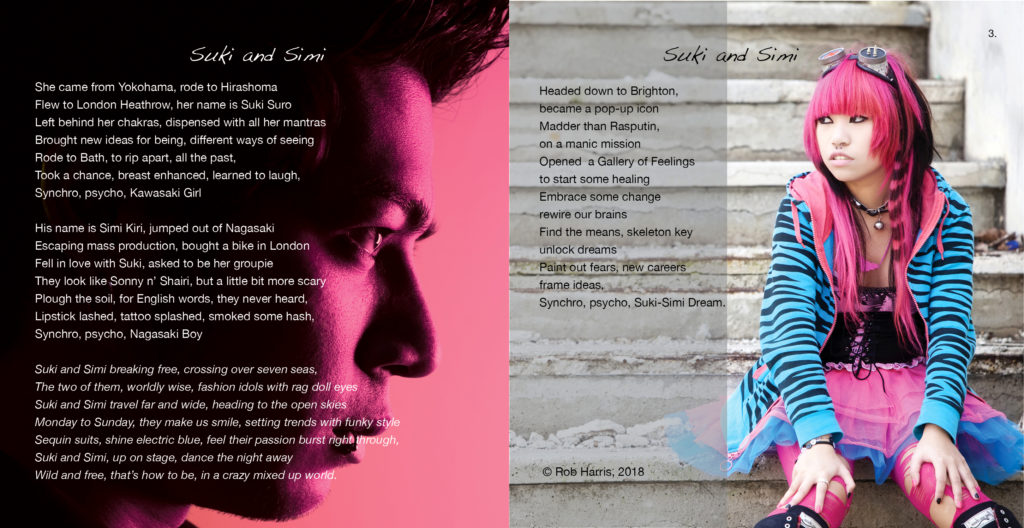 Following the opener, Janey Blue immediately changes the mood with a Gypsy-jazz vibe – more specifically, a traditional, Klezmer / Eastern European style – a light shuffle of a song with thoughtful, scene-setting, story-telling lyrics. Easily worth a second run-through to truly capture the essence of the tale.
The instrumentation throughout this project is eclectic and always impressive – varying in genre and style, but generally designed to reflect and enhance whatever the underlying sentiments and emotions are.
Face Of A Cherokee utilizes another new set of layers and details to present yet again an entirely new pathway of thought and imagery. There's historical or political depth to tracks like this, made clear from the offset – thus Harris rightfully makes certain to captivate as the stages of the song pour through. Moments of passion and soul are intertwined with folk delicacy as the intricacies and facts emerge.
Chloe Louise And The Land Of One introduces a definite Bob Dylan influence, the delivery style and the melodic development all lean in this direction. Meanwhile a partly flamenco-like acoustic guitar helps fill the spaces between thoughts.
As the album continues, genre varies but the set-up and style of each song in terms of its arrangement and the way the stories develop, all starts to ring true of this inherent Rob Harris approach to composition.
Nature's Corner leads on with a delicate folk essence, some beautifully calming, poetic imagery, and an uplifting melodic progression. Gone Man Wrong Man then injects a hit of country rock, a third-person observational story with an emotional, intimate twang of individuality.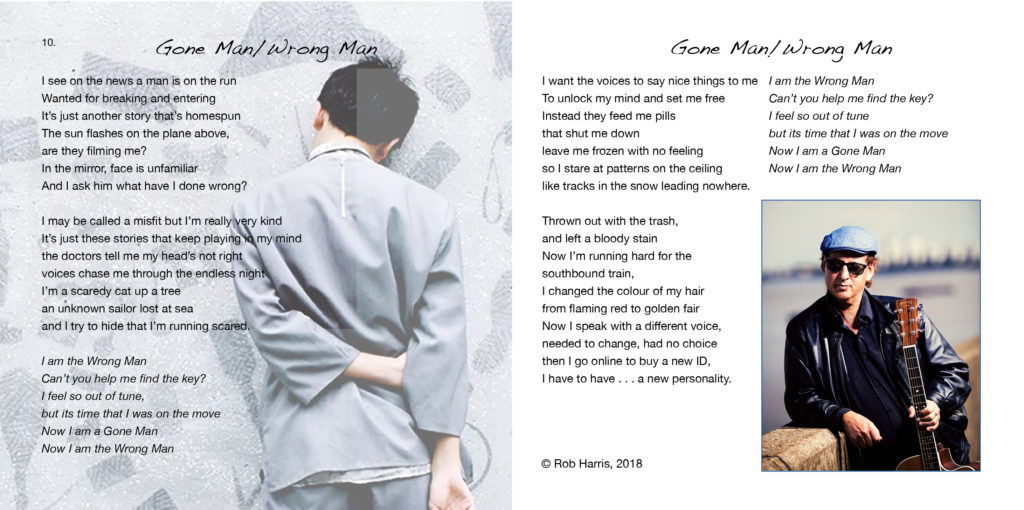 Smiling At Strangers brings a touch of well-deserved jazz to the stage, brightening up the journey with sax and a new and slightly raspy, entrancing leading voice. A definite melodic highlight, simple yet effective and memorable from the offset. The contrast between the melancholic verses and the optimistic resolve of the hook works brilliantly. Johnny's Place then offers an unexpected dash of reggae and a lyrically complex, provocative song that again begs for you to listen more than once.
House Of Genevieve features some mesmerising guitar-work and a stunning use of space. High On Natural Energy then breaks down those barriers of depth and intricate thought to offer something easily joyful and upbeat. Afterwards, Sister Matilda brings your focus once again towards the detail and turmoil of the lyricism.
Harris meanders between topics of intensity and those with a certain accessible lightness throughout this project. You never know where the journey will take you next, but always you can trust that a known level of creativity and professionalism will lead the way.
Letting your mind settle by the softly breaking waves of the shore, Peach Blonde offers a peaceful moment as an acoustic ambiance and a carefree story-line wash over you.
At the penultimate hurdle, Late September Tropical Song reminds you of that raw folk sound and style at the heart of Rob Harris' work. A simple tale and a musically satisfying, organic soundscape work well to ease your mind.
Following this, Changing State Of Mind utilizes a final opportunity to present eclecticism and absolute creative freedom. A gorgeously expressive melody is met by a mildly tribal rhythm and a few flickers of acoustic instrumentation. The words are quickly compelling, considerate yet relatable – the sort that you can make your own; something that's true of this entire song, and indeed of much of this album.
Rob Harris leads with personal experience and an awareness of what works musically, but this is presented in a notably inclusive, welcoming manner. You can take these songs on as your own, attach your own feelings and experiences to them, and that makes all the difference. Changing State Of Mind is another personal favourite for its sense of vulnerability and purity – the perfect way to end the collection, and a lasting reminder of the depth and multi-layered ambiances that paved the way beforehand.
Download or stream the album here. Find & follow Rob Harris on Facebook, Instagram, Soundcloud & YouTube or visit his Website.