There's no time to sit back and slowly dip your toes into the sound of this album – from the second you press play, you're thrown full speed into the crash and chaos of distorted, riff heavy, melodically grunge-like rock music, and it's a fantastic experience.
Killer Time is the perfect way to open a project such as this, the guitars and the drums and the leading vocal all sound intense, insane, and inescapably addictive. That hook is pretty sensational too, a real anthem of anthems, a great melody, a stunning rock voice, and a really unique and interesting concept behind the whole thing. The lyrics throughout this track are wonderfully unusual and reflectively poetic. They're sometimes soaked in so much sound that it's hard to pick them out first time around, but that only makes it all the more compelling – once you've shaken of the buzz of that punk-rock ambiance, you go back to dig deeper into the meaning, into the mind of the artist.
As you move on through Going Down Slow and Blowing My Mind, you fall further and further under the spell of this sound. Rick Shaffer's eclectic musical past has led him to the point of writing and creating only the sharpest and deepest songs possible, so there's no emptiness, no filler, only rock and roll – a little of that rock and blues (Going Down Slow particular), and a vast and varied array of thoughts and ideas. It's great to hear the stories of experience, especially when it's presented in such a skillful and well practiced manner.
The music has that greatness in quality whereby there is a lot here that sounds free; carefree, free to create, free flowing – yet there is also a lot of that effective structuring, playing, and song writing – suggesting again the sheer level of experience the artist has. The free spirit meets and collaborates with the wise owl, and it sounds brilliant. It sounds hugely modern, in fact – Blowing My Mind could well be an indie anthem for the youth of the summer.
Your Charm opens up with a stunning riff that will simply make you smile and make you move your body. It feels like a classic rock and roll hit at times, but you've never heard a voice quite like this, and you're not familiar with this melody and these lyrics. It's a huge song, it leaves a lasting impression after you've listened – definitely a great moment within the album.
Changing Anything is another one that launches it's undeniably strong riff at you right from the start. The chord progression here and the notes used in the vocal melody have a noticeably uplifting sound to them, it creates an optimistic and hopeful vibe; it's a track you can believe in, a track you can escape to, reflect on your own life, drift off into your mind a little, or just feel utterly happy for a while and enjoy the moment. The guitar solo work here is beautiful, so much character oozes out with every note and every bend.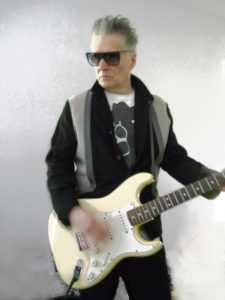 Walls Of Heartache has a superbly funk-like vibe to it; that strikingly raw, rock and roll sound, that screams personality. It showcases a very thoughtful and inspired set of lyrics and melodies – the vocal choruses sound fantastic, really helping to bring the whole thing to the front of the stage; along with that classic Rick Shaffer guitar sound, which weaves it's way around the wall of sound, with all the freedom and focus of an artist who has lived, and loves living.
One By One is the final point at which you'll know for certain the sheer level of creativity and skill within the writing and the performances chosen for this project. Only the very best music has been selected and integrated here, and what's more, the whole thing flows so naturally from one track to the next. This particular song has a dreamlike feeling to it, it has the effect of sealing the deal in a way – it's easy to visualize a live show by now, and even to crave one. You want to be a part of the audience, enjoying this music being made in the moment, as the sun beats down on you and the crowd. It has that vintage festival feeling to it that hasn't been heard in so long. And the great thing is, there is more than enough character and perspective to make all the writing and all the musicality so blatantly fresh; brand new, a new view of the world, a new and powerful voice.
Show Me is an interesting one, it's a real moment of alternative sound in the project. It gives off a sort of darkness, a sadness, not so much in the lyrics – but in the chords chosen, and the emotion that comes through in that vocal. This is about as close to an acoustic track as the album gets, so you really feel up close and personal with the artist, which is a fantastic moment, and the music is beautiful – it just washes over you, allowing you to drift off and dream your own dreams as you listen. Really well written, performed and placed superbly within this collection of songs.
There's a strangely cinematic sort of sound to Final Surprise, the album's penultimate track. What I mean by this, is that it sounds like it should be the outro to some classic indie drama. It conjours up images in your mind as you listen, whilst at the same time reminding you slightly of those edgier days of music – provided by the likes of The Rolling Stones, and even Dylan; in his gravelly, thoroughly rocked up days. There's a movie somewhere, perhaps in the making, waiting for so much of the music in this release.
Hellbound Trip brings things to a close with a beautifully soul kissing array of words, melodies, riffs, and overall end of the day, end of an era vibes. The voice sounds particularly bright in the mix here, almost like it's a moment of intimacy from the artist, a real glimpse into the ideas and the emotion of the writer as he comes to the end of this particular trek. The track has an awesomely blues-like sound to it, that riff gets caught up in your mind, the guitar throughout sounds sensational, the thick and heavy beat just makes your heart pound and your body groove to the sound of the world in action. An almost peaceful and calming end to the album, yet still with so much of that swagger and style, that it's likely to leave you aching to play the whole thing over again.
Find and follow the rock legend himself over on Twitter, and check out his Website to learn more about his immense musical journey so far. Grab the album over at CD Baby.
Download a FREE mp3 of "GOING DOWN SLOW" on SoundCloud