Resilient have a sound that fans of creative and characterful rock and punk will be immediately grateful to discover. It's refreshing to witness the opening pace, distortion and individuality of Crickets, and as things progress throughout the How To Peach project, the hit of the music satisfies even further.
Fusing a touch of theatrical, creative freedom with a well educated and structurally aware musicality, Resilient present audiences with instrumental prowess and a wonderfully unique leading vocalist. Once you're involved, you also get the varying subject matters and the meandering emotional depth. On a song like Ceiling, the performances move unexpectedly from the subtle and soft to the almighty and passionate. The guitar riff alone presents a touch of swagger that will again make you glad you visited. Then you get the unfolding story line, the fresh and ever-interesting use of melody, and the overall strength of the songwriting – the band have crafted this collection with absolute consideration and skill, and not at the cost of that crucial creative freedom that makes it so unique.
The album has a fairly nostalgic feel to it, there aren't too many bands composing in this way anymore, so it stands out. The songs are free from the influences of mainstream pop, and that in itself creates something completely new sounding. You've also got the weight and passion of rock throughout, though it's broken up intermittently by these softer, perhaps more reflective moments. There's honesty in the lyrics, there's also attitude, angst, and a little chaos. The same goes for the instrumentation. Broke it as Soon as I Got it showcases effectively the chemistry between band members. When the mood changes, every musical moment involved reflects and enhances that feeling. They're tight in their performances, so when the energy is high it's sky-high, and that makes the prospect of a live show extremely appealing.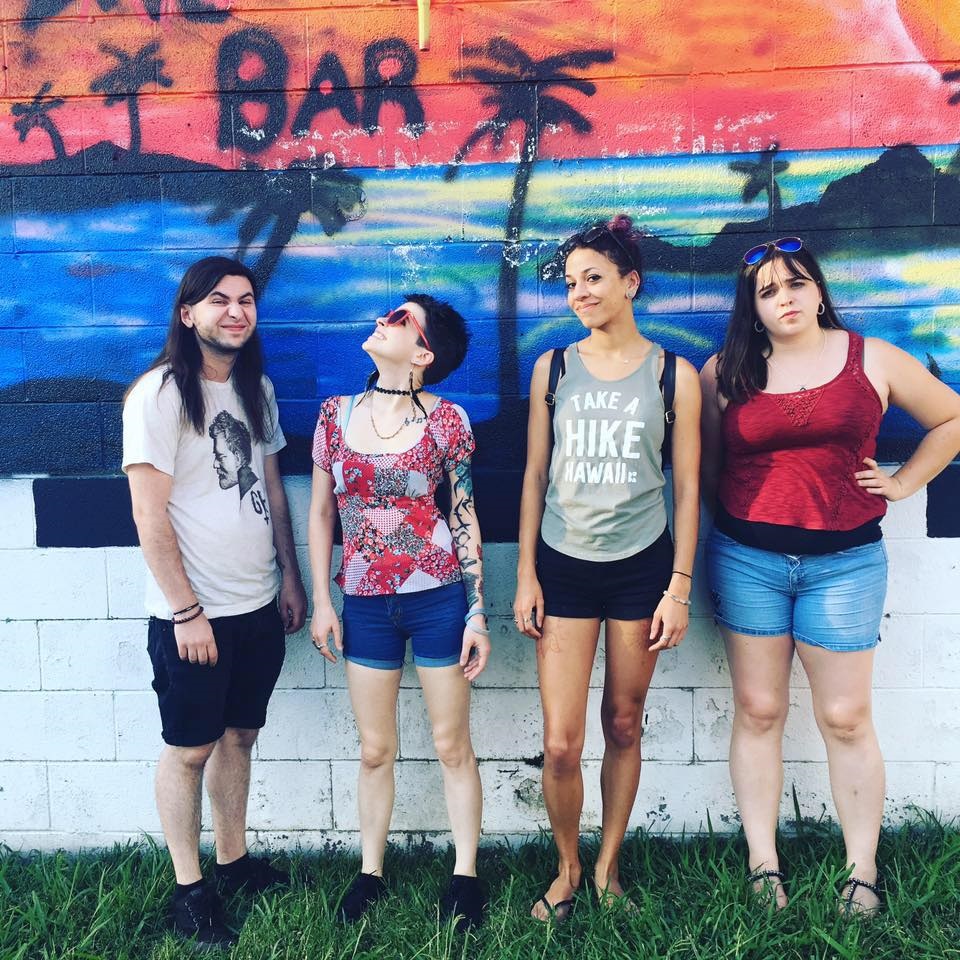 The songs on this project, and indeed the title, the concept, the art work – the band have created a level of intrigue with their image and their approach to expression. In some cases, this can be nothing but glitter scattered over an otherwise average and overly familiar collection. In this case though, the songs throughout the album are everything you'd hope for and more. From An Eruption has a superbly relevant, erupting hook line, and an equally mesmerising guitar solo that soaks you in authentic rock freedom. Medication follows on in a thought provoking yet masterfully manic manner.
On occasion when listening to How To Peach I was pleasantly reminded of classic albums ranging throughout the likes of Queens of The Stone Age, Skunk Anansie, Incubus, even Smashing Pumpkins. However, that's something our minds conjure up just briefly to make sense of new things. The Resilient sound is exciting, everything from the bass lines to the beats to the riffs to the concepts, and finally, to that faultlessly captivating leading voice – it all works in unison to offer something brand new; something you can comfortably add to your long journey collections, to utilise the sound whenever you need a little pick-me-up.
Comin Yer Way has a quality blues-rock vibe to it, stunning riffs and rhythm, a contrasting gentle, almost whispered opening vocal, soon exploding into a full on, poetic and thoughtful piece of rock and roll. The Duchess Act surrounds you in atmospheric ambiance with an introduction that is blissfully well placed within the project. Erin Fox' leading voice is laid fairly bare here, just briefly. It highlights the hypnotic beauty of her voice, and the softness again creates a powerful contrast with the weight and intensity of what comes later. The poetry throughout this section of the album reiterates that theatrical element of drama and further underlines the band's unquestionably impressive writing skills.
Green is brilliant, beautiful, provocative, refreshingly unique – a definite highlight. The song evolves in a powerful and compelling way. Despite the strength of the opening track on this album, somehow things still seem to get better and better as it moves along. The band's approach becomes familiar, but nothing gets predictable. Slack is stylish and smooth, creating a somewhat cinematic ambiance around you, soon enough intriguing and astounding you once again with its story-line. The musical set-up is sensational, but this true of every song on How To Peach. 
As a band, Resilient have it all. Concluding with the vibrant and fast paced How To Preach, this album will leave you keen to listen over again and again. The sound is huge, the band are an absolute must for rock fans looking for an unmissable, infectious new sound and live shows to seek out.
Resilient are Lennon Cantwell, Alicia Dickerson, Erin Fox, and Katie Fox. Download the album today via Bandcamp. Find & follow them on Facebook, Twitter & Instagram. Visit their Website for more information.