NuRenaissance provoke thought in powerful, hypnotic ways throughout this conceptually considerate new album. Compartmentalized into two short audio films, REDD & bluu introduces itself with reference to taking the blue or the red pill.
From here on in, the music varies immensely, showcasing impressive versatility and uninhibited creativity every step of the way. Ultimately though, you're consistently prompted to open your mind a little – hard-hitting bars meet with unpredictable jazz ambiances and often heavy beats, which holds you captive somewhere between intensity and calmness.
Not a project to be taken lightly, but one that hip hop and indeed the indie music scene has perhaps been craving. Featuring impeccable bars, breathless in some cases, spoken-word style in others, the album manages to be artistically free yet focused – unusual yet professional, and consistently interesting.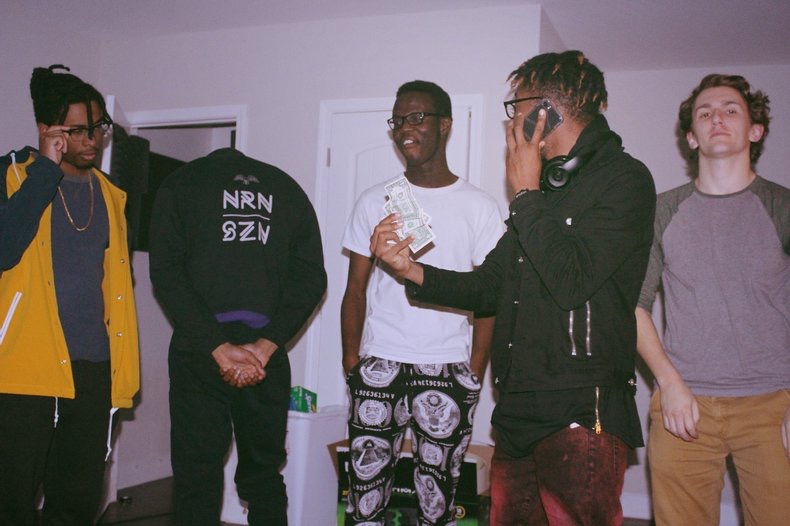 SHiKi leads the first film, directing us through a series of moments that seek to calm and energize all at once – enjoy the lofi vibes, but think for yourself, and don't fall for the traps of the media and society. The back and forth between weight and lightness, fast-paces and mellow reflections that require you to tune in and really listen, is brilliantly designed.
Nicólas Soul leads the second film, bluu, and it kicks off with a fairly legendary anthem that rhythmically engages from the offset. Classic good vibes, less creatively out there at first, but offering a touch of mainstream flavor and nostalgia all at once.
This dynamic is refreshing, reminding me of the classic dual project from Outkast back in the day, though perhaps offering a little more unity between concepts. In any case, it's fascinating to listen through, not just for the hard-hitting music, but for the ideas presented. These aren't your run of the mill hip hop bars and references – you want to listen because the stories are new, the imagery is familiar yet fresh, and often there's an unexpected twist along the way.
No two tracks are the same, and with each re-visit you pick up on some new quality or reference. It's not all heavy topics, far from it – you can chill out with the album, or you can use it to gear you up for the weekend. That's the blessing of eclecticism walking hand-in-hand with professional production.
Every vocal is also faultlessly incorporated, bringing the appropriate level of energy and passion each time around, and at no point is there a sense of irrelevance or an inability to keep up appearances.
Brilliant, a project that gets better and more meaningful the further into it you get. Well worth knowing about.
Find & follow Nicólas Soul on Facebook, Twitter & Instagram.