Instantly clean and emotive production unites acoustic guitar and trap rhythms across a melodic, professionally-crafted soundscape – Nicky Dub brings ability and heart to modern hip hop, with the brilliantly thoughtful album Progression.
As an introduction, Control (Intro) marks a fine indication of the sound-design and lyrical depth of Nicky Dub. The voice feels aptly contemporary in its subtle effects and mixing, but still you can hear the quietly soulful devotion and connection to these poetic, revealingly honest lyrics.
Weave in a versatile structure for additional strength on the songwriting front, and we're off to a mighty start.
Time On Froze follows on smoothly, similar talk of those demons backs a stronger beat and vocal groove that pick up the energy and passion towards something of a Yelawolf degree of personality and grit (a potential influence that connects all the more so for Frequency). Here we're exposed to the lyricism and rap skill of Nicky Dub, blended with that ambient, dreamy composition, to continue tightening the project's grip on the listener.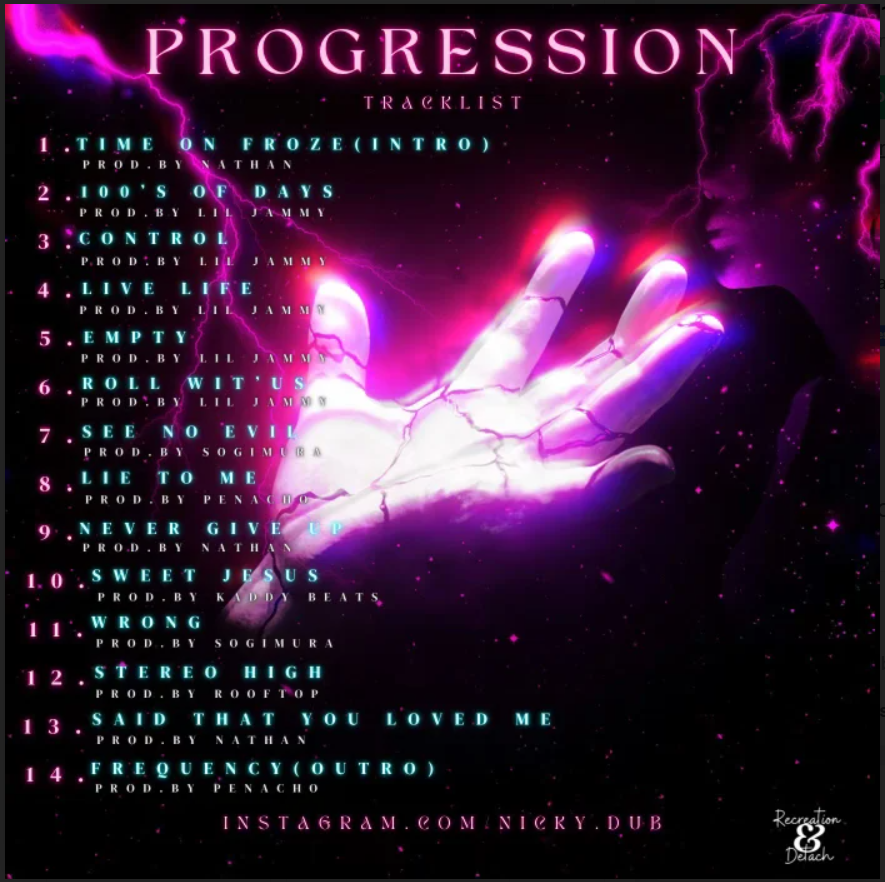 Twelve original tracks in full and a plethora of stories and contemplations on modern life and the self, Progression keeps things organic when necessary, and wholly uplifting at other times. The likes of 100's Of Days promise consistent shifts in flow and musicality, though never at the cost of integrity and identity for the Nicky Dub sound.
Following this, Live Life marks an early highlight – piano-led and again melodically fresh. Nicky balances personal anecdotes with poetic imagery to a sublime degree, uniting a catchy hook with fearlessly genuine lyrics for a modern sound with a twist of essential emotive realism.
Empty follows with an all the more gut-wrenching take on personal turmoil, before a well-placed Roll Wit' Us picks up the rhythm and brightness for an acoustic-guitar tune of increasingly euphoric peaks. Instantly infectious in flow and riff, this one proves an undeniable ear-worm, and again maintains that unmistakable character at the heart of Nicky Dub's work.
See No Evil as another defiant highlight, high-octane yet still blissfully ethereal in its multi-layered embrace and subtly rising passion, catchy and emotionally poignant, depicting perhaps one of the most captivating performances from Nicky yet. A personal favourite.
Lie To Me is another that grabs the listener with its flow, its rise and fall melody – fusing genres with a rap-rock softness and unexpected wind solo in the distance. Another stand-out for its unique set-up, faultless performance and depth of reflection.
Towards the end of the album, we get a worthy hit of inspiration in the form of the motivational Never Give Up, more of that organic musicianship and fast-flows intertwined. Then there's a touch of further Americanism for the intensity and weight of Frequency, shining light on yet another side of the seemingly limitless Nicky Dub creative reach.
Contrast is well-utilized, and the sudden mellow and poetic allure of Stereo High works its magic with ease at this point. Then to finish, superb guitar-play adds a dash of exotic world-vibes, backed by an again thoughtful and compelling stream of ideas by way of a supremely clean and skillfully flexible flow – extending to breathless heights during the final third.
A great way to go out, a high-energy injection of appeal that naturally gets you keen to head back and replay the entire Progression journey.
Personality and flair, quiet wonder and relentless outpourings, all unite and juxtapose one-another throughout a full-length playlist of catchy yet contemplative writing. Really nicely done.
Download or stream Progression. Find Nicky Dub on Instagram.