Pasadena indie-rockers More!More! are a band with impeccable songwriting skills. Despite the rumors, rock music never really went away, it just had the volume turned down a little in recent years – and that's very much in the process of changing right now. While the majority of bands lead with high energy and attitude though, More!More! grab you first and foremost with the absolute strength and character of their songwriting.
The band's upcoming EP, a short project entitled Nice Shirt, compiles three original tracks that will easily appeal to fans of Greenday and the Chili's alike – with an essential dash of plenty that's impossible to put into a box.
Last Passion Project kicks things off beautifully, feeling partly folk-punk-like at the height of its anthemic outburst, and seeming a little more classic indie-rock-inspired during the verses. The band's lyrics, their organic approach to performance, their energy and the way the track moves along – all of this feels brilliantly classic yet excitingly new.
A gorgeous riding bass line is met by simple yet stunning guitar riffs and an instantly energizing rhythm. Meanwhile that leading voice, these short lines with plenty of space around them – the story pours through in a captivating way, and by the time the hook hits; the impact of this sudden warmth and resolve works perfectly. A single listen is far from enough to really capture the brilliance of the way this song builds up and what it represents.
Following the opener, Chesapeake Track Team picks up the pace to reach intense new levels of energy – distorted vocals and an unthinkably fast musicality unite the band in this explosive moment of story-telling. The back and forth between calm and chaos works brilliantly, changing the mood of the entire room and representing that central concept in a brilliantly fitting manner. A mere minute and a half is all it takes for this one to work its magic – though once again, a second listen is fairly guaranteed.
Milk & Whiskey holds closer to that folk-punk, knees-up aura, presenting a live and near acoustic burst of great riffs and melodies – plus a massive sense of unity and togetherness that reminds you not to take life so seriously.
The band become more and more likable with each new song they bring through. This particular offering is addictively raw and energizing, so much so that it makes you crave a live show.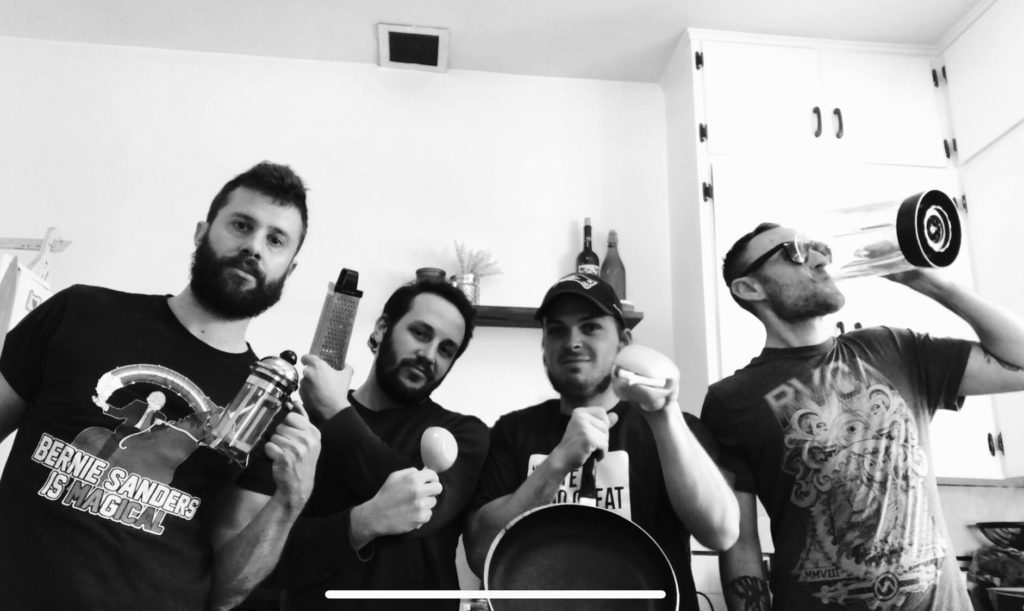 Discussing isolation and loneliness among a gathering of voices and a notably intimate arena of music, Milk & Whiskey breaks down the barriers between us – building a wonderfully genuine connection; with anyone and everyone whose ever felt as if they exist somewhat on the outskirts of society. There have not been bands that do this to such an infectious and melodically satisfying extent in quite a while. Festival stages across the globe call out for an act like this. Absolutely worth appreciating as summer 2019 swings into gear. Listen loud.
Grab the EP as of April 29th. Find & follow More!More! on Facebook & Instagram or visit their Website.