MAIORANO are a band you don't want to miss out on right now. This album, Glorious Days, makes for the perfect collection of nostalgic and fresh vibes, energetic and musically skillful, and wonderfully well suited to the aura implied by the title.
Just A Sign, Give Me A Fix and I Got You flew by with not a moment to waste. The album lifts you up brilliantly, listen at the weekend by all means but I strongly recommend giving this a blast first thing in the morning if you want to get your day off to a vibrant start.
This is something like classic rock and roll with a Brit-pop edge of melody and performance, and a whole lot of energy. On top of this is their songwriting – so many tracks on this project feel like absolute anthems; I Got You being an early example – one of the most memorable and celebratory songs of togetherness. These sort of tracks beg to be witnessed in a live setting; a festival would be ideal.
As things progress, you realise MAIORANO are far more than a rock band. Songs like Days In The Life bring through a wonderfully Sublime-like layer of colour and carefree good vibes – the music has a huge feel, a big-band vibe that's a joy to experience. There's always story-telling at hand as well, these observational and openly expressive lyrics carry the sentiment and raw energy of the songs through in a brilliant way. Even after you've drained your get-up-and-go in the embrace of the musicianship, there's still plenty of subject matter to get into – plenty of ideas and rhymes to go back and soak up.
In terms of album arrangement, there are of course moments of smoothness – instances of a more mellow groove to keep things interesting. 25 Times is an emotionally poignant, soulful and rather vintage sounding example, with a rising and falling bass-line and rhythm that takes you partly down memory lane and partly down some new, personal pathway relating to modern love. It appears as a welcomed and quickly memorable moment at this point in the playlist.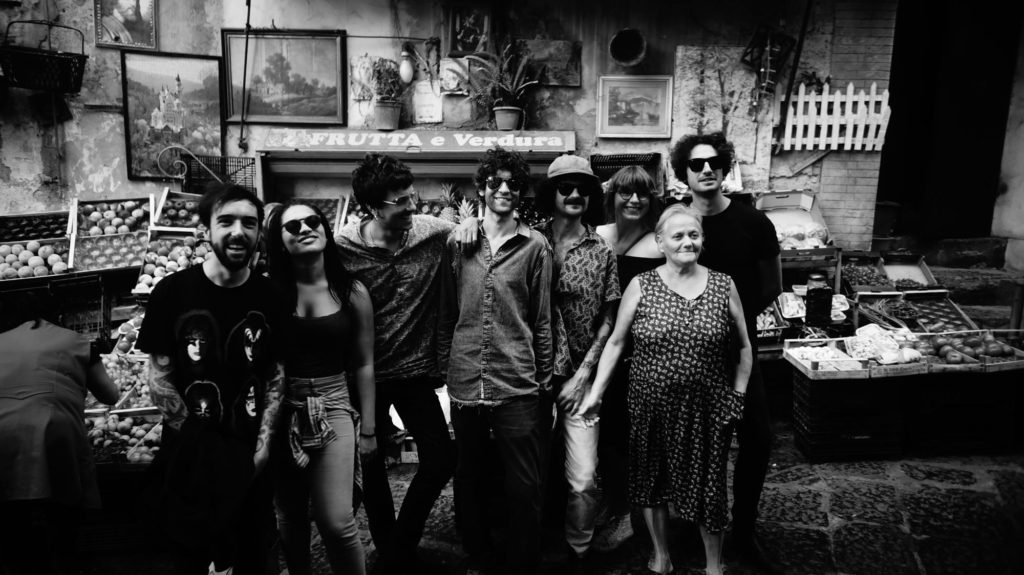 There are several addictive qualities to this band's way with music. Alex Maiorano's leading vocals consistently offer the very best balance between swagger, passion, and grit – delivering each moment with character and a genuine, clear and infectious love for the process.
The latter half of the album continues along an energizing and supremely skillful pathway. Songs like Just Come A Little Bit Closer have the immediate feel of a classic, recognisable hit from a simpler time – a little Primal Scream-like even, and not for the first time. The recording style seems much more up front and clear-cut though; it feels about as close to being in the room with the band as possible. Cani Neri follows, picks up the pace and reverts to the scene-setting, detailed story-telling that seeks to captivate and carry you away. There's a passionate thread of angst to this one and the music and the distorted vocal effect add well to that aura.
Monkey In My Head (I Gotta Move) is a latter-half highlight, brilliantly electrifying, utilising repetition and rhythm for a notably memorable anthem – precisely designed to get you up on your feet. I'll Never Know mellows things out a bit after the explosive burst of vibrancy that came before. There's an easy-to-appreciate indie softness to this song and to the vocal delivery. The contrast between the simple verse set-up and the big-band musical interludes in between works really well.
Things come to a close with the impressively well-crafted Dirty White Shoes – a song that takes its time to build, sees the band put in every last bit of thought and detail to weave something theatrically interesting and multi-layered around you. What a fantastic band they are, refreshingly talented and undeniably connected as a unit – whether the pace is mellow or extreme, they more than meet the requirements of the moment. A live show is a must – Europe and beyond awaits. MAIORANO is the name, Glorious Days is what they offer.
Download the album via Bandcamp. Find & follow Maiorano on Facebook & Instagram. Visit their Website for more information.