LHarmonic is the gorgeous full length release from singer and songwriter Leo Harmonay. Since last summer's The Blink Of An Eye, a longer project seemed imminent, and this collection more than fulfills any expectations or hopes.
Shine On You is the opener, a lightly uplifting and pleasant soundscape and melody emerge, supported greatly by an optimistic and encouraging string of lyrics. This first few minutes feels like the start of something quite special – a classic collection, a gathering of important songs performed and recorded in a very natural, honest way. Deep Ocean Blue follows and brings about the pure, acoustic rhythm of a beach-side performance – or at least that's how it feels. Leo Harmonay's ability to capture a moment, to write and perform something in the most genuine and gentle way, and to have it connect and capture an audience's affection, is second to none. The imagery here is stunning, as is the soundscape – these subtly skillful guitar parts brilliantly match the mood of the scene.
Things take a new direction for Heart Alone, a slightly darker or more regretful ambiance comes through; both the melody and the chord progression present this effectively. Finally the lyrics, the story-line – this fills in the gaps for you, laying bare the inner demons of the writer, the inner turmoil and longing – reflecting on times gone by or perhaps decisions poorly made. What works beautifully though, is that all of this falls away for the chorus section – hope returns, satisfaction appears, along with positivity, possibility. The song is hugely creative and interesting, structured almost like a piece of dramatic theatre. It fits well at this point in the project. There's far more to the artist than the simple joyfulness of acoustic music and performance, and this project allows that fact to shine in a number of ways.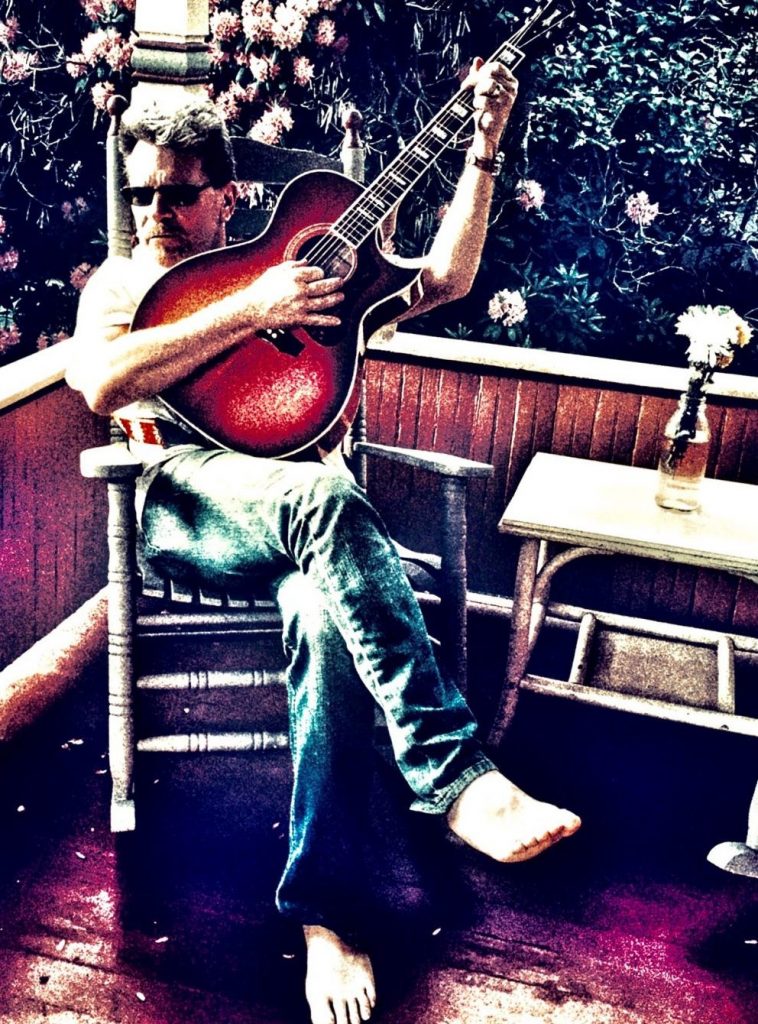 The brightness and build up of Heart Alone comes to a finish in a huge way, at which point the delicacy of Glorious Decline makes for a calming moment of stillness – with just a flicker of movement and poetry to keep you involved. Poetry is an important word, the ideas on this album are presented in an often ambiguous or artistic way – far from the obvious or blatant clarity and picture painting of mainstream pop. There are equal amounts of accessibility and depth here, and that keeps it both familiar and interesting.
Something of Bowie-meets-Elton vibe appears on Rainbow Sounds, thought perhaps that's merely a personal observation. It's a great song, really unusual and somehow both haunting and comforting at the very same time. The vocal choir echoing the lines in the distance help build a hypnotic soundscape of voices that become very easy to lose yourself among. Shine On You (Reprise) follows and brings about the classic, raw energy of acoustic blues and folk-rock – a gradually evolving piece of music with a superb instrumental set-up that really lets the power and beauty of the song shine brightly. There's something incredibly warming and satisfying about the rhythm and arrangement of this one, it works perfectly as a final or penultimate reminder of the mightiness of minimalist yet thoughtful, skillful musical expression. Leo Harmonay knows how to make music that makes you feel at home, and this is LHarmonic; through and through.
The project finishes with a perfectly captured live performance of the stunning accompaniment for daydreams that is Deep Ocean Blue. As if it wasn't clear how wonderful a live show from Leo would be before now, this final moment sets it in stone. Beautiful, considerate and clever songs, consistently well performed and an absolute pleasure to escape to.
Find & follow Leo Harmonay on Facebook. Visit his Website for more information.