Anything At All is the sensational new track and video by Toronto based artist Kiri Etzkorn. We'll tell you a little more about her and how you can follow her musical journey, but first; here's what we thought of the new release.
To begin with, the video is absolutely stunning; really artistically produced, with some beautiful scenery and superbly powerful shots. The song itself is softly loaded with raw emotion and vulnerability, genuine feeling and realness, all beautifully expressed with a voice that is smooth and gentle, yet immensely strong and captivating, exactly when it needs to be. The artist has that kind of emotional honesty that makes it's very easy to believe and to relate to her, a welcoming sound, one that you instantly feel a part of.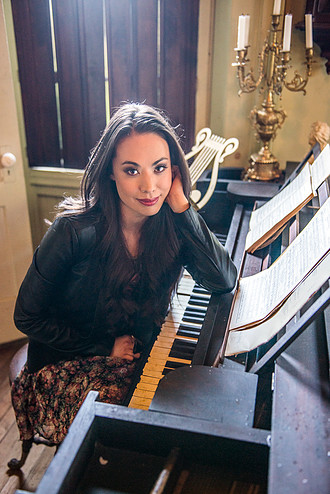 The song has everything you'd hope for in a big ballad kind of pop song; the subtle flicks of an electric guitar, the reverb soaked crash and clap of a drum beat, a wall of warmth with gentle hints of piano and summertime synths, all adding to that dreamlike atmosphere as the singer bears her soul. The bridge section in particular, really draws on that honesty and emotive language, though it's an honesty that genuinely shines bright throughout..
"I'm ready now to forgive.. Feel love, let go and let live.."
The whole song remains powerful and poignant from start to finish, eventually building up to this immense wave of cascading sound and strength, as the chorus is re-emphasized, and the music gathers and gathers, and then it all fades away just perfectly; there is even a hint of optimism amongst the pain and angst of a love that has been lost. A really powerful pop song.
"You were my world of broken promises.. An emptiness that overflows, but I'm still holding on.."
By her own admission, Kiri Etzkorn has been surrounded by music since she was very young. Her influences and musical preferences have been vast and varied; a genuine sign of someone who just loves music, regardless of genre. Her favourites stretch all the way from the pop ballad power of Celine Dion and Whitney Houston, to the soul drenched tones of Otis Redding and Curtis Mayfield. She has even mentioned the more modern RnB sounds of Lauryn Hill as influencial, plus an indie rock and pop hint of Coldplay, for good measure. She's an artist who writes and performs what she feels, and puts every ounce of effort and thought into what she's creating, and it really shows.
Check it out for yourself, this is the brand new release by Kiri Etzkorn – Anything At All..
The song Anything At All was co-written by Kiri Etzkorn, John McIntosh, and Andrii Zubyk. The video was directed by Andrii Zubyk & John McIntosh. It's a really impressive release, a pleasure to watch and listen to, and hopefully a sign of exciting things to come in the very near future.
As fans of the art of songwriting in general, we are always interested to know how musicians come to gather their thoughts and creativity in a way that forms a particular song. We were delighted to discover some wonderful thoughts from Kiri over on her website, where she had the following to say on the matter..
"Songwriting is a process, never quite linear. I just want to keep writing, learning, and growing. There's no use for me to wade in still waters."
Beautifully put. Songwriting is indeed a process, and we look forward to hearing more artistic offerings from this songwriter over the coming months.
Get involved.. Stay up to date on all things Kiri Etzkorn by following her socials – Facebook, Twitter, Instagram. You can also find her on Reverbnation, or head over to her Website to hear more of the music, and to find out a little more about the artist. This is very much the beginning of what looks set to be a wonderful musical journey; stay tuned and don't miss any future releases or live shows.