KiD Swoop is an artist driving with a clear and natural ability to rap impressively and with an interesting thread of ideas and images. This album showcases his skills pretty flawlessly, beginning with the title track – his flow is relentless and yet the gentle musical backdrop creates a clever contrast and lets it flow brilliantly. What's more, the wordplay and story-telling – the scene setting, the thoughts presented – all of this is uniquely appealing and works in captivating you from the offset. Big things lie ahead for KiD Swoop if his lyricism and genuine ability to perform continue to stand tall in this way.
The musicality throughout this project is gorgeously refreshing, delicate key riffs and a hopeful sense of possibility back up the poet's sentiments and character in a colourful way. Otf/Omb is a great early example. Swoop's performance is ever-impressive, yet he doesn't shout about it – he doesn't need to. The performances speak for themselves, and the music chills you out while giving you something genuinely interesting to listen to.
Elsewhere on the project the mood remains steady yet there are countless moments of melody and lyrics that linger in your mind after listening. Always Swoop is on form, and always the music comes through soaked in this identity, this unusual fusion of retro hip hop and something like neo-classical electronica. There's also a mild RnB aura mixed in there from time to time. Shottas shows this well, as does Rocking Witcha – the latter takes things in a laid-back, simple good times direction.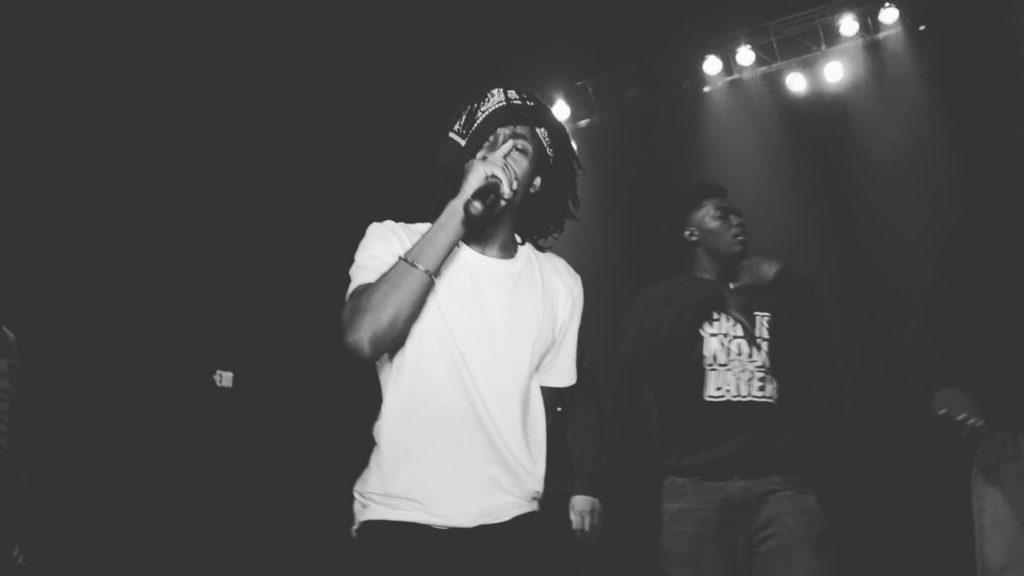 Switching things up a little is Keeping It Real, the piano riff has a level of darkness to it, the riff is quite haunting, the feel is now more that of street hip hop or gangster rap. Swoop adjusts his delivery accordingly and it works well at this point in the playlist. His lyrical outpouring is insane, so much so that a single listen is far from enough to catch every line. Menace To My City follows and mellows things out but keeps that melancholy alive. The threads of piano and this musical vibe the artist has created run deep throughout the album. This particular track is a highlight for its emotional realness and the two different delivery speeds that play off of one-another effectively.
There's a worthy structure or arrangement to this album that sees the latter half veer off with a more serious series of undertones. If the first half is the fun, the positive energy, this second half is way more reflective – the openness, the vulnerability. Down and Out is stunning and lays bare a certain truth that will most probably appeal and connect with so many listeners. A personal favourite if I'm honest, the realness and the heartfelt nature of the presentation is fully immersive. Easy to have play on repeat.
Can't be Serious sees the darkness and attitude return, energy and confidence drive the track. Afterwards, Do It calms you down a little and turns to the simple power of a memorable, short hook and unapologetic concept. The verses are as mighty as ever. Sacrifices follows and brings a touch of down tempo dance-hall through. Video Chat is another that utilizes melody and a widely accessible, loving, relationship-related theme and musical progression.
Swoop closes the project down with the smooth and seductive tones of Fvckwithme. It's a slightly different vibe again, but it fits – the hook is easily memorable and the mood is quick to calm you. As always, the verses are worth listening to with intent. KiD Swoop has that lyrical strength that has been missing from a lot of modern rap releases, and this album offers some quality music alongside of that. One of the best hip hop albums of the summer, in my opinion.
Stream the album on Spotify. Find & follow KiD Swoop on Twitter & Instagram.